**I participated in a campaign on behalf of Mom Central Consulting sponsored by Publishers Clearing House. I received a product sample and promotional item as a thank you for participating.**
I remember when I was a little girl watching television and seeing the Publishing Clearing House commercials. I distinctly remember when I was around 9 turning to my mom and saying, "Wow Mom…We need a big check like that." At the time, I had no real concept of money but I thought the big check and the way they presented it with all the balloons to the winner, was simply amazing. Now that I am older though, I am pretty excited by not only the balloons and the cardboard check, but the chance to win money and a lot of money at that!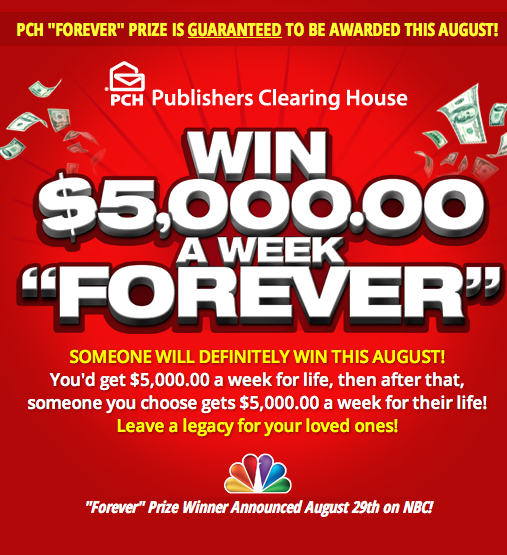 My mom and dad entered the Publishers Clearing House contests when I was younger all the time. When I got older, I started to pay more attention to the Publisher Clearing House advertisements on print/TV so I could enter them.  My daughter now is just like me when she sees the commercials! The Publisher Clearing House causes excitement for families all over the country.
Recently I found out about the Publishers Clearing House "Win $5,000 A Week Forever" Sweepstakes that I entered as soon as I found about it! It is a sweepstakes going on right now and you could find the easy and completely free entry form here: Win $5,000 A Week. By entering this sweepstakes, I am entered to win $5,000 a week forever– Yes, I said FOREVER!!! Not only will the winner receive $5,000 a week forever, but after that you get to choose a legacy who will inherit the same exact prize.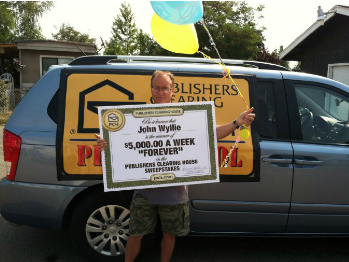 Can this sweepstakes be any more exciting?!! If you have not entered, you need to finish reading this post and then immediately enter. As they say, you have to be in it, to win it! After I entered, it got me thinking of what I would do if I won $5,000 a week. I created a short list of ways I would spend the "Forever"  money if I received $5,000 a week as the winner.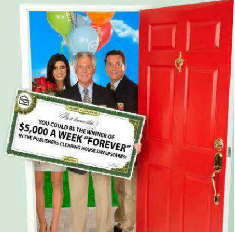 1. I would pay off my student loans. I am pretty sure I will have to pay back loans the next 30 years of my life so this money would certainly come in handy.
2. I would put money aside for Hayley and Zane's college education.
3. I would travel to Hawaii once a year! I am totally obsessed with Hawaii but don't have the funds now to visit yearly. However, if I won, I would.
4. Donate money to local charities.
5. Expand my house.
As far as my inheritor, I would definitely put down Hayley and be certain she splits it evenly with her brother and any future siblings, as well. My kids are my everything so I would want them to be financially successful in the future.
Be sure to enter to win the $5,000 A Week Forever Sweepstakes today! Just think what $5,000 a week could do for you and how grateful your inheritor would be to receive this prize! It is surely amazing! The prize will be announced on August 29th so be sure to enter today before it it too late!
**I participated in a campaign on behalf of Mom Central Consulting sponsored by Publishers Clearing House. I received a product sample and promotional item as a thank you for participating.**