*I am a Kleenex ambassador. I was compensated for this post, however, all my opinions are my own and not swayed by outside sources.*

In my house, we have just about every type of Kleenex that is on the market, dispersed throughout our house. My husband and I make sure we stock up on Kleenex, so we never run out. With two small kids who always get dirty, sticky, or sick, we are constantly going through Kleenex here. We are huge supporters of Kleenex, since they are America's softest tissue and help promote healthy kids. Kleenex continues to keep the tradition of leadership through innovative products such as the new Kleenex Everyday Tissues with Squeeze Shield, which is now thicker and more absorbent to help keep the wet stuff off kids' hands. They come in variety of portable and convenient packaging in all sizes for on-the-go.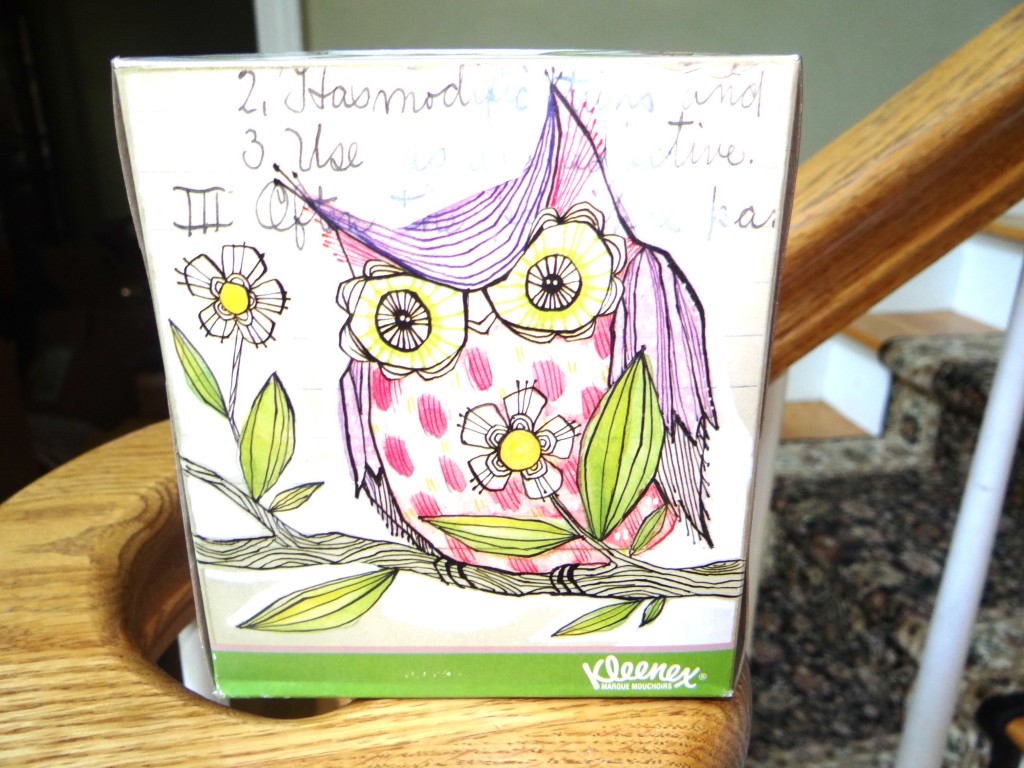 In a few short months, kids will be heading back to school and we all will  be sending lots of Kleenex to school with our kids to keep their hands clean and germ-free. However, did you know that YOU can also help them with their initiative of supporting healthy schools? Kleenex is giving schools a chance to win 250,000 eBox Tops for the 2013-2014 school year through the Kleenex brand in the Classroom Sweepstakes.
Kleenex is the only facial tissue that participates in the Box Tops for Education and they want to give teachers, school administrators, and parent volunteers this amazing opportunity to win the 250,00 eBox Tops, which is the equivalent of $25,000! Just think how amazing that would be!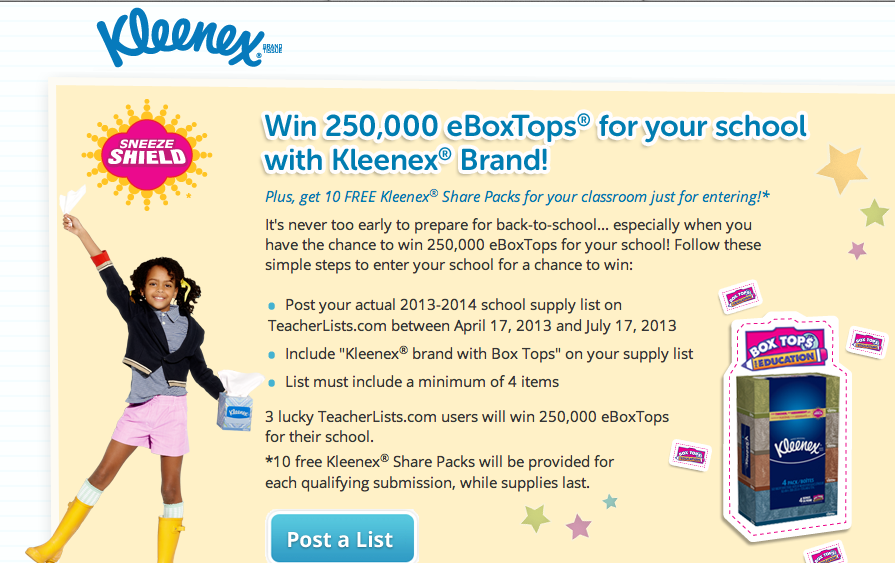 How to Win For Your School:

You can now support Healthy Schools by Entering the Kleenex Brand in the Classroom Sweepstakes by simply visiting TeacherLists.com and creating a 2013-2014 school supply list now until July 17, 2013. Be sure to include the Kleenex brand with Box Tops to your list, as well as three additional items, at minimum. Then choose the school you would want see win it, to receive this amazing prize. Additional information can be seen here: Kleenex.
Three winning schools will win 250,000 eBoxTops for their school and will be chosen by random around August 1, 2013. It is very easy to create this list, as well as, sharing with your friends and family. Be sure to tell your friends all about this too! You do not want to miss out!
Also, don't forget to continue to collect Box Tops for your child's school, which you can find on the Kleenex facial tissue, including the 160 and 210 count everyday tissue and Kleenex brand 112 count Anti-Viral Tissues.
Be sure to have all entries submitted by July 17, 2013! I strongly encourage you to go make a list and be in the winning for 250,00 eBox Tops! Enter today!