Barney and Friends are back with the all new DVD: Play With Barney.  In this DVD, they demonstrate all the benefits of play with their signature style of imagination, music, and laughs!  Baby Bop, BJ, and Riff get practice being leaders and trying new sports like baseball and basketball.  Everyone also learns that taking turns is important, along with following the rules, practicing, and cleaning up. It also shows it is more fun to do all of this as a team!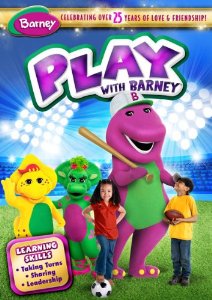 Zane is a HUGE Barney fan and this DVD did not fail to disappoint. It included 4 episodes titled Let's Play Games, Playing Games, Riff to the Rescue, and For the Fun of It. It also had some great bonus features including the Mary had a little lamb karaoke music video which was Zane's favorite.
The DVD was adorable and teaches kids important lessons about sharing and cleaning up! I love when a DVD is not only fun to watch but also educational. It also has the adorable Clean Up song which Zane now knows by heart! I highly recommend Play With Barney for all those Barney fans!
*We received the above DVD for review purposes. All opinions are my own and not swayed by outside sources.