I can't believe next week is Easter, which also happens to be Zane's second birthday! I think the whole next week, I will be singing him Happy Birthday everyday:)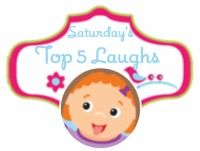 As always, please link up any cute or funny post. If you like, you can take my button or share on social media, although this is not mandatory at all (just appreciated.) Be sure to check out all the other posts who link up, as they all provide such great laughs! Happy weekend everyone!
My laughs:
5. Zane says NO all the time now. He likes to say it NNNNNOOOOOO!! He almost sounds like he has a Southern drawl when he talks. It is just too cute!
4. I am finally at the stage where I let both of them go in the basement. The other day I hear clearly a bad fight. I go downstairs and Hayley says, "Zane get a life." I almost lost it in tears!
3. Zane is a talking machine these days. He says just about anything and everything. It is amazing to me how they go from not talking at all to talking full on sentences. I love watching him learn the human language! Anyone else get excited once their kids started talking?
2. Hayley has a tendency to wake me up in the middle of the night. It usually is because of a bad dream but lately it has been, "Mommy…Wake up." I then say why and she says, "I just need to ask you if you think I will have a bad dream." This is at 2 AM! I can understand waking me for a bad dream but now in anticipation of a bad dream,lol!
1. I put Zane into time out and asked him what he was supposed to say after. Instead of I am sorry, he turns to me and says, "Thank you!" Hysterical!
Now your laughs: