If you read my blog, you know how much I love Huggies. I started with the Huggies brand when Hayley was in diapers and I continue to this day using all of their products with Zane. They are a name I trust and recommend to all moms and dads alike.
I recently learned that Huggies has a new triple clean layers technology that has been added to all of their wipes making it a better alternative in wipes, while still being gentle, to clean a baby or toddler. The New Triple Layers is gentle enough on a baby's skin but thick enough to clean a mess. I don't know if any of your kids experience sensitive skin, but Zane has horrible eczema and gets sensitive with most other products other than Huggies. Now with the new triple clean technology, I can be 100 percent guaranteed a baby who does not have to deal with any skin irritations. This is a huge plus for me as his mom! I am a huge fan in knowing that these wipes gets him clean but is also extremely gentle on his skin.
The Huggies wipes with the new Triple Clean Layers that are are perfect to clean and allows no irritations, are sold at Walmart. Be sure to pick up a pack at Walmart to see the difference yourself! By buying Huggies wipes at Walmart, you are getting the best everyday deal. Also, trust me, once you try their wipes, there is no going back!
Now for the fun part. Are you interested in being a Huggies Tester, by putting Huggies to the ultimate test in real life. The search is on to find Huggies Testers who will be featured on the Huggies page on Walmart.com. All throughout the month, Huggies will be looking for Huggies Testers to be featured  at http://see.walmart.com/huggies . Simply submit yourself as a Huggies Tester and you could be chosen to be featured on the page. Get your entry in today!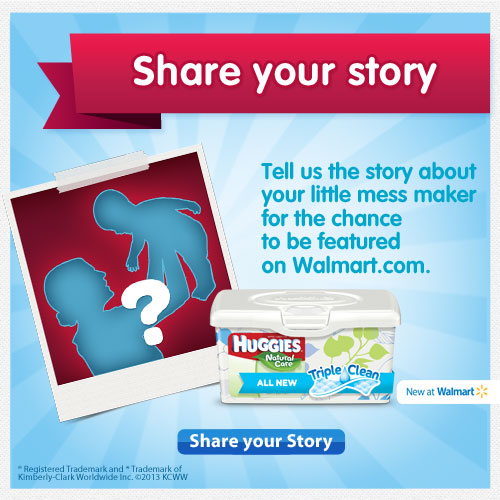 I know for me, we are huge fans of the Triple Clean Layers that are now in the Huggies wipes. I know I don't have to choose between getting Zane clean or worrying about being gentle for his skin. I know with the Triple Clean Layers in the Huggies wipes, I am getting both.

If you don't believe me, I challenge you to go to your local Walmart and try out the Huggies wipes with Triple Clean Layers and see the superior difference yourself. When you are done, don't forget to share your experience as a Official Tester with your friends. I hope to see one of my readers featured on Walmart.com  on the Huggies page! Go now… Also, if you are interested if you Call **BABY, you  can learn more about new TRIPLE CLEAN LAYERS and get a coupon via text, which expires in April.
*This post is sponsored by Lunchbox. All opinions are my own.