Can you believe it is the weekend already? The weeks seem to be flying! I can't believe Zane is going to be 2 next month-CRAZY! I hope you all have a fantastic weekend.
As always, feel free to link up any cute or funny post. Also feel free to take my button and share on social media, although this is not necessary. Lastly, check out the other blogs who link up- I can assure you, they are always so funny!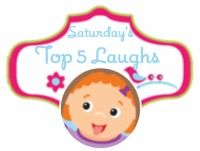 My top five laughs:
5. Hayley made me a hair clip for Valentine's Day. She did it all by herself and it is the most perfect gift. What is even more cute is her saying, "Mom, aren't you so proud of me… I made this all by myself…Isn't is beautiful." I seriously was tearing! That girl makes me so proud!
4. I got Hayley that light up pillow that is seen on the TV commercials on Disney Jr. She has been asking for it for quite some time now. When I gave it to her, she said, "Mommy, you are the greatest mommy in the whole world…I love you so much!" Too cute!
3. Zane's new thing is to say huh all the time. I ask him a question and the answer is always huh! It is actually quite funny to hear him say this 24/7. He is talking up a storm now although some of his dialect is still so hard to understand.
2. Zane's new favorite thing is to say his days of the week. He does a song that he learns at school but his rendition goes Monday, Tuesday, Friday, Sunday-those are the days of the week! He is learning though!
1. Hayley gave my husband a card for Valentine's Day. In the car, I asked her what she was going to give to him and she said she could not tell me. Not two minutes later, she says, "Mommy, I am not going to tell you but I made him a card with a picture..Now don't tell him." The girl can't keep secrets.
Now your laughs: