I am going to be totally honest and state that I had no idea that Dr. Scholl's made shoes until recently. My friend was telling me that she ended up buying one of the most comfortable pair of Dr. Scholl's shoes, so I was intrigued to see for myself, just how comfortable and fashionable the shoes were.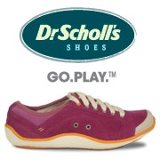 The first step, was going to their website to see what kinds of shoes they made. I was shocked to see the diversity of shoes in their line from boots…to sandals…to casual footwear…to athletic footwear. Their vision at Dr. Scholl's is to create innovative footwear that is uncomplicated, playful, fun, and comfortable. They want to make a shoe that will make your foot feel the same way after 8 hours of wearing them. They don't want you to experience any pain with wearing the Dr. Scholl's shoes.
Since I needed to put all of this to the test, I was sent the Dr. Scholl's Women's Master Boot as seen here: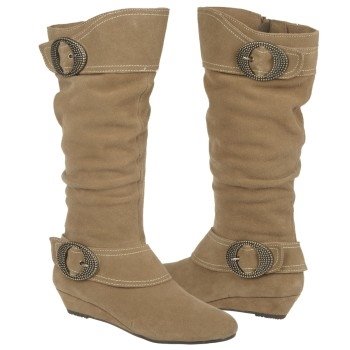 This boot truly had it all for me. First off, I absolutely loved the beige suede boot and loved the fact, that despite wearing it out in rainy conditions, the boot still remained in the same way it came. It did not get ruined at all when I got stuck in a downpour when wearing the boot. The two buckles on the boot made it so fashionable and stylish. Buckles are so in this winter season, and to see it on the boot, really exemplified the boots beauty.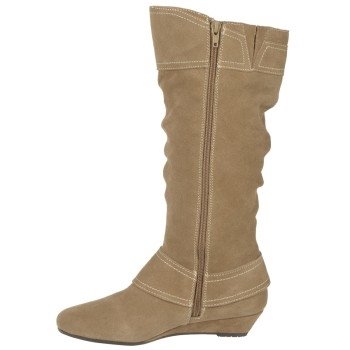 It has an easy side zipper, to put it on and off with no problem at all. It takes me one hand to fully zipper the boots. While this is a good benefit to a great boot, what is most important is the comfort. I don't know about you, but I wear my shoes all day long and am on my feet for a lot of it. With the Dr. Scholl's boot, I did not have any problem with not being comfortable. In fact, it was actually the opposite- the boot was so comfortable, I had trouble taking it off. It is made of a smooth lining with Memory Foam lining. It was as if I was walking on air when I had the boot on.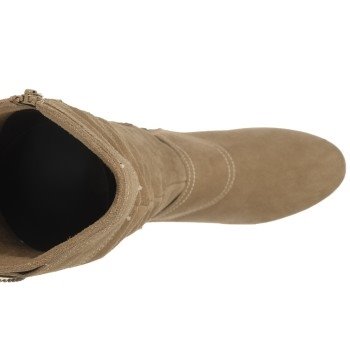 The boot had the traction outside and had a one inch heel, which is enough for me to walk around with for everyday use. I had no problem wearing them with the heel and really liked the design of the heel- it was unique in that the heel was more squarish and fashionable than other boots I own.
The Dr. Scholl's Women's Master is available in Taupe Suede, Deep Mocha Suede, and Black Suede. It retails for $104 on the Dr. Scholl's website.  This is a great price for a boot so be sure to check them out today! If boots are not your thing, no problem as Dr. Scholl's has a wide assortment of shoes in every price point. Happy shopping!
*I received the above product for review purposes. As always, all my opinions are my own and not swayed by outside sources.