When Hayley and Zane were both little, we absolutely LOVED the Halo SleepSack. We used it on both children until they no longer liked to be swaddled. The majority of babies like to be swaddled so finding the perfect Swaddle blanket is something all moms/dads go through.
We went through many blankets until we found the Halo SleepSack. If you are unfamiliar with the Halo SleepSack, it is a wearable blanker that has removable, adjustable Swaddle bands to contour to your baby. It is adjusted to fit babies snugly and safely. Most babies like the feel of being swaddled, as it reminds them of being in the mom's womb, and the SleepSack allows babies to have this same feel.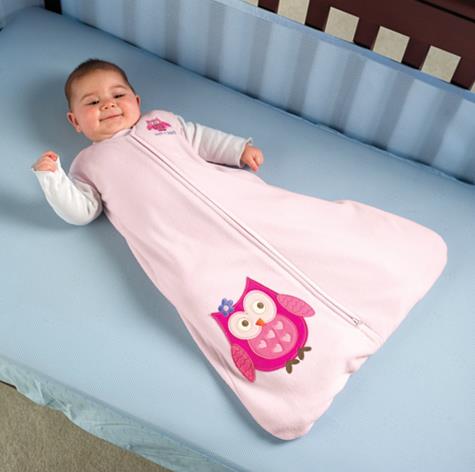 After your children outgrow swaddling, they could still use the SleepSack wearable blanket with their arms out by their side. We used this for Zane for quite a bit until he got really mobile, and didn't like the feel of being confined anymore. The Halo SleepSack is designed to fit your baby perfectly and follows along with the American Academy of Pediatrics in suggesting babies use wearable blankets.
Why use a SleepSack swaddle? The answer is simple- snugly wrapping an infant comforts them and immobilizes their arms to prevent the startle reflex, so they sleep more soundly. The Halo SleepSack 2 in 1 design, allows moms/dads to remove the swaddle feature letting one wear the SleepSack along. This allows your baby to stay warm and safe all night long.
There are 3 different sizes of the Halo SleepSack Swaddle- The preemie, newborn, and small size. Each size is based on your child's weight and height. The SleepSack Swaddle takes the place of a loose blanket, which should not be brought in the crib. For more information about the Halo SleepSack Swaddle visit their website: Halo SleepSack Swaddle.
The Halo SleepSack Swaddle retails for $28.95 are a must for any new mom/dad to have!  It is definitely on my top 5 baby essential items!
Giveaway: Enter to win your own Halo SleepSack Swaddle. This giveaway is run via rafflecopter so click read more to see the actual giveaway. The only mandatory entry is to tell me if you ever tried any Halo products before and if not, why do you want to win in the comment section proceeding the post. While the other entries are optional, I highly suggest filling them out to increase your chances of winning. US only. Good luck.
a Rafflecopter giveaway

*I received the above product for review purposes. As always, all my opinions are my own and not swayed by outside sources.