Most children these days, love to cuddle with their lovey. We have gone through many lovies over the years with both children but none as cute as the Baby Gund Lolly Giraffe. Lolly Giraffe is made by Gund toys, a name moms/dads trust for their reputable toys that they develop year after year.
Lolly Giraffe is an adorable plush animal that will brighten up your babies nursery and help lull them to sleep at night. They make the perfect newborn gift as Lolly Giraffe is very soothing and comforting to infants, babies, and toddlers. Once you turn the key on the back of Lolly Giraffe, Lolly will sing "Hush Little Baby" lullaby as their head moves. It lasts a few minutes so your kids can enjoy it for some time.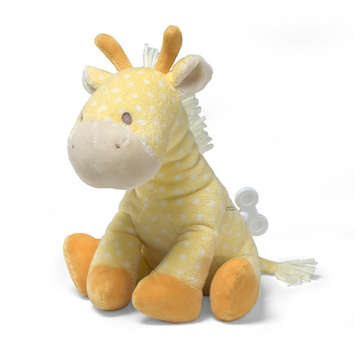 Lolly Giraffe has a long neck with a mane of cream colored yam. It has a soft yellow body with white polka dots which makes Lolly very hip to young children. Every night, Lolly goes to sleep with Zane. I put Zane to bed and then turn on Lolly for him to lull himself to sleep. It works out perfectly! Lolly Giraffe is available for $30.00 on the  Gund website.
Baby Gund also makes other soothing lovelies such as the HuggyBuddy which is a soft blanket in various animal shapes. It is an adorable blanket for your kids to use as their "first real blanket."
This holiday season, be sure to check out the wide assortment of adorable baby gift ideas from Baby Gund. It would be perfect if you have a young child, or perhaps as a gift for a friend.
*I received the above product for review purposes. As always, all my opinions are my own but not swayed by outside sources.