I am so excited to present my next review from In-Zone Brands called Tummy Tickler drinks! If you are not familar with In-Zone Brands, they are an Atlanta based pioneer company in children's beverages. Theyhave a lifestage family of drinking products including BellyWashers, TummyTickler, and TummyTickler Tots drink line.
Tummy Tickler drinks look like this: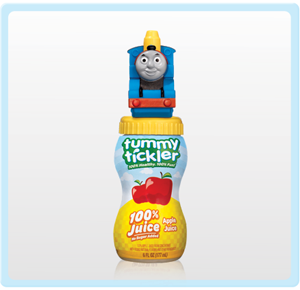 What they are, are fruit juice beverages that are in a completely unique spill-proof toy top making drinking for children healthy fun. They are an actual cup that a child drinks through with a straw around various childrens characters, that will not spill, even if your child turns it upside down. Hayley and Zane received Thomas the Train, Minnie Mouse, Dora, Princesses, Elmo, SpiderMan, and  more, character sippy drinks. If I say, they are the cutest cups ever, I would not be lying! I particulary like the Tummy Tickler Tots are cups with juice, that is 40% lower in sugar. While I don't like them to have too much juice, I feel happy knowing that it is lower in sugar. I also love that they are so happy, when they see all their favorite characters surrounding their straws. Hayley would say, "Mommy… I am drinking out of Minnie Mouse". Their excitement is so awesome to see!

In Zone definitely created a beverage parents want their children to drink in a package that their kids want to drink from. Their mission is to be the experts in children's beverages by providing people who believe in one simple yet ingenious idea: put a beverage parents want their children to drink in, in a package that kids will want to drink from! They certainly succeeded in my eyes.
All of their juices are made from 100% fruit juice, parents want their children to drink with some of their most beloved characters, that children adore. The character tops are fitted with their patented spill-proof spout to give children the independence they desire, and parents the peace of mind they need.
The Tummy Tickler juices are prefect for car rides, at home, or even to bring with you in your pocketbook, for a nice drink for your kids while out. I will also add that the these Tummy Tickler products are 100% machine washable, so no need to throw them out after your kids are finished. Just wash them.. and use them again!
We use the Tummy Tickler juices all the time! They are a huge hit in my household and I am sure they will be in yours! Be sure to check out In Zone Brands site to see where BellyWashers, TummyTickler, and TimmyTickler Tots are sold! Let me know what you think once you try them!
*I received the above products for review purposes. As always, all my opinions are my own and not swayed by outside sources.