As a dentist that primarily treats children, I love when I am able to find products that makes it easier for a mom or dad to get their children to brush. One brand that I always have trusted since the day I entered dental school is Colgate. Colgate makes some of the finest dental products on the market that I use both professionally and personally.  That is why I was so excited when I found out that  Colgate has made Holiday Packs for adorable and fun stocking stuffers, as well as gifts, for  this holiday season.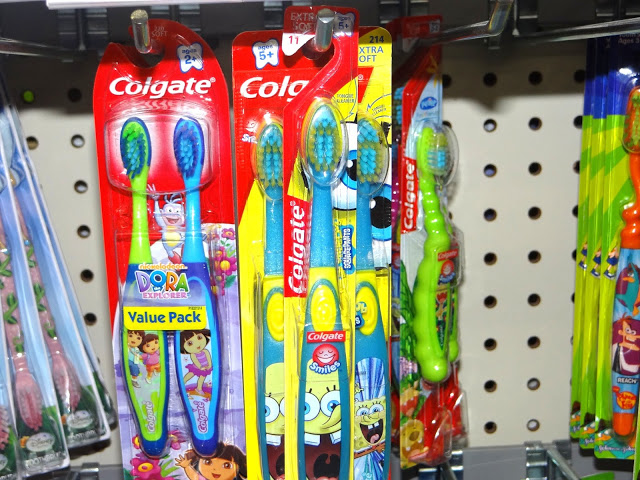 If you are not familiar with the Colgate Holiday Packs, they are a combination package that features Spongebob Squarepants toothbrush and Spongebob Squarepants toothpaste. They have also made a Holiday Pack with the Dora the Explorer toothbrush and toothpaste. So instead of individually buying all of your oral hygiene items, Colgate simplified it in an exciting package.  I know for me, both of my children are huge Dora fans so I know they will be excited to each brush with their own Colgate Dora toothbrush/toothpaste. What a truly spectacular idea Colgate has come with up!
You might be asking why is the Colgate Holiday Packs a good idea for a stocking stuffer? The reason is quite simple that your children will love having their favorite characters on their brushes/toothpastes, but more importantly it will help with their oral hygiene. With the holidays coming up, everyone will be eating sugary foods and candy.  I am sure your children already have candy in their stockings. I will fully admit that mine do too- it is the holiday season! However, along with consumption of all that candy, there needs to be a way to get kids excited to brush so they don't get any decay (or in kids terms "sugar bugs") in their mouths. That is where the Colgate Holiday Packs come into play!
I know in our family, Zane HATES to brush his teeth. Gasp… I know both of his parents are dentists but he truly does not like it. Hayley loves it but little brother cries everytime we put a toothbrush near his mouth. I am sure you all had trouble at one time or another brushing your childrens' teeth. With the Colgate Holiday Packs, your children will get excited to see their favorite characters on their toothbrush/toothpaste and it will make brushing much easier. It was definitely the case with us after Zane tried out the Colgate Spongebob Squarepants character toothbrush with the Colgate kids toothpaste! He kept saying, "Bob..Bob." Bob to Zane means Spongebob and he was very excited to see him on his toothbrush! By purchasing the Colgate Holiday Pack, it will get your children in the mood to brush, which in incredibly important. Afterall, my patients don't like coming to me during the holiday season for cavities in their childrens' mouths. Colgate has got parents covered in this department.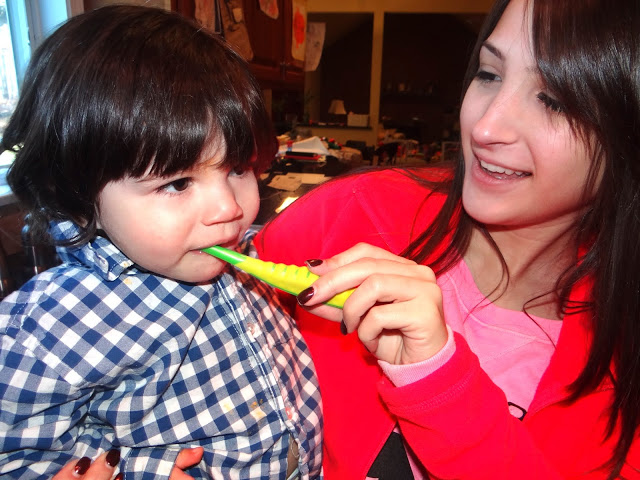 I headed to out to Walmart to purchase the Colgate Holiday Pack which featured either Dora the Explorer or Spongebob Squarepants toothbrush/toothpaste in one pretty package. You can see my full shopping story here: Walmart Google Plus Shopping Trip. Unfortunately due to Hurricane Sandy affecting my area, shipments were delayed and the Colgate Holiday Packs were not on the shelves yet. However, they are now in every Walmart across the country for your purchasing pleasure. I decided I was going to improvise and make my own Colgate Holiday Pack using the Dora/Spongebob toothbrush/toothpaste. I checked out the wide assortment of Colgate kids products at Walmart.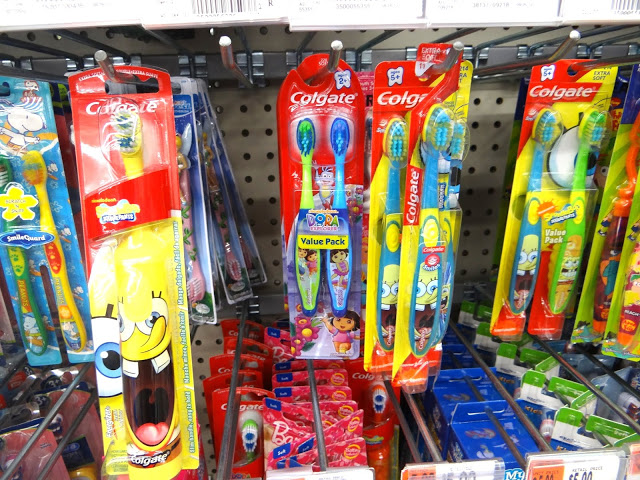 At checkout at Walmart, I purchased 3 different Colgate Dora/Spongebob toothbrush packages and 3 Colgate kids toothpastes.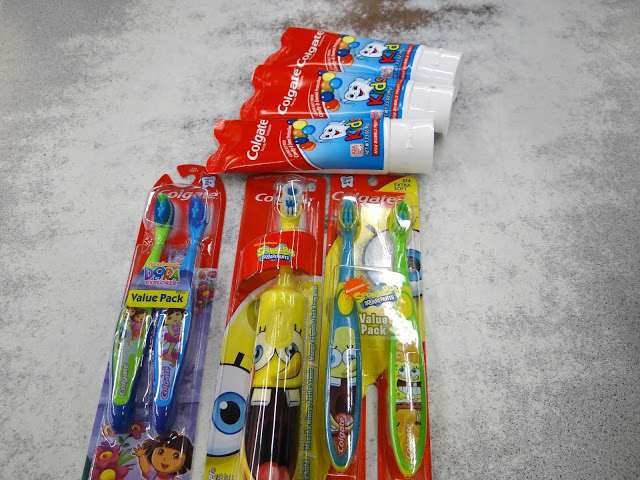 When I got home, I arranged them all on the table and put them in each kids stocking as great, fun, and helpful stocking stuffers.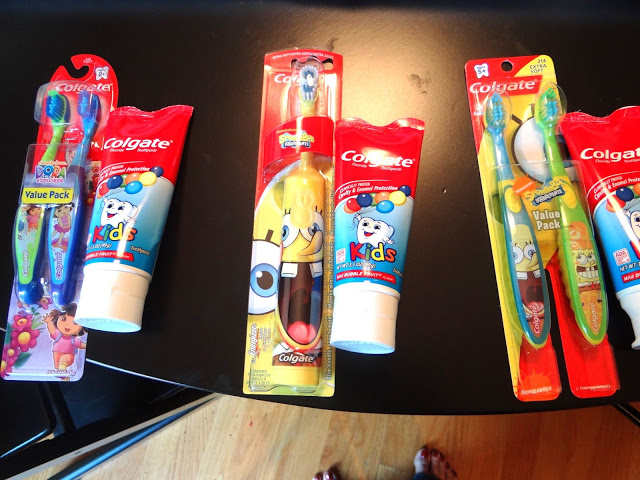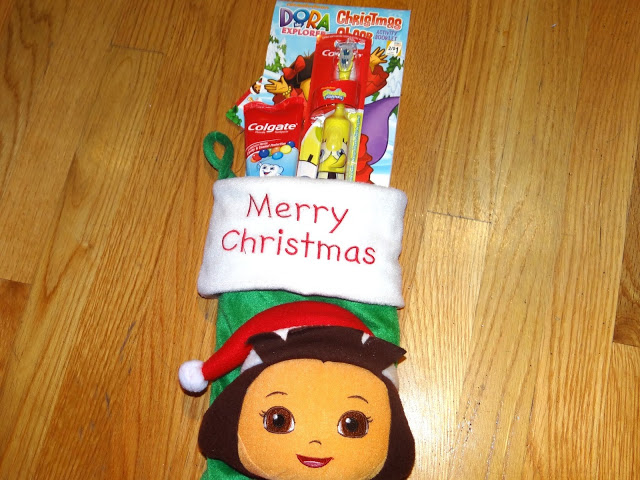 I accidentally dropped a Spongebob package of toothbrush on the floor, and Hayley commented, "Is that mine?" I know she is getting the Colgate Holiday Pack in her stocking, but I decided to let her and Zane each get their own choice of either the Colgate Spongebob or Dora toothbrush now. Hayley instantly wanted to go upstairs and brush her teeth, while Zane for the first time, actually got excited to brush his teeth.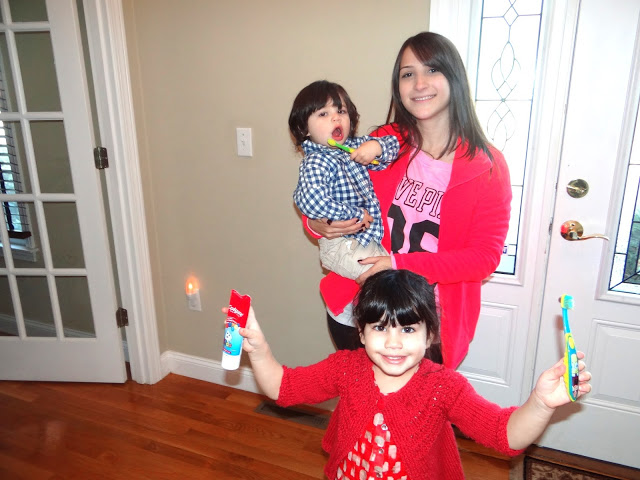 The Colgate Holiday Packs #HolidaySmiles would make perfect stocking stuffers and gifts this holiday season. Your kids will be so happy to receive their favorite character toothbrush/toothpaste and you will know you are promoting good oral hygiene. It is a win-win for all! Please check out Colgate on their Facebook and Twitter page to learn more about all their wonderful products.
*I am a member of the Collective Bias™ Social Fabric® Community.  This shop has been compensated as part of a social shopper insights study for Collective Bias™ and Colgate. #CBias #HolidaySmiles #SocialFabric