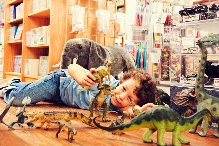 ABOUT BRILLIANT SKY TOYS & BOOKS
***The first Brilliant Sky Toys & Books® was founded in 2002 in Lansing, Michigan with the singular goal of being the finest upscale specialty toy store in America. Based on the belief that the right playthings give children a gateway to physical, emotional and cognitive development Brilliant Sky Toys & Books provides the highest quality products in an atmosphere that is both active and interactive. Its unique aesthetic approach is vibrant yet warm, exciting yet comforting and exploratory yet safe. From rich colors and woods to low sightlines and custom fixtures the Brilliant Sky sensory experience is unlike any other. Now based in Okemos, Michigan and featuring more than 10,000 high-quality specialty products, Brilliant Sky Toys & Books is truly the place where everyone can find their way to play. Visit them at www.brilliantskytoys.com. ****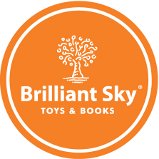 I just love finding out about new toy stores that I had no idea existed before. Being a mom of two small children, toys is a part of our everyday life! Recently I became introduced to a site called, Brilliant Sky Toys and Books.
Service with a smile is an old-school concept that has never lost its appeal and is appreciated by every customer who enters Brilliant Sky. The specialty toy store chain stretches from North Carolina to Colorado with 15 stores in towns like Des Moines, IA; Nashville, TN and Louisville, KY. A 16th store is about to open in Houston, TX. A full list is on the company's website at www.brilliantskytoys.com. The inviting atmosphere in every shop mimics the philosophy of founders Brent & Sonia Taylor, parents themselves of three growing children.
Besides having 16th stores, you can also order online for an incredible array of toys. Unfortunately we don't live near a Brilliant Sky Toy Store, but that does not stop me from placing my order online. They have virtually any toy for any age group available on their site. Some of their toy products include  thousands of dolls, games, puzzles, crafts, books, dress-up, kites, plush, musical instruments and so much more!
Recently due to the popularity of the toys at Brilliant Sky Toys, they have implemented the coveted Brilliance Award, now in its third year. The retail chain tips its hat to "toys that represent the very ideals that Brilliant Sky Toys & Books was founded upon — the importance of quality, the value of open-ended play and the simple beauty of a child's fascination and delight." They now have seven distinct toys that have been awarded the Brilliance toy awards. We were lucky enough to get to receive one of the seven most popular toys: The Tobbles set.
There are stacking toys and then there's Tobbles! Use the six, uniquely weighted Tobbles pieces to stack, balance, nest, and spin for hours of fun. Creativity and motor skills combine when finding countless ways of stacking and nesting these Tobbles. Includes six stackable pieces, and a stacking piece.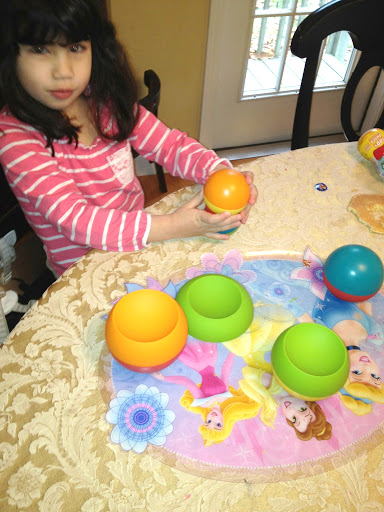 Hayley and Zane just love playing with these. The Tobbles are a new innovative way to play with endless possibilities. Hayley and Zane love stacking the Tobbles, and then seeing them spin around in circles on the floor. Zane laughs hysterically and Hayley loves to use her imagination to get the Tobbles to balance against each other.
I love that Tobbles teaches children about balance, proportion, color, and design. It encourages sensory exploration, hand/eye coordination, visual and spartial proportion, balance, and more! It provides the kids with hours of fun! The Tobbles are from the makers of Fat Brain toy company.
This holiday season, be sure to check out Brilliant Sky Toys and Books! Either visit them at one of there 16 locations or order online- the choice is yours!
*I received the above products for review. As always, all my opinions are my own and not swayed by outside sources.