Oh boy- now that I have kids, my overall body appearance has changed drastically. While I was lucky enough to lose weight pretty quickly (thanks tennis for getting me back in shape), my stomach area continues to be a huge problem. No matter how many crunches I do, no matter how many times I do them, my stomach area is still very puffy. While I used to be able to wear jeans low on my stomach area, now I have to wear high waisted jeans. I am not ready for any invasive procedures; that is why  when I was contacted to do a review of of Tummy Tight, I jumped at the chance. I definitely want a slimmer waist.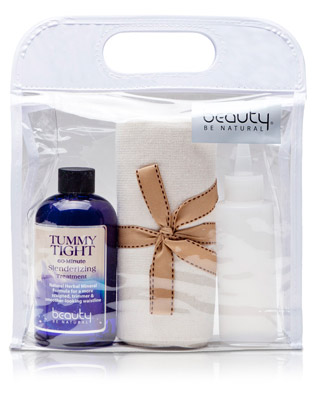 Tummy Tight is a non surgical tummy tightening system that you can do in the confines of your own home. While I am not comfortable showing my area bare with the wrap on in pictures, I can assure you that is does truly work if done the right way.  Tummy Tight is the newest non surgical alternative to invasive tummy tucks and liposuction procedures. If used as directed, you will see measurable differences in your weight dimensions, within a week.

When I was sent the package, I started right away putting on the wrap. The kit came with the actual premium compression wrap, a bottle to put on more serum solution as needed, and the Tummy Tightening Serum. I followed the directions as noted on the packaging. First I soaked the compression fabric roll in the solution- it tells you on the packaging to add one TBLS. of serum with 1 cup of water.  I used a large bowl at home to put the compression roll in the solution and then got rid of the extra solution on the wrap. After I was done, I wrapped the compression fabric around my tummy. It says during those 60 minutes that you have it wrapped, to do some light exercising. During the time I had it on, I did some light housekeeping.
Once you are done with waiting the 60 minutes,I removed the compression fabric. It said on the package that you would notice immediate inch loss and to be quite honest, my stomach area did look flatter! I was amazed! I then repeated the treatment after another 2-3 days and used it all the way up to the serum being gone. No worries though as they do sell the serum on Beauty by Natural, the makers of Tummy Tight.
My main question before I  accepted to do the review was if the Tummy Tight serum was safe for me to use on my body. I was quickly assured that it is 100 % safe and completely non toxic. It also contains no parabens to make the solution even safer! The main ingredients of the liquid serum is natural salts, minerals, and fat fighters.
The mid section is a common problem area for many women out there. People tend to accumulate tummy fat and water retention in the abdominal area. Now with Tummy Tight, they will have a solution to these common problem areas. I have done many treatments of the Tummy Tight and I can assure you with 100 percent confidence it truly works!
Tummy Tight is available for $110 on the Beauty by Natural. Be sure to check them out if your stomach area continues to be a problem area for you and you want some tummy tightening.
*I received the above product for review purposes. As always, all my opinions are my own and not swayed by outside sources.