Have you heard of a push gift? If not, it is something special you give to a mom when they give birth to their child from a special family member. I will admit that I did receive a push gift for my second child but it was actually funny what I received. I received a treadmill! In my husband's defense though, I did ask for it! However, I recently found out about a company called Juno Lucina, that brings the perfect original push present-DIAMONDS!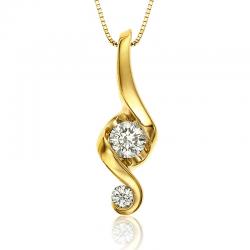 Juno Lucina has been the true symbol of love and appreciation of new mothers of over 1,000 years. They adopted this philosophy and incorporated the love of jewelry to make the only luxury jewelry brand that solely commemorates new mothers! Juno Lucina is there to help you appreciate the mother's journey from pregnancy to one of the most important events in their lives, their child's birth! Junio Lucina is there on that special day to make that day special and remarkable!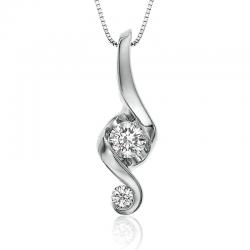 Truly as a mother if I received a special diamond pendant on the birth of either of my children from Juno Lucina, I would be so unbelievably excited! I did have the chance to review their Signature collection pendants that is just simply gorgeous!
Each design within their Signature collection symbolizes Juno Lucina, the Roman Goddess of childbirth, cradling and protecting the heads of both mother and child. It is truly more than a gorgeous piece of jewelry, it is a symbol of safeguarding the ones you love in the journey ahead for the future mom. Imagine the surprise she will receive getting the Juno Lucina Signature Pendant!
I wear my Signature Pendant wherever I go and get stopped all the time. It is such a dainty and timeless piece! More so though, is what the Signature Pendant represents in my eyes! After receiving the Signature Pendant, I perused the entire Signature collection on Juno Lucina and know what I will be asking for it if (and hopefully when) I have another child! Their Signature Studs and Drops would be an excellent addition to my pendant. The Signature Pendant retails on Juno Lucina for $299.00.
They also have various other beautiful lines including Harmony Pendants, Earrings, Bracelets, and Melody/Diamond Pendants. They will make you a wonderful gift set for that special mom in your life! If you have a special request such as only yellow gold, or white gold, they will be readily able to accommodate you. They can also make a pendant in a larger carat weight as requested!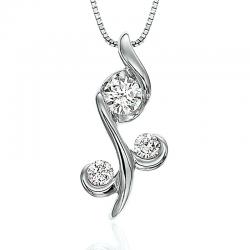 If you are mom or a future mom, I would hint to your husbands that Juno Lucina would make a great push gift. The wrapping on the box is gorgeous, the pendant is beautiful, and it will always be a memorable and timeless piece! Be sure to visit Juno Lucina to see their vast array of diamond selections.
Win it: One winner will receive a Juno Lucina Signature Pendant (ARV: $300). For this giveaway, follow the directions below. If the comments say +2,etc- make sure to write your comments double.
Mandatory: Visit Juno Lucina and tell me what other item you would like to receive (+1 entry)
Optional:  1. Become a fan of Juno Lucina on Facebook (+2 entries)
2. Follow Mommyhood Chronicles on Facebook (+2 entries)
3. Follow Juno Lucina on Twitter (+2 entries)
4. Follow dentistmel on Twitter (+2 entries)
5. Follow me on Instagram at MommyChronicles
6. Follow me by email. This will be confirmed in my email subscribers that you confirmed subscription (+3 entries)
7. Tweet about this giveaway mentioning @dentistmel @PushGift with mentioning a diamond pendant (+3 entries)- This could be done daily, just leave you link below each time with the +3 entries.
US only. Ends 11-21
*I received the above product for review purpose. As always, all my opinions are my own and not swayed by outside sources.