Disney The Great Mouse Detective- Mystery in the Mist Edition: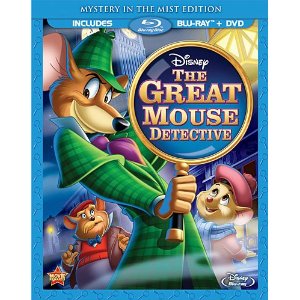 THE SHERLOCK HOLMES OF MOUSEDOM EMBARKS ON A HEROIC JOURNEY WHEN "THE GREAT MOUSE DETECTIVE " MYSTERY IN THE MIST EDITION ARRIVES FOR THE FIRST TIME ON BLU-RAY and HD DIGITAL ON OCTOBER 9, 2012.
On October 9, 2012, fans can experience Disney's greatest little mystery, in High Definition and sound and go on a great big adventure as "The Great Mouse Detective" Mystery in the Mist Edition arrives on 2 Disc Blu-Ray Combo Pack and HD Digital. When the diabolical Professor Ratigan kidnaps London's master toymaker, the brilliant Basil of Baker Street and his trusted sidekick Dawson try to elude the ultimate trap and foil the perfect crime. This family classic on Disney Blu-Ray proves big heroes come in small packages!
Cast includes: -Vincent Price (Edward Scissorhands) as the voice of Professor Ratigan
-Barrie Ingham (The Triangle) as the voice of Basil of Baker Street
-Val Bettin (Shrek) as the voice of Dr. David O. Dawson
-Susanne Pollatschek as the voice of Olivia Flaversham
-Candy Candido (Herbie Rides Again) as the voive of Mrs. Judson
-Eve Brenner (The Mentalist) as the voice of Mouse Queen
-Alan Young (Mickey Mouse Works) as the voice of Flaversham
Bonus features include:
-So you think you can sleuth where viewers get an introduction to private investigating to kick off the Great Detective Film
-The World's Greatest Criminal Mind Sing A-long Song where fans can sing along with Vincent Price to the song's villainous vocals
-The Making of the Great Mouse Detective where fans get a behind the scenes look at this classic film.
This is one awesome movie! Both kids absolutely love it and even though we haven't talked much about The Great Mouse Detective before, they took an instant liking to it. It is a wonderful movie for a fun filled family night. Be sure to buy it when it comes out on October 9, on Blu-Ray and HD Digital for the suggested retail price of $29.99 (for the Blu-Ray disc +1 DVD)
*I received an advanced copy for review purposes from Disney. As always,  all my opinions are my own and not swayed by outside sources.