I am so glad I am back with my Saturday's laughs! I missed writing them when I was away.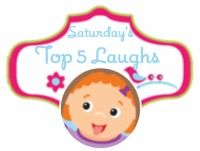 We had a great time on our cruise so all my laughs revolve around our cruise! I hope you enjoy them and looking forward to reading all of yours! Please link up any funny, cute, or top five laugh post! As always, feel free to take my button or share this hop on social media sites. Happy weekend everyone!
Top five:
5. There was a kids club on the cruise. I was afraid to put Hayley in because the boat had so many fun kids activities including carousels  and pools. When I went to pick Hayley up the first night, she cried hysterically because she told me she never wanted to leave the kids club. She LOVED it!
4. Our room steward made us towel animals every night and left it in our room. Hayley was so impressed with them and disclaimed WOW so loudly every night when she saw them.
3. There was a splash park on the boat designated for kids who are not potty trained. We put Zane in there and he was hysterical. He had so much fun splashing around. He might have stayed the whole day if we let him!
2. On the airplane going to our cruise, I was walking Zane up and down the aisle. He was miserable! On one of the trips up the aisle, he bumped into a lady drinking cranberry juice wearing a white shirt. Needless to say, it spilled all over her. I was mortified!!! I apologized profusely but all Zane kept saying is Oh-Oh..Oh-Oh..
1. Hayley's birthday party is coming up next week and Hayley is so excited. She turned to me last night to make sure all her counselors from her kids club on the cruise are coming. She has no idea that those counselors live no where near us.
Now your laughs: