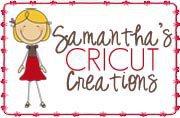 I am so excited to present my next review as Samantha's Cricut Creations features adorable products but also the owner, Samantha, is a friend of mine. Some background on Samantha: Samantha is a mom, along with a blogger, who hand crafts her own products. Crafting has been a hobby for quite some time for her but in recent years, she has picked it up as a side profession. She is an AMAZING crafter and makes wonderful products including party invitations, holiday cards, decorations, banners, and home items.
You can purchase Samantha's  beautiful and intricate handmade items on Etsy . She also is a craft blogger and provides fantastic crafting tips every week on her blog, Samantha's Cricut Creations.  It is truly fantastic how many artistic creations she makes using her home craft room and cricut machine. Samantha can create anything you would like for your next party. She is super creative to begin with, but if you have a theme that you would like incorporated into your party, she can gladly do that for you too!
As I said before, she is not only an amazing blogger, etsy owner, craft designer, but also a superb person. I met Samantha when we were together on the nest mom site and then we went to a branch out group from the nest where we talk frequently. She has an adorable boy with his Hayley's age and is due in 6 weeks, with another baby! I could not be more excited for her!  She was one of my first sponsors on The Mommyhood Chronicles when I started out small, and no one even heard of me. Samantha has been a loyal sponsor through the years and I hope I can bring her the recognition she so deserves.
She did make Hayley an adorable princess birthday banner for her upcoming party. While I do have the product, I am going to hold off on showing the actual banner so I can display it at her party. It is nicely packaged right now and I don't want to open it and take the chance of ruining it before I actually use it. However, you can see some of her gorgeous designs here:
For your next birthday party, please make sure you check out Samantha's Cricut Creations!
Win it: Sam has offered one of my readers a $10 gift card to be used for any product in her store. You can use this gift card anytime you like, so if you feel like saving it for your children's upcoming birthday, no problem.
For this giveaway, the only mandatory entry is to tell me which product you like from her etsy shop here: Samantha's Cricut Creations in the comment section proceeding this post- (+1 entry)
For optional entries:
Like Samantha's Cricut Creations on Facebook (+2 entries)
Like Samantha's Circuit Creations on Twitter (+2 entries)
Tweet out this giveaway and make sure you mention @dentistmel @samanthascricut (+3 entries). Leave link below
*Make sure if you do a +2 entry, you comment twice that you did it. If it is +3. comment three times you did it. Please make sure you have a valid email address.
Winner chosen 9-24. US only. Good luck!
* I received an item for review. As always, all my opinions are my own and not swayed by outside sources.