Are you ready for some FOOTBALL? I know for one, my family and I are. Just look below at the kids getting in gear for the Patriots to make it to the Super Bowl this year!  Yes, I know I am overly confident but I know we are going to do it!
Every Sunday is football day in my house. Hayley and Zane grew up watching football and seriously love it as much as my husband and I do. That is why when it was time to talk about what we wanted to do for Hayley's fourth birthday, it did not come as I shock when she mentioned she wanted to somehow incorporate our beloved NFL team in her party favors. She also wants to have a princess theme so I really needed to think twice how I could possibly incorporate both of them for the party. Then it hit me – I have the perfect way!
I decided that instead of giving out party favors, we are going to give out the favors with the invitations. Since it is a very small group of girls we are inviting and we know them very well, I thought it would be nice to have Hayley work on a loot bag for the kids and hand the invitation with it. Hayley's birthday party is going to be at a kids' salon where they are doing their nails, hair, and makeup in true princess fashion. So of course, the loot bags will contain tiaras, nail polish, and body washes to get ready for her party. While this was great- it still didn't incorporate the Patriots theme until I found this: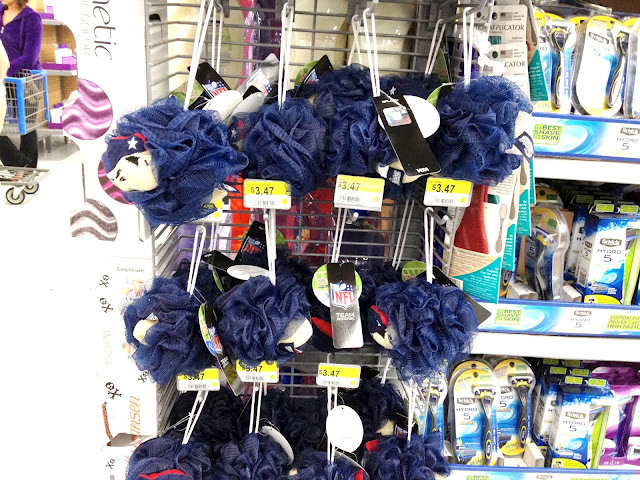 That is right- this is the  Infinity #MascotWear Loofah for the  kids to have in their loot bags to get picture perfect for the party. Truly, how cute are these! The MascotWear makes many various sports products with Loofah being a very popular item that they sell. If you go to your local Walmart, they will probably have an end cap with the MascotWear Loofah and the NFL Sports Team that is from your local home state. For us, our Walmart had it very visible right next to the body washes.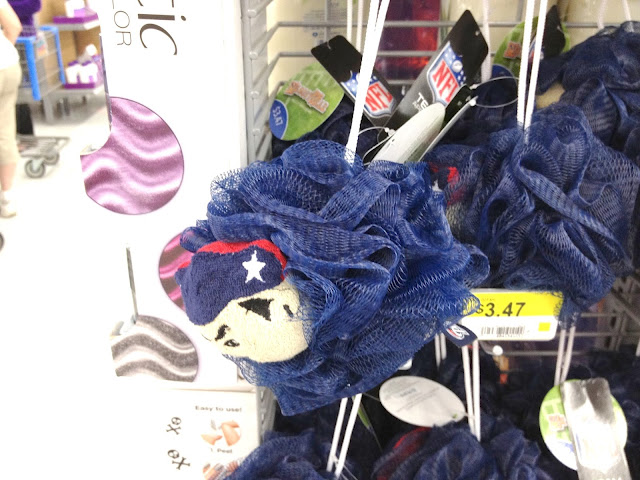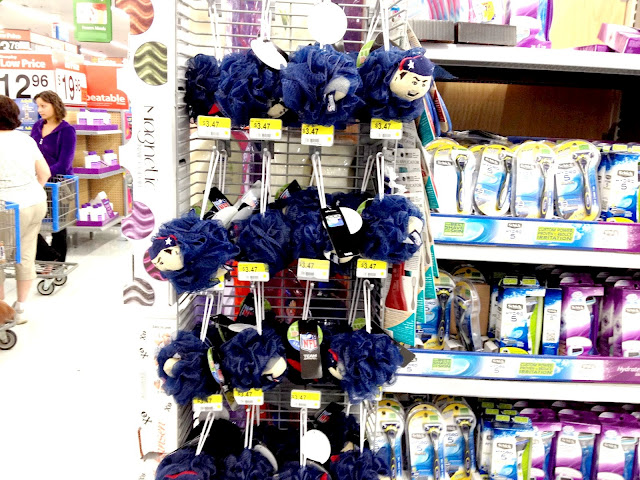 I was so excited to find this because not only would these make perfect favors to add to the gift bags, but I also thought I can snag them for cute stocking stuffers for my parents and such. For the price of $3.47, you can't beat it!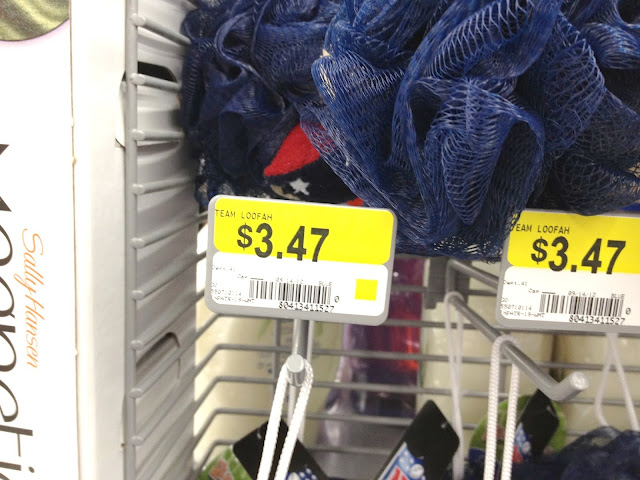 After picking up the MascotWear Loofah, I showed Hayley that she could put these in with the other gifts and it would be perfect for her little princess friends to use in the shower, and get ready for her fantastic party in a few weeks. She really loved the idea. Shower with the Patriots Loofah, put on their fantastic crown and nail polish, and head out to Hayley's 4th birthday party- I think this is a winning combination!
When we got home, we arranged the products we found at Walmart that we are going to put in the childrens' gift bags. This week once we finish putting them all together, I will be letting Hayley hand deliver it to her friends with her invitation.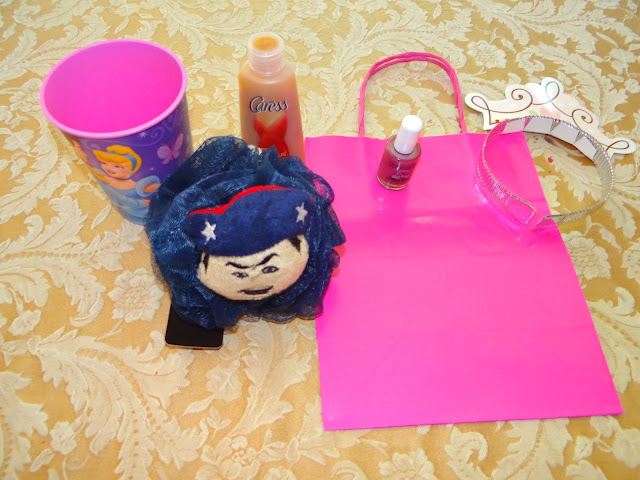 Hayley wanted to decorate the bags for her friends so we got out some markers and she went to town having fun with this. She was so excited about the idea that she spent most of the afternoon putting together all the gift bags. She also was mesmerized with the Infinity MascotWear Loofah, that she had to take a break mid-afternoon to bathe with it. Can you blame her- the Loofah is our little Patriots Mascot right in our own home.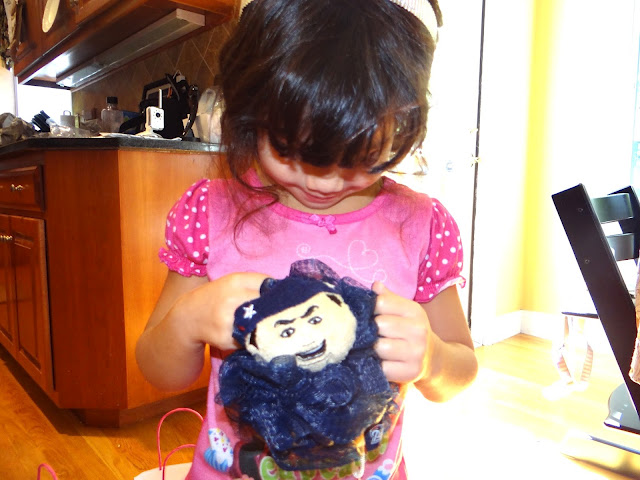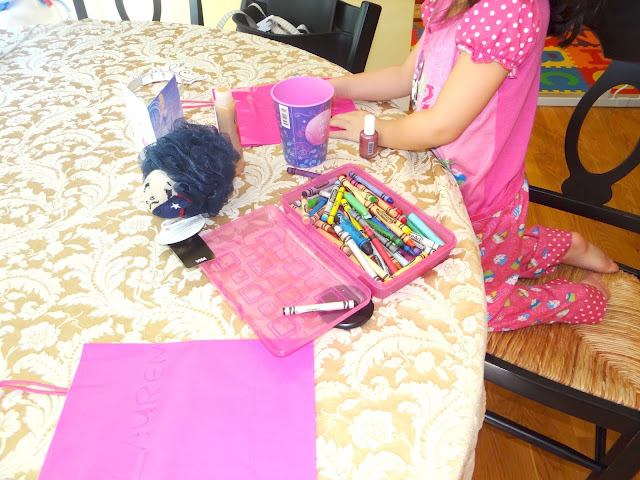 I truly believe that is a really cute idea for her party to incorporate all these items for her and her friends to get picture perfect for the birthday party. It adds fun and excitement to the regular invitation. We plan to deliver the invites and bags this week and have some fun doing it.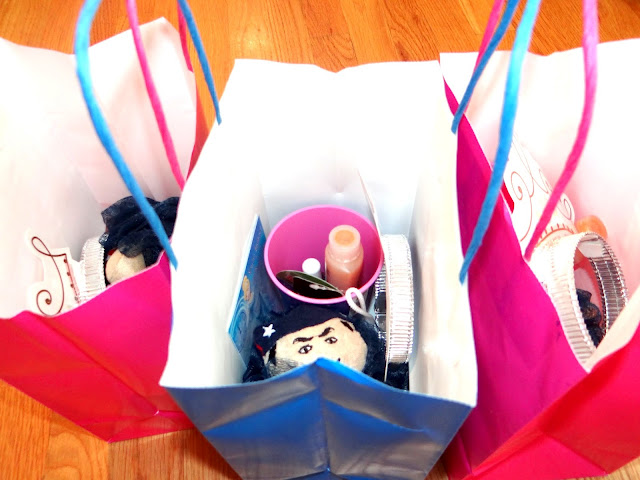 You should check out all the #MascotWear products including your home teams Loofah at your local Walmarts. These would be great for your child's next birthday party…football party… or even as perfect stocking stuffers. Head on out now to your local Walmart….What are waiting for!!
You can see my full Google Plus shopping story here: Google Plus. You can also check out MascotWear on their Facebook and Twitter Page.
* I am a member of the Collective Bias™ Social Fabric® Community.  This shop has been compensated as part of a social shopper insights study for Collective Bias™ and Infinity Headwear and Apparel #CBias #SocialFabric