This summer is almost coming to an end but that does not mean the outdoor fun will end. What I love the best about fall, is the fact that the kids can still play outside without it being too hot. For my family, fall is the time that outdoor play is at the highest. I rather them play outside, than sit and watch television. It is not only providing them with fun, but giving them a chance to get some exercise at the same time. I was very thankful that Franklin (a fabulous name that I have associated with sports for years now) has come up with riveting and FUN outdoor play toys. We recently had the chance to review the Franklin Advanced Badminton Set, the Franklin CHUX Bean Bag Toss, and the Franklin Soft Tip Target Toss. All three games were huge hits in my house!!!
The Franklin Advanced Badminton Set is a full on badminton set complete with rackets and nets in a hard carrying aluminum case, so you can have fun wherever you go this fall. I remember as a child, badminton was a huge activity that I enjoyed doing with my family. We always had these "competitive" Badminton challenges to see who would be prized the grand winner. However, our Badminton Set was no where near the quality and magnitude of the Franklin Advanced Badminton Set.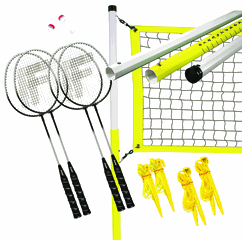 Included in the Franklin Advanced Badminton Set includes:
Poles: 1.125″ diameter octagon, virgin PVC with 61'' assembled height and scoring system
Rackets: (4) "Tightstring" stringing, "soft-touch" padded grip, tempered steel shaft
Shuttlecocks: 2 A-grade shuttlecocks
Net: 20′ x 2′ x 1.5″
Net Clips: 6 Net-Saver net clips
Tape: 4 sided tape construction
Stakes: 6 yellow styrene ground stakes
Guy rope: (2) Top and (2) middle
Other: 6 adjustable guy rope tension clips
Case: Deluxe messenger style carry bag
When we received the Franklin Advanced Badminton Set, it was so easy to set up. Within a minute, I had it set up in our backyard and we were ready to play. While Hayley is still a little too young to enjoy the set, give it another year, and she will be very competitive with my husband and I- I am sure of it. Meanwhile, my husband and I have some "kid" fun and play Badminton on this set all the time. When the neighbors pass by, they always ask if they can join in the game. While we set it up on the grass, it can readily be set up on virtually any flat surface. The best part of this set is the price. It is only $39.99 and can be purchased here:
Franklin Advanced Badminton Set
.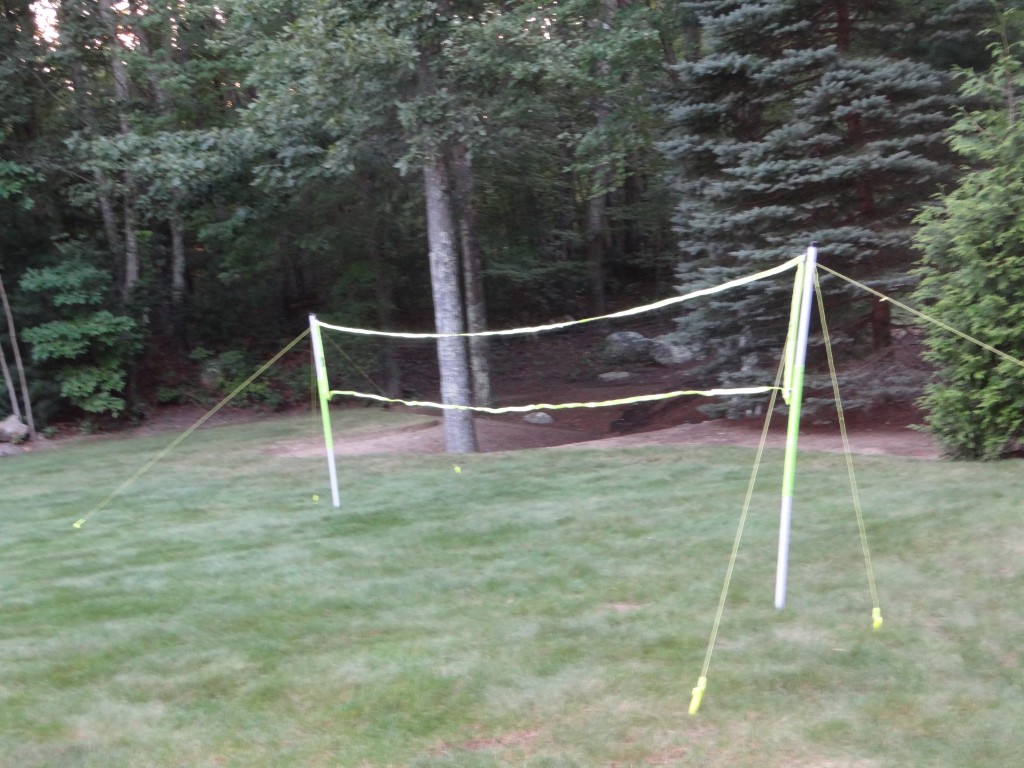 The Franklin CHUX Bean Bag Toss is definitely Hayley's favorite outdoor game. It is your typical carnival bean bag toss game but much more and can now be brought to your house for outdoor fun. It features an all weather target stand that can be left outside. We went on vacation and accidentally left it outside during the Hurricane and guess what- it is still in the same condition as we left it! In the set, it includes the stand, 6 bean bags, rules/instructions, and a carrying place to take it with you wherever you go!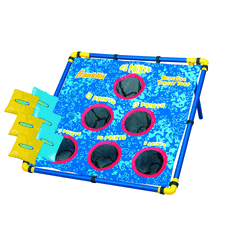 While there is set rules for the game, for my three year old, she has fun just throwing the bean bags in from a distance. For Zane's birthday, we might be doing a carnival theme and this would be a perfect game for the kids to have some fun with. We have it set up all the time, and everyday Hayley spends time playing with this game. For the $29.99 investment and the hours of fun it will provide, I highly recommend the
Franklin CHUX Bean Bag Toss Game.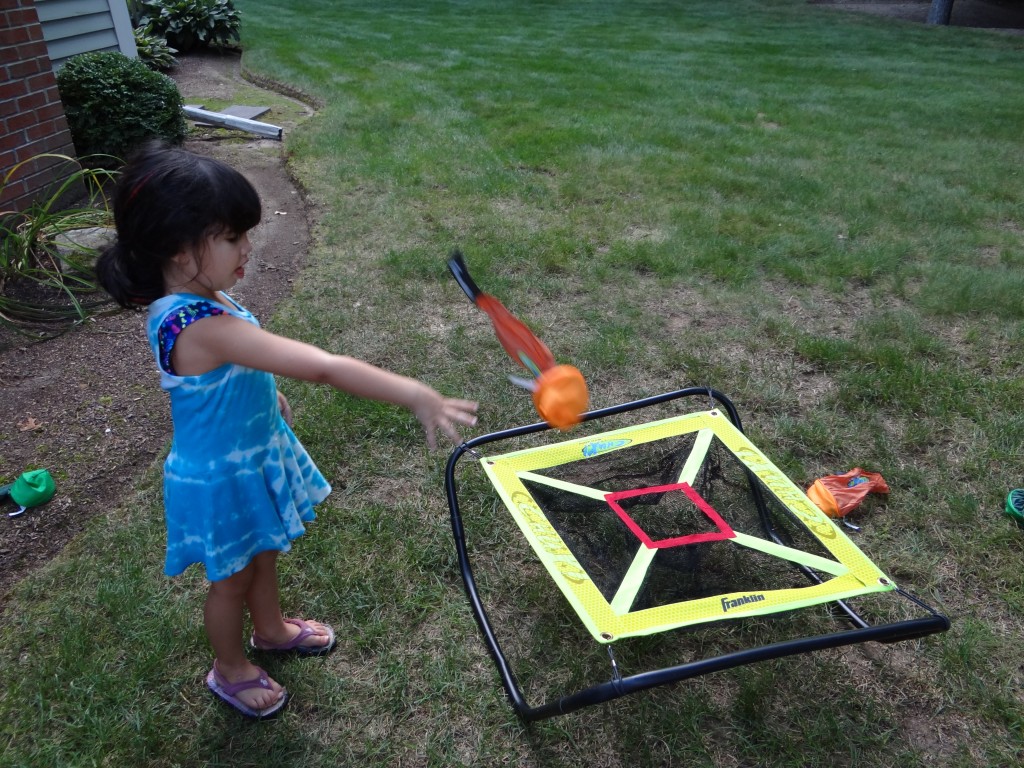 The
Franklin Soft Tip Target Toss
is the perfect game for backyard fun! It includes 4 soft tip target tosses in 2 different colors, 2 scoring rings, instructions, and a carrying bag.
The Franklin Soft Tip Target Toss
 is a modern version of the classic dart game and is for ages 12+, which retails for $19.99. I will tell you that since they are soft, I had no problem with Hayley playing with it and she loved it! It is a very easy to take out for the kids to play with and then store away with no problem.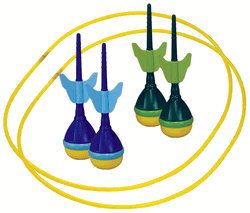 Hayley stated that with all her Franklin toys, it was if she was at her own personal carnival. I have to agree- the outdoor toys are so cute and are sturdy too! I love that Franklin came up with these ingenious games to keep kids buys outdoors this fall!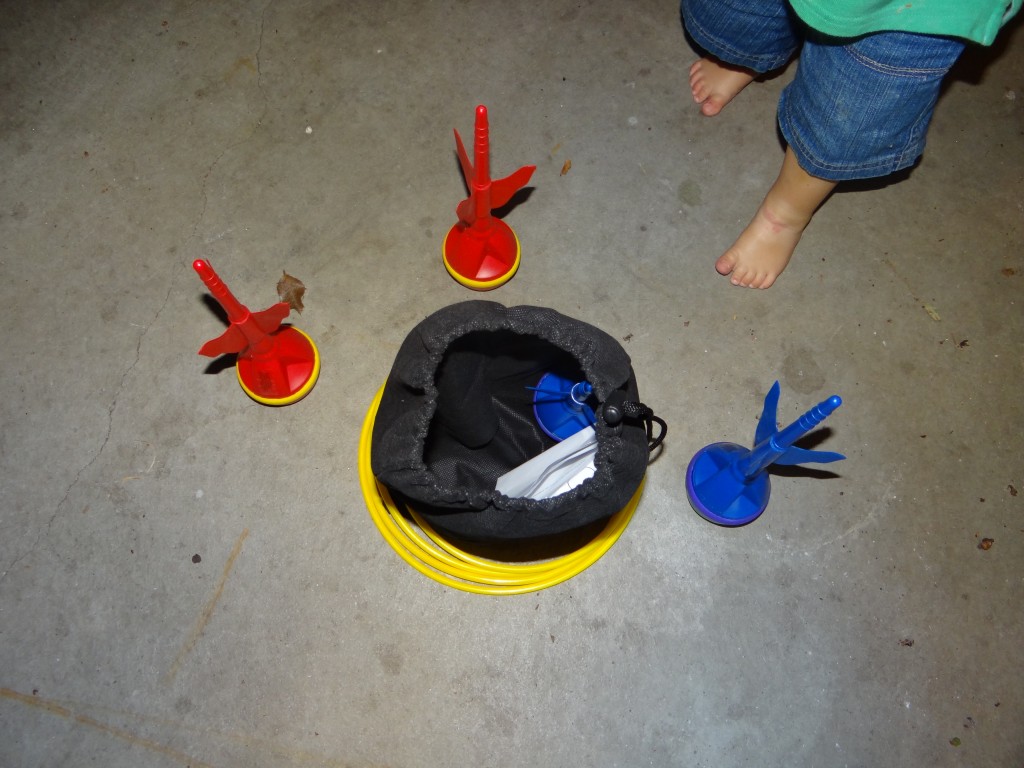 Buy it: All these Franklin toys above as well as other Franklin products are available on their website: Franklin Sports Gear.
Win it: One winner will receive all three of the above Franklin Outdoor toys which is a combined ARV of $90.00!! To enter, simply fill out the rafflecopter below by clicking continue reading. The only mandatory entry is to tell me which Franklin outdoor toy you are most excited to win in the comment section proceeding this post. While the other entries are optional, I highly suggest you fill them out to increase your chances of winning. US only. Good luck!
*I received the above products from Franklin and the PR firm for reviewing purposes. As always, all my opinions are my own and not swayed by outside sources.