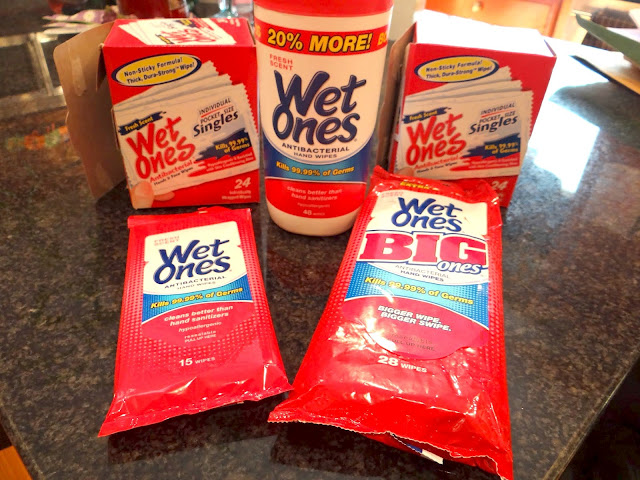 I am a fanatic when it comes germs in my household. I try my best not to get my kids sick (as most moms do) and one product I swear by is Wet Ones! I have Wet Ones all over the house and in the car. Wet ones come in two fragrances and include a Fresh and new and improved Citrus Scents. The Wet Ones are currently available in 40 count canister, which is designed to fit into a standard car cup holder, 15 count travel pack, and 24 count box of individually wrapped single wipes. I have to admit that I have all of the above and keep them stocked in my home at all times. I am pretty sure we will never run out because once I see that I am running low, I immediately head to the store to replenish. I seriously can't live without Wet Ones. It is by far one of the most essential mommy-must have products out there.
If you are not familiar with Wet ones Antibacterial Hand Wipes, they are an effective way to keep kids' hands clean and help prevent the spread of germs. How many times have your kids been in dirty areas, and you don't have the means to have access to a bathroom with soap and water? I am sure we have all encountered this at one point or another. Well, if you have the Wet Ones handy, you can be assured that your children will not pick up all the nasty germs that are out there!
 While the Wet Ones are just as effective as hand sanitizer gels in killing 99.99% of germs, that is where the similarities stop. The Wet Ones clean better than the hand sanitizer gels and wipe away dirt and messes without drying the skin like alcohol based hand sanitizers do.  Most  germs are spread via children touching contaminated surfaces. Some bacteria can even live on surfaces such as doorknobs and desks for up to two hours. By having Wet Ones handy, you are protecting your children!
I use Wet Ones for everything. Zane absolutely hates having his face clean after he eats a meal. With the Wet Ones, I can use one wipe and get all the dirt off his face without much fuss from him. I similarly use the Wet Ones on Hayley and Zane's hands after any activities they participate in where they are touching dirty services, or even if they are around children and playing. I love the fact that not only are they antibacterial but they are hypoallergenic and enriched with skin conditioning aloe.
Zane and Hayley are both going to school in the fall. You better believe that I will be adding in a few Wet Ones to their lunch bags as well as their school boxes. Being in constant contact with other children and surfaces at school, I want them to have clean hands before they even attempt to eat. I want to make sure that they use a Wet One before their hands touch any food. Since they are made in such convenient sizes, I can readily tuck one into their lunchbox. They can use the Wet One if they don't have access to a bathroom. Also if either of them make a mess at school, they can use the Wet Ones to help clean up dirt and messes from the classroom to the playground.
For the most part, Hayley and Zane are very healthy children. I can certainly attest though, by using the Wet Ones, I have helped keep them healthy and prevented the spread of germs that readily surround children at any time of their day. Thanks Wet Ones for making a great product!

Check out these great tips for going Back to School this year!
*I wrote this review while participating in a blog tour by Mom Central Consulting on behalf of Wet Ones. I received a product sample to facilitate my review and a promotional item to thank me for taking the time to participate.