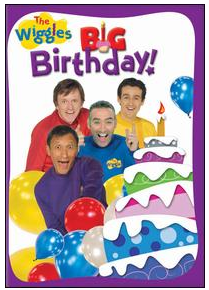 Hayley to Mommy- "Mommy, can you please put on the Wiggles." Mommy to Hayley- "You already watched the Wiggles today- how about watching something else?" Hayley to Mommy- "No, the Wiggles are my favorite! Please put them on!"
As you can see from the above, my daughter is obsessed with the Wiggles. I remember when she was very young and I went to You Tube typing in some of the classic kids songs. The Wiggles popped up on the screen with their own renditions of the childhood favorites, and since that day, it is all Wiggles in my house. Now that Zane is beginning to actually sit for 2 minutes, he is enjoying the Wiggles immensely too!
We were so excited to get the Wiggles' Big Birthday DVD for review for my Wiggles fanatics at home. We are definitely planning to go see the Wiggles' live but in the meantime, the kids are LOVING this new DVD. The Wiggles Big Birthday DVD invites children age two to six to sing, dance, and wiggle along with Murray, Jeff, Anthony, Sam and their friends Captain Feathersword, Wags the Dog, Henry the Octopus, and Dorothy the Dinosaur as they celebrate their Big Birthday. This DVD is filled with music, including many classic Wiggles songs performed live as well as terrific birthday surprises and tummy-tickling jokes for a wiggly, giggly fun!
When we all watched the Wiggles' Big Birthday, it was as if we were there at the live concert. It was so neat to see all the music and dancing, but also see the one-hour documentary called, "Everybody Clap! Everybody Sing!" which covers The Wiggles' first 20 years!  The DVD features surprise guests including the famous Australian family,  Terri, Bindi, and Robert Irwin.
I highly suggest purchasing this DVD if you have a Wiggles fan in your live. If you can't attend the concert, this is the next best thing-promise! If you would have seen Hayley and Zane dancing around to the songs and clapping your hands, you would understand just how great the DVD is. I believe their favorite song was "Quack Quack" as they both asked me to keep replaying that one.  All of the songs, music, and even jokes are great though!
The Wiggles' Big Birthday can be found at a retailer near you, including Toys R' Us, Walmart, Amazon, and on www.NCircleEntertainment.com.  It retails for $12.99 and is 140 minutes. Please like NCircle Entertainment on Facebook to learn more about this and upcoming DVDs.
*Thanks to NCircle Entertainment for supplying me this DVD for review. As always, all my opinions are my own and not swayed by outside sources.