These days, I use my iPad, iPhone, and iPod for just about everything and anything. Hayley and Zane love to watch their favorite YouTube videos, as well as their Disney favorites on my Apple devices. There are some shows that are on the iPad, that they can't see on TV though. A few months back, I was wondering if there was any device that I could use so they could see the movie playing on my iPad on a much larger screen.  While they love the iPad, it is a much smaller screen to watch a movie or show. That is why I was completely THRILLED when I found out about the 3M mobile projector and had the chance to review it! With the 3M mobile projector, the kids can watch their favorite iTunes, iPad, and iPhone  shows on a very big screen-how cool is that!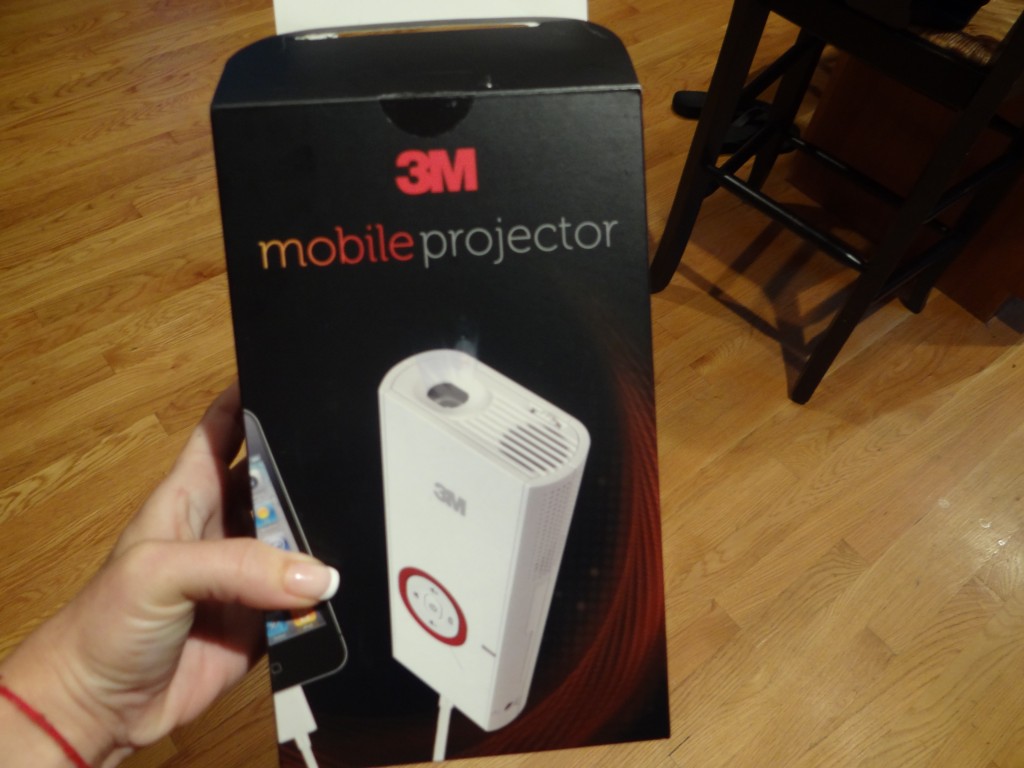 The 3M Mobile Projector comes with 1 projector, rechargeable battery, power adapter/charger, and video cable. The actual projector is so small that you can carry it with you wherever you go. It is also extremely easy to do. Connect your 3M Mobile Projector via the cable to the following devices: iPad, iPad 2, iPhone 4, iPhone 3GS, iPhone 3G, iPhone, iPod Touch, iPod Nano, and iPod classic. Then turn on your favorite Netflix movie or YouTube videos, and it will project onto whatever wall you decide to use. We have many white walls in the house, so we can readily watch all their favorite shows basically in any room of the house. We also have some cathedral ceilings, so it was fun to lie down and watch the movie from above. Hayley had a blast laying down and watching her favorite characters come alive from above.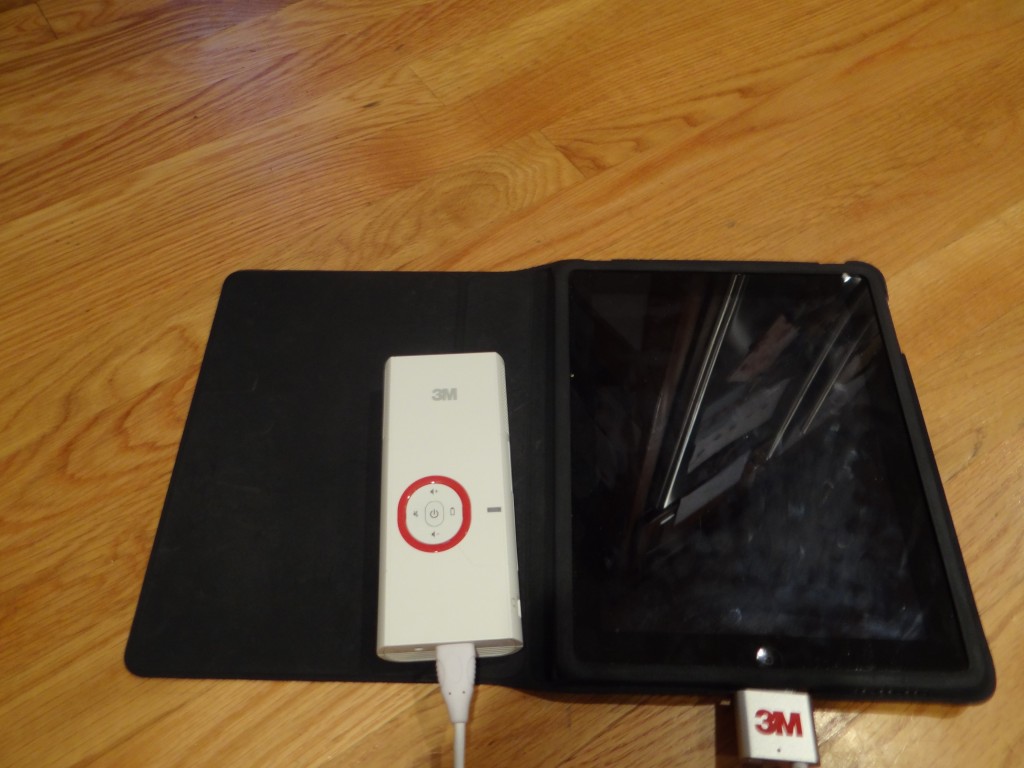 Not only will the 3M Mobile Projector allow you to watch your favorite Netflix movies, YouTube movies, or other application shows/movies, but one of the most amazing features is it allows you to stream all your personal photos/videos right from your mobile devices. Hayley and I had a blast watching all her home videos of when she was a baby right on the projector. She was so excited to see herself taking her first steps on the "big screen" as she would call it. It allows one to share every wonderful moment without having to share your phone or iPad with everyone.
* It is hard to take a picture of a video streaming but I tried my best. I can assure you that the pictures from the projector are 100 clear and bright!  Hayley can sit and watch movies from the projector all day long. Note in the picture below it is way past her bedtime but she wanted to finish her movie. *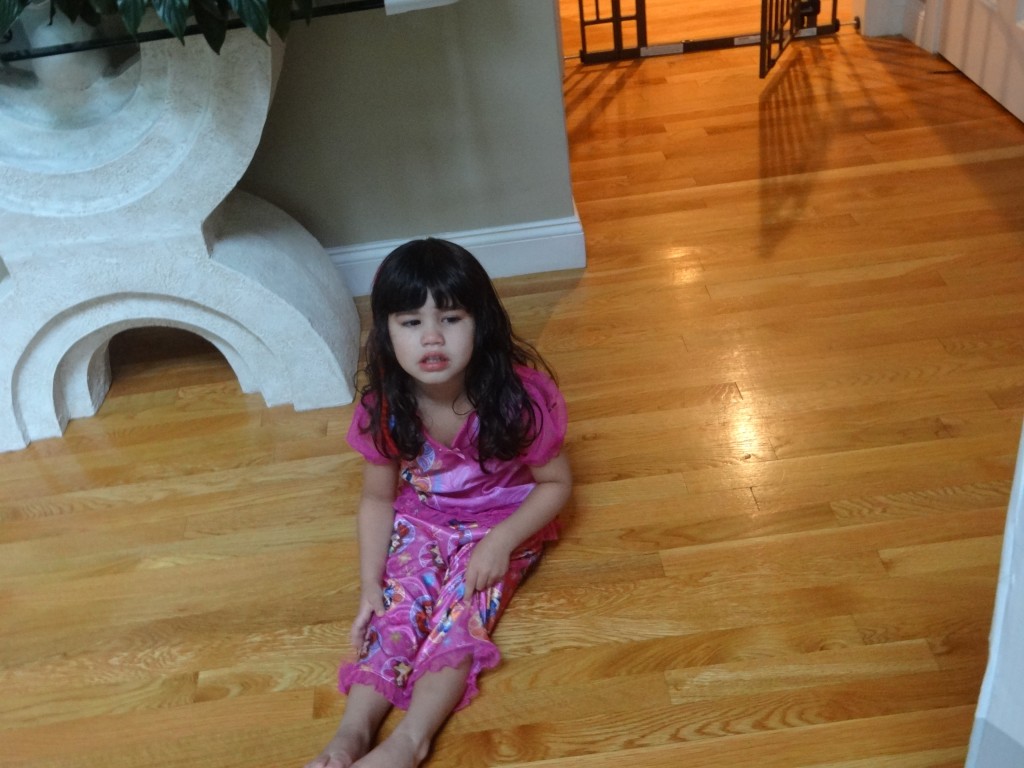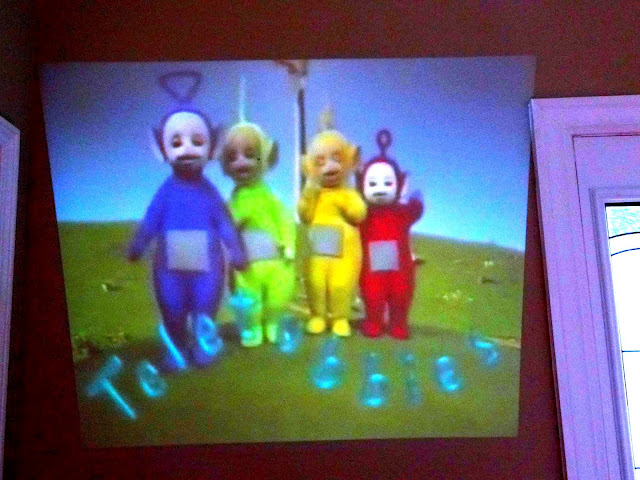 Some of the additional features include having built-in speakers with audio output to add external speakers/headphone. It also has up to 2 hours of battery life per charge or it run continuously on AC power. It can connect to laptops and computers with additional cables. There are no lamps to replace.  It uses long-lasting (up to 20,000 hours) LED technology. Lastly it can output a mirrored image of the iPad2 screen with additional cables.
While we used the 3M Mobile Projector for our home entertainment, I thought about how fabulous this would have been when I was in dental school. I used to do a lot of presentations and I had to bring in a big clunky projector. It was so hard and cumbersome to use. It took me at least a half an hour to set up the projector and the presentation. If I had the 3M Mobile Projector, it would have made my life much easier. My husband also remarked how the 3M Mobile Projector would be great for his patients. They could stream movies while the patients wait, and of course, he could use it for presentations to his patients. It keeps track of some patients on his iPad, and he could easily bring this to other dentists as well, so they can discuss cases.
I am in LOVE with the 3M Mobile Projector. It is so small and lightweight, but yet displays a truly incredible picture. We can watch our movies and see our pictures more readily using the 3M Mobile Projector. 3M was brilliant developing such a unique product. The 3M Mobile Projector is now available in Target and if you buy it now at Target, you will receive a $25 gift card to their store. 3M Mobile Projectors is also on Facebook and Twitter so be sure to check them out!
*I wrote this review while participating in a blog tour by Mom Central Consulting on behalf of 3M and received a promotional item to thank me for taking the time to participate.