I am so glad it is the weekend but that means only 5 days to BLOGHER12! I can't believe it! I am so excited! I hope you all have a fantastic weekend! Off to go to work tomorrow and then some birthday parties…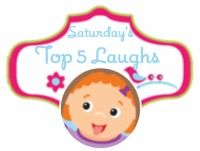 As always, please link up any cute, funny, or top five laugh post. Please feel free to link to take my button or help share this hop on social media sites.
Top Five Laughs:
5. Zane loves to give kisses. He goes to everyone in site and head butts people. That is his definition of a "kiss" in his eyes.
4. Zane LOVES his mommy! He only wants to be held and cuddled with his Mommy! Whenever Daddy tries to pick him up from my arms, he is in hysterics. I secretly love it!
3. Hayley conversely is such a Daddy's girl! She only wants Daddy! At around 4AM each night she wakes up to go to the bathroom. We try to take turns taking her but whenever I go on, she freaks out and says, "Daddy, take me". I secretly love this too- no need to get up at 4 AM!
2. I do a lot of product reviews so I get a lot of boxes delivered each day. Hayley has officially made friends with the UPS guy and they has a conversation every time he comes to the door.
1. Hayley is slightly conceded. She loves to say, "Hayley is beautiful and so smart". I think I gave her a complex,lol!!!
Now your laughs: