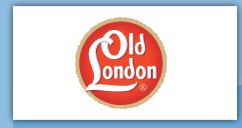 As most you know, my New Year's Resolution was to vow to eat healthier and find more time to exercise. I need to find the right balance of foods and exercise time to lead me to follow through on my path of eating healthier in 2012. I made this resolution not only for myself, but for my entire family. In the past, I was very guilty of going to the supermarket to purchase the family's favorite snack: chips. I never could find a replacement for our obsession with chips until now. Thankfully, I recently became introduced to Old London foods such as Melba Toast, Melba Snacks, and Bagel Chips. If you have not tried them yet, I promise you that they quickly will become a fantastic, yet very healthy alternative for your everyday "junk" food consumption. No more chips for me; Old London snacks came too the rescue!
Old London snacks including the Melba Toast, Melba Snacks, and Bagel Chips have not only become a favorite food for myself, but my kids actually love to eat them too. With Zane's food allergies and Hayley's pickiness to eat, I always bought a food that would satisfy one kid, but not the other. I am happy to say that both kids love these foods and not only eat them as snacks, but I have found a way to incorporate them into meals that the kids will actually eat. A true score for me!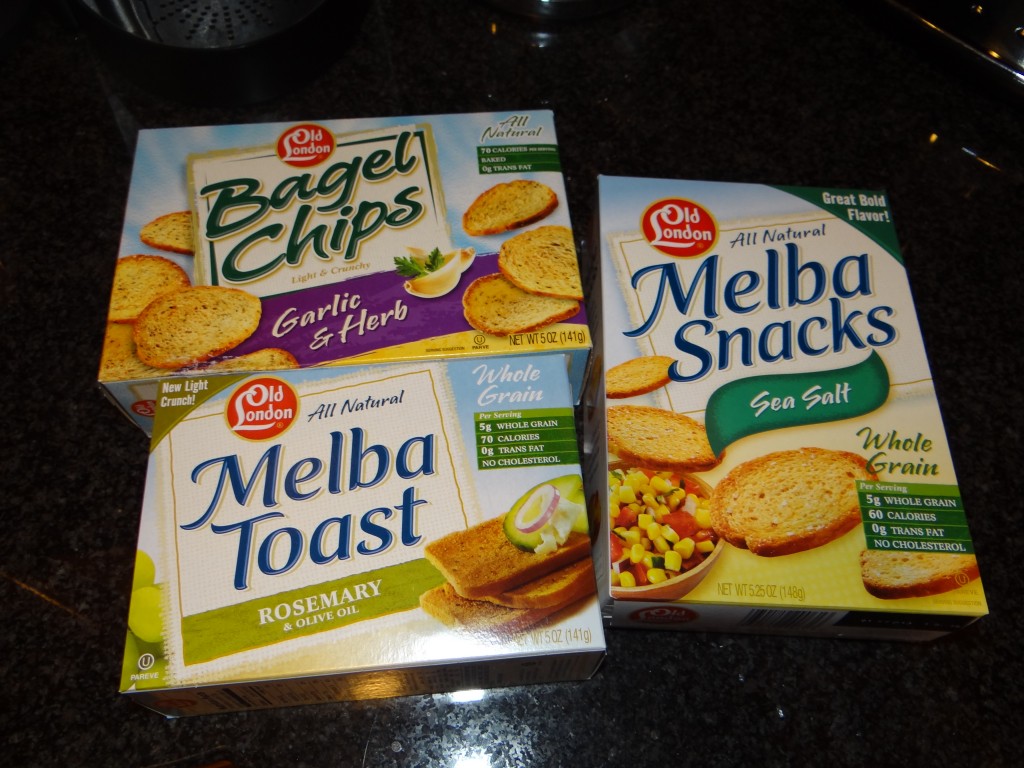 Old London encourages consumers to adopt a healthy, balanced cuisine of olive oil, vegetables, protein, grains, and dairy based on the Mediterranean diet. Old London believes that balance and consistency are essential to a healthy diet and that is why they have made a true low-fat and guiltless snack that can be eaten at any point throughout the day. Their crackers are light and crisp, and provide a perfect supplement to maintaining a balanced diet regime. Their product line includes:
-Melba Toast: Enjoy a true crunchy original. Old London Melba Toast is the perfect alternative to bread for a light, easy lunch. Available in Sesame, Rosemary & Olive Oil, Sourdough, Rye, Wheat, Whole Grain, Classic, and Salt Free Whole Grain
-Melba Snacks: Replace your everyday crackers with these crispy rounds, perfect for out of the box wholesome snacking. Old London Melba Snacks are the essential complement to your favorite dip or spread. Available in Spicy 3 Pepper, Sesame, Roasted Garlic, Sea Salt, White Cheddar and Whole Grain.
-Bagel Chips: Deliciously crunchy bite sized Bagel Chips you can pair with your favorite toppings and enjoy anytime. They make a great light snack at home or to serve to your family and friends. Available in Garlic & Herb, Spicy  Cheddar, French Onion and Sea Salt.
This is my little guy, Zane, age 14 months, enjoying his favorite treat (Old London Bagel Chips) throughout the day: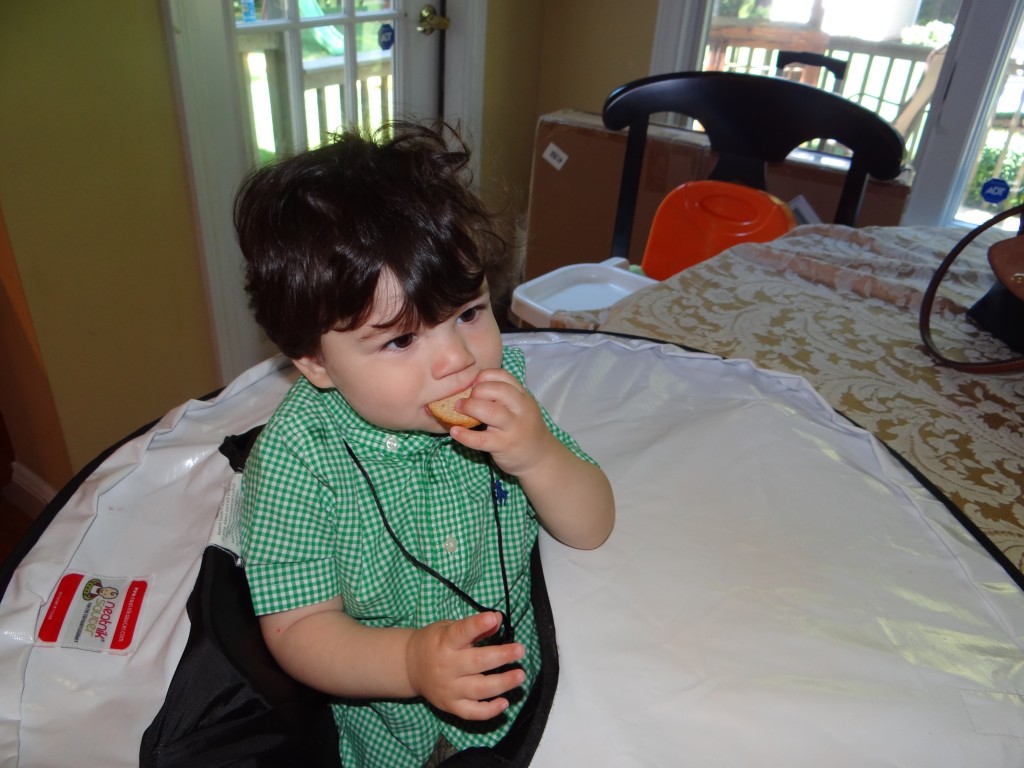 I am so happy that as a family we are committed to eating healthier and finding the time to incorporate these wonderful Old London foods into our diet. I recently started to find unique ways to add Old London foods into my diet and have decided to share for you two wonderful recipes that I have made: one falls under a appetizer spread and one is a dessert.
Chocolate Pistachio Crunch:Melba Snacks Sea Salt- Desert!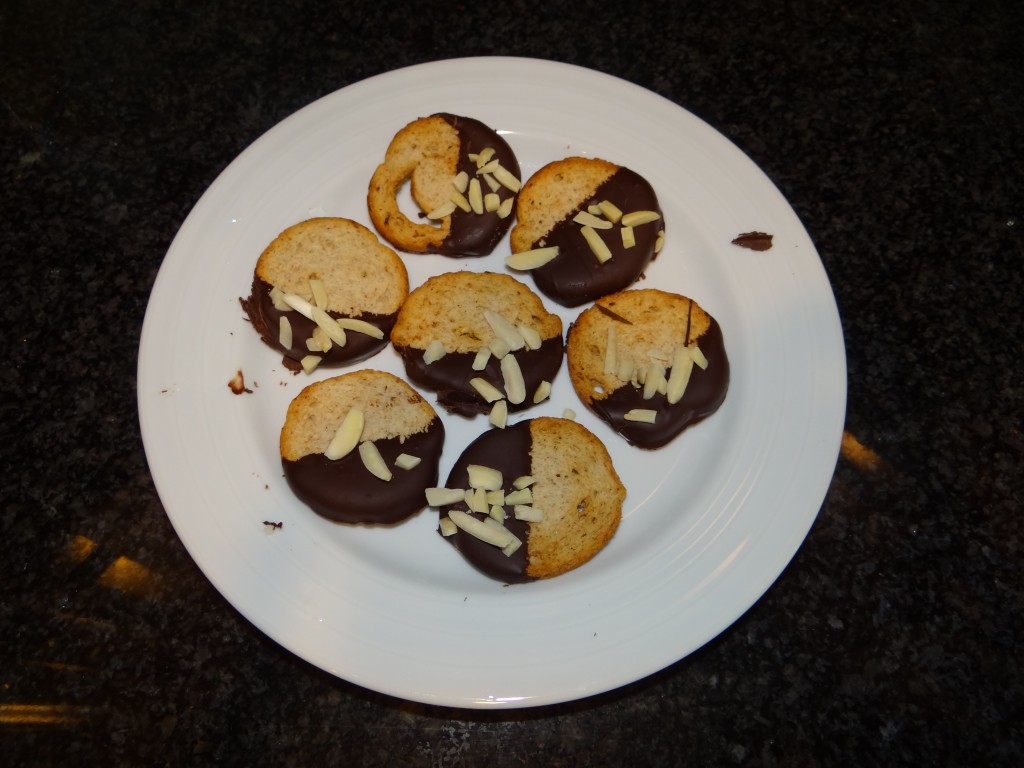 Yields 40:
Ingredients:
• 4 cups (2-12-oz. pkg.) of semi sweet chocolate dark chips (not milk chocolate)
• 1 box Melba Snacks Sea Salt
• 1 cup of pistachios, chopped and toasted (I used almonds because I could not find pistachios locally)
1. Stir chocolate in large bowl set over saucepan of boiling water until melted and smooth making sure that
water does not touch bowl and that the chocolate does not get too hot.
2. Remove from over water.
3. Dip into melted chocolate to cover half the Melba Snack.
4. Gently shake off excess chocolate.
5. Place on baking sheet and quickly sprinkle with chopped pistachios.
6. Refrigerate until chocolate is firm, about 35 minute
Egg, Potato, and Garlic Puree Appetizer by Christopher Kostow: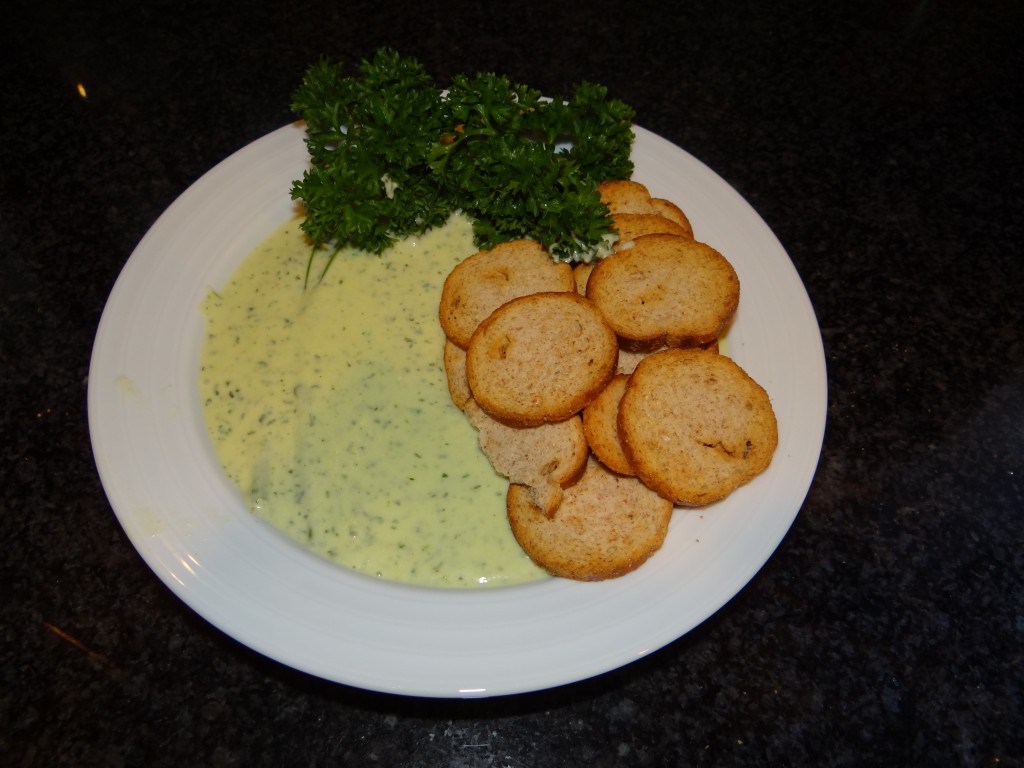 Ingredients:
-1 box Old London Sesame Melba Toast or Old London Sea Salt Bagel Chips
-3 Eggs, hard boiled
-1 Medium yukon gold potato, peeled, diced, and boiled (reserve 1/2 cooling liquid)
-2 Garlic cloves
-1 cup Olive oil
1 tsp. Lemon juice
-1bunch of Parsley chopped
-Salt to taste
Directions: Combine all ingredients except the olive oil in a blender and begin blending. Slowly add the olive oil until the puree becomes smooth. Add more water as necessary to continue blending. Remove puree from blender and season with salt and lemon juice. Top with chopped parsley and serve with Sesame Melba Toast or Sea Salt Bagel Chips.
*All these recipes and many more can be found on the Old London website under Old London recipes or at their Old London Facebook page.
While I admittedly try to make my readers want to live a healthier lifestyle, I thought I would share with you one of my favorite dancers on Dancing with the Stars, Chelsie Hightower's tips to healthier living. Enjoy these great tips:
 Take your workouts outside. While a walk around your neighborhood might seem less
exciting than a hike around Greek ruins, try to find something in your local outdoors that
motivates and excites you. Explore a local park or a new neighborhood route to change up
your fitness routine.
 Make healthy meal choices. I try to stick to a Mediterranean influenced diet that is rich in
olive oil, vegetables, fruit, fish and dairy. I enjoy finding recipes online and then trying them
at home. Old London has some great recipes on their Facebook page.
 Give yourself a break. We all need to recharge our batteries every once in a while. If you
can't take a vacation, plan a day or a weekend at home when you can have a little "me time"
to just relax and do whatever makes you happy.
 Reach for healthy snacks. I keep smart snack options on hand to keep my energy up
between meals like a handful of almonds, some Greek yogurt and honey or a few Old
London Melba Snacks with hummus.
 Go dancing. In Greece, dancing is a large part of any celebration or gathering. I love going
dancing with friends; not only do we have a great time but I also get a workout!
 Healthy Living = Happiness. You don't have to wait for a special occasion to plan a gettogether. Invite friends and family over just because! Ask guests to bring a dish, or set out
appetizers like olives, cheese and Old London Melba Toast for everyone to enjoy. I've found
being happy is a big step to staying healthy.
 Love yourself. People come in all shapes and sizes, and what works on others won't
necessary work for you. Being healthy is about how you feel. Stop comparing yourself to
others and begin loving the person you are from head to toe.
Now you all want to hear about the great sweepstakes don't you because the winner and a guest with receive on all-expense paid trip to the Greek Islands for the first-hand experience of the local culture, food and activities! Say Opa! to a better you by maintaining a healthy, balanced diet and participating in physical activities you love while enjoying the breathtaking views of the Greek Islands! While I just entered and hope to win, I figured I would shared this great sweepstakes, even if it meant that I have competition to win! 
To enter simply visit the Old London OPA! To a Better You sweepstakes found on the Old London Facebook Page. 
Here is what the winner will receive so what are you waiting for- go enter!
One Grand Prize: 8-day/7-night trip for two to Greece.
Prize includes the following:
 Round trip (coach class) air transportation from a major airport nearest the winner's home
address
 Seven nights (double occupancy) first class hotel accommodations in Athens, Mykonos and
Santorini
 $2,000 gift card for spending money
Good luck!
*I wrote this review while participating in a blog tour by Mom Central Consulting on behalf of Old London. I received product samples to facilitate my review and a promotional item to thank me for taking the time to participate.