I am so excited to present to you my huge Summer Backyard Bash! I have lined up 4 awesome sponsors: Puzzle Barrow 3 set of puzzle books, Noblo Beach Umbrella anchor, Doodle Roll, and the Knot Genie. All 4 of these great products can be used in some capacity during the summer months. While I have my own giveaway, you can then hop on to the great other blogs and enter to win. The grand prize winner giveaway is sponsored by TruKid and Imperial Toy. You have the chance to win a water table, wagon, kid-friendly skincare products from TruKid, and a variety or water and bubble toys from Imperial Toy. The grand prize giveaway is only open to the US. Trukid aims to encourage kids to live a healthy, well-rounded lifestyle. By combining natural skin-care with fun and education, TruKid cultivates a relationship between healthy habits and being a kid. Inperial Toy is the worldwide leader in the sale and manufacturer of Bubbles and Novelty Toys. At Imperial, the mission is to be First in Fun!
Now onto my giveaway and my wonderful sponsors:
Sponsor 1: The Complete Idiot's Guide to Picture Puzzles and Puzzle Barrow's Logic Puzzles/Sudoku:
I can not tell you how much I love doing puzzles. I can spend hours trying to complete a couple of Sudoku puzzles. My favorite time of the year to do puzzles is when I am sitting at the pool sans kids and I can just enjoy myself. I start out reading a book, but then want to get my brain working, so I whip out the puzzle books. I have to tell you that I am not fantastic at doing puzzles but I am getting better. As the saying goes, practice makes perfect!
I got the chance to review three awesome puzzle books:
1. The Complete Idiot's Guide Picture Puzzles Volume 2:
In this puzzle book, there are 100 puzzles for beginner through expert solvers. There are tons of color photos that you will love looking at to find the differences (these are my personal favorite), as well as 20 unscramble-the-picture and choose-which one-is-different puzzles. At the end there is a helpful answer key to see how well you did and give you hints when you get stuck. This book retails for $10.95 and has 158 exciting puzzle pages.
2. Puzzle Barow's Logic Puzzles Volume 2:

If problems get your brain churning, Puzzle Baron's Logic Puzzles, Volume 2, will send your brain into overdrive! Inside, the book you will get -200 never-before-published grid-based logic puzzles-Information such as average completion time, other puzzlers' high scores, and more to help you push your brain a little harder-An easy -to-use answer key so you can check your work or get a hint when you get stuck. This book retails of $14.95 and is 208 pages of puzzle fun.
As a sudoku enthusiast, you know how challenging and addicting-they can be. If you are new to these deceptively simple yet complicated puzzles, you'll soon understand what all the fuss is about. If sudoku puzzles get your brain churning, the Puzzle Baron's Sudoku will send you into overdrive! Inside you will get 400 never before published sudoku puzzles, from easy to difficult that will test the most hard-core sudoku solvers. There is also an easy-to-use answer key so you can check your work.
Sponsor 2: Knot Genie ultimate detangling brush:
I was so excited to receive the knot genie detangling brush. If you follow my blog, and I sure hope you do, you will know that my kid have seriously crazy amounts of hair. Especially with Hayley, brushing her hair becomes a nighttime disaster. We went through nine different brushes before we found the Knot Genie! Everytime, Hayley would freak out when I took a brush to her head. Since we started using the Knot Genie, absolutely no more tears. I love the Knot Genie and highly recommend it to everyone who has kids with unruly hair. WIth the summer coming and the sand days, you might want to purchase two to leave one in your summer bag. Trust me, it is a lifesaver!
The Knot Genie Detangling Brush was created for every mom that has endured the foot stomping and screaming matches that come with brushing their child's hair. With the Knot Genie, even the cur lies, most knotted hair practically slips through the unique bristle configuration-gently and painlessly. Try the Knot Genie on your kids, or even yourself, and you will see how easy it is so brush. This brush also stops breakage and split ends. The brush retails for $19.99 and available in fairy pink, puff of purple, blue cloud, and tinseltown silver. They are available for purchase at Knot Genie website.
Sponsor #3: Doodle Roll-Fun with Crayons: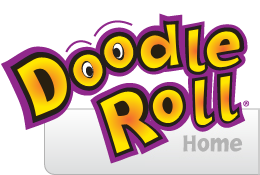 You will not want to go to the beach without some activities this summer and Doodle Roll  is one fun activity you don't want to forget! Doodle Roll is the most versatile and portable arts and crafts activity kit. This all in one kit contains a roll or paper and crayons in a compact package, perfect for fun on the go-anytime/anywhere! The Doodle Roll comes in two sizes, large and small, based on your carrying needs.
Here is a snippet video from an expert:

I have to admit, this might be one of Hayley's favorite "toys". She asks me to take the doodle roll with us wherever we go. She is at the age where coloring is everything, and to have a product like the doodle roll makes clean-up and storage, a cinch. No more papers flying around the house… No more crayons all over. This simple activity set makes fun not only fun for children alike, but parents as well! There is over 15 feet of paper so your kids can have all fun the coloring with the new doodle roll. It really is an ingenious product. If you are interested in checking out the Doodle Roll, be sure to out where the wonderful products are sold: Doodle Roll Retailers.
Sponsor #4: Noblo Beach Umbrella Anchor:
How many times have you gone to the beach and brought your umbrella, only to have it fall down? What a complete hassle? I remember being with my mom last year at Newport beach when Zane was only a few months old, and bringing along our beach umbrella. After thirty minutes of fighting with the silly umbrella, we gave up and went home. Well, we definitely won't have that problem anymore since we have a new lifesaver, the Noblo Beach Umbrella Anchor.
The Noblo is Martha Stewart's 20 must haves for an organic, natural, and eco-friendly summer! You does it work you might ask- very simple!! The noblo is a bag that you take with you in your beach bag, and when you get to the beach, fill it up with sand. Then attach the velcro strap above the umbrella spokes and you are good to go! That is all! I can assure you that this product really works. We recently got back from Hawaii where we used our Noblo. We got stuck in a wind storm one day in Maui and guess what, our umbrella stayed exactly where it was! I was amazed, as well as my husband, who originally had some doubts. The Noblo is terrific, sturdy, and a must-have for the summer!

Be sure to put Noblo on your summer shopping list. For purchasing information, check out their website, Noblo. This awesome invention retails for $14.99.
GIVEAWAY: Since there are a lot of sponsors on this giveaway, I decided to pick two winners. In your comment section following this post, please specify which two items you would like to receive. I can't guarantee that you will get those two items but I will do my very best to assure you do. Please remember that this giveaway is run via rafflecopter so click continue reading to see the actual giveaway. While the comment entry is mandatory, I highly suggest you fill out the rest of the rafflecopter entries to increase your chances of winning, Good Luck! US only
a Rafflecopter giveaway

Now hop onto the rest of the wonderful blog and enter:



*Thank you to all my wonderful sponsors for making this giveaway terrific. As always, all my opinions are my own and not swayed by outside sources.