Thank you COOL WHIP for sponsoring this post. Join us on Facebook for inspiration and recipes for everyday treats. What you add makes it. #coolwhipmoms
The summer is finally here! I am so excited because with the summer comes wonderful BBQ's and family functions. I have to be honest when I tell you that I have one recipe that I make every summer BBQ I go to all summer long. I can't be invited to a party without my special request to make my wonderful desert. O'kay before I tell you the recipe ( I know you are all anxiously waiting), I will give you a hint what is the main ingredient: COOL WHIP WHIPPED TOPPING!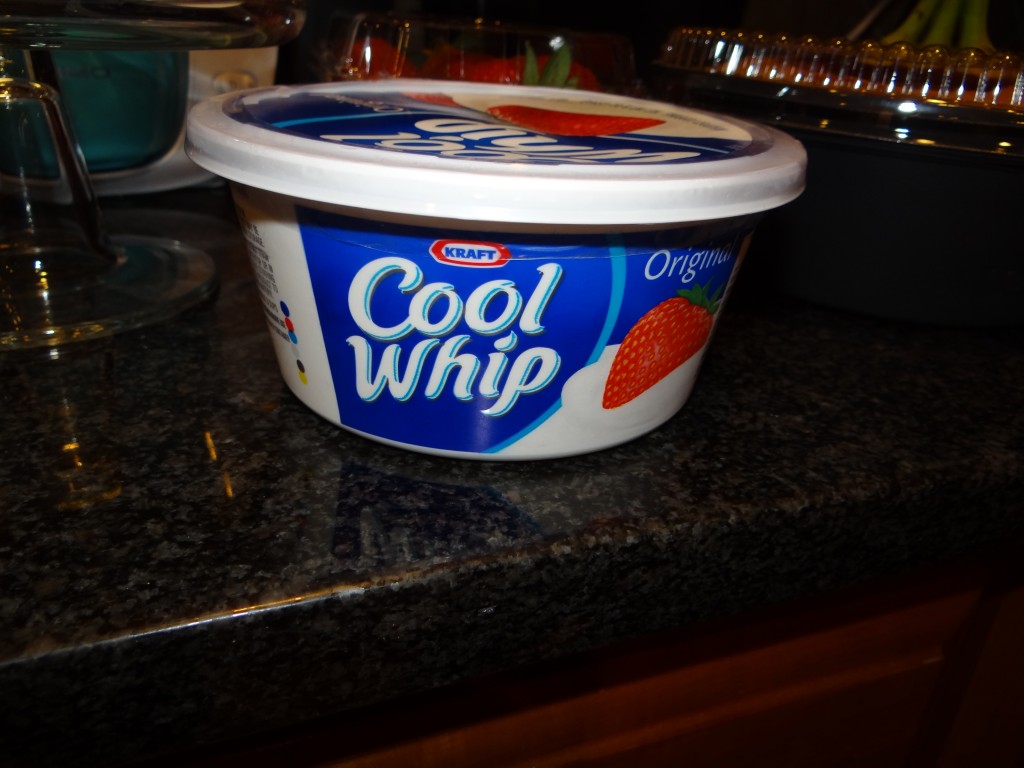 COOL WHIP is a household staple in my house. I tend to buy multiple containers of cool whip  at a time and freeze it, so I always have it on hand. You might ask why COOL WHIP and the reason is, not only is it delicious but it is a wonderful contribution to so many wonderful foods and recipes.
My daughter, Hayley, has given me problems with eating since day one. I can't get her to eat hardly anything except chicken fingers and pasta. I tried so many times to get her to eat her fruits and it just won't work. So, guess what- I have a little secret! I now am adding COOL WHIP mixed in with her fruits and she is gobbling down her fruits. She has been eating 5-7 servings of fruits a day since I started implementing this little trick. I have to admit that I even have been known to have a nice big bowl of fruit with some delicious COOL WHIP after my dinner, as well.
Besides using COOL WHIP on fruits, I have found that adding a small bit to my puddings at night really makes a truly delicous treat. I also always treat myself to a 10 calorie jello snack after lunch and by adding a small dollop of COOL WHIP, I am in heaven!  It is so light and fluffy- what more can you ask for!
Now for my recipe, I will admit that this recipe was given to me by my mother in-law. I have no idea where she got it from but it is FANTASTIC!!! It is so easy to make and the party-goers will be asking you fro the recipe by the end of the night-Promise!
COOL WHIP Strawberry-Banana Trifle:
Ingredients:
-1 package of vanilla pudding. I like to use the instant pudding. I have also changed up the recipe with banana pudding and pistachio pudding and both taste wonderful
– 1 package of vanilla cake or angel food cake. I have made this with ready-bought cake, and also made a plain vanilla cake mix and added that in. The choice is yours!
– 2 bananas
-1 package of blueberries (feel to substitue whatever fruits you like)
– 1 fresh package of Strawberries
-1-2 container of COOL WHIP
Directions:
Make the pudding as directed. Pour some pudding in the trifle bowl. Then add in the ready-made cake or store bought cake as the next level. You want to level it off with the pudding mixture below it. Make sure to save enough cake as you will need to add it to the next layer After the first layer is done, add in more pudding mix along with a layer of COOL WHIP. Then add in your blueberries, strawberries, and other fruits as you like. After this, continue adding in more cake mixture and repeat all the layers, till you have a beautiful creation as seen below.
*I am sorry I can't give you exact measurement as I tend to guestimate based on how it is looking.
Do you have a special dessert you'd like to share? Enter COOL WHIP's Fan Dessert of the Month Contest for a chance to win $500! Simply make a COOL WHIP dessert, take a photo, and upload it here. Enter now!
*Sponsored posts are purely editorial content that we are pleased to have presented by a participating sponsor. Advertisers do not produce the content. I was compensated for this post as a member of Clever Girls Collective, but the content is all my own.