We are so close to being done with bottles! Zane has now officially transitioned to only one morning and one evening bottle. This is a huge improvement over the seven bottles he was taking a little over three weeks ago. When I was beginning to start the transformation process, I went to Babies R' Us and was looking around for the best sippy cups. As you can imagine, with a three year old as well, I went through tons of sippy cups. However, all of the ones we have tucked away in our cupboard leak, and leak bad! I needed to search for the perfect sippy cup that would not make a mess when a 13 month-old starts drinking out of it, as well as for my three year-old, who is no where near ready for a big girl cup.  Where do I start?
It could have not come at a more convenient time, when Mom Central invited me to participate in the Tommee Tippee Explorer Sippy Cup review program.  I heard about the Tommee Tippee brand before but never purchased their products before, so I was intrigued!  My friends swear by their bottle and sippy cups, so I had to find out for myself. I had two excellent reviewers to do the job- Zane and Hayley! When we first got the package, the packaging said the sippy cups were truly spill-proof drinking cups. How could this be possible? I never witnessed a truly spill-proof cup in the three years since I had Hayley. Could it really be spill-proof?
(Hayley- Please let me have your Tommee Tippee Sippy Cup! Thanks Sis!)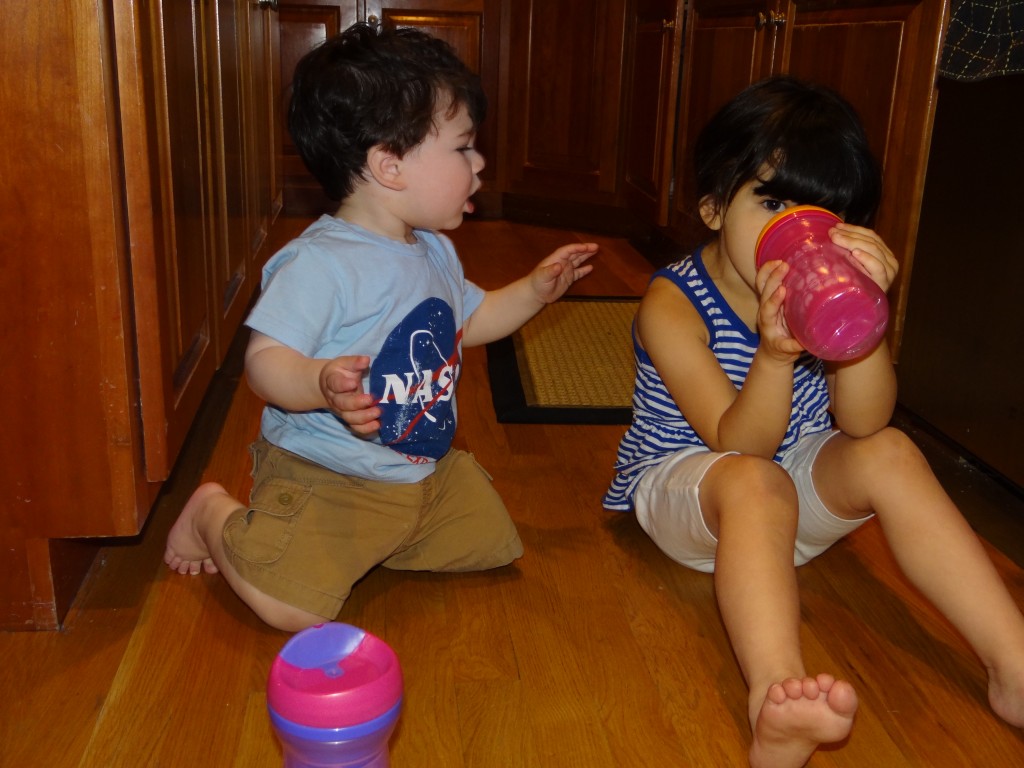 Well, the answer is an outstanding YES!!! While Hayley is older and could probably control the leakage in cups, my little guy Zane is not as coordinated. I was hesitant to start him with this sippy cup because it says 24 months and up, but he excelled in using it! After we received the first package to review, I went out and bought four more sippy cups. Why you might ask? Well, the answer is there is no more mess when the kids drink. You have to try these yourselves- there is absolutely no leakage when your kids drink from them!  They contain a super sensitive active sensor valve that is truly non-spill yet allows liquid to flow on demand!
The Tommee Tippee Sippy Cups have a unique drinking spout for kids on the go and advanced flo-technology for easy drinking. The magic is in the liquid flow, ensuring the domes are inserted into the retainer which makes drinking very simple.  They are also insulated so it will keep your kids' drinks cooler even in the hotter climate temperatures. Of course, being a mom, I make sure any products that go near my kids mouthes are BPA free and these cups adhere to this. Lastly, they support natural oral development- which is huge, because as most of you know, I am also a kids dentist! I need to recommend products that support dental growth in little ones!
We currently used the toss and throw sippy cups before switching to the Tommee Tippee Sippy Cups. There really is no comparison. The toss and throw are good to throw in your diaper bag, but with the Tommee, I really had no problem fitting them in my diaper bag.  While I talked about how I love that these don't leak, I also love the fact that they have the screw on lids over the traditional pop on/off lids. This adds to Zane or Hayley not making a mess, because you know young kids can be known to figure out how to take off the pop on/off lids and make a huge mess! The Tommee Tippee Sippy Cups have a unique form that makes gripping easy and extremely functional as well! And an added plus- everything is dishwasher safe!
Hayley and Zane are both loving their sippy cups.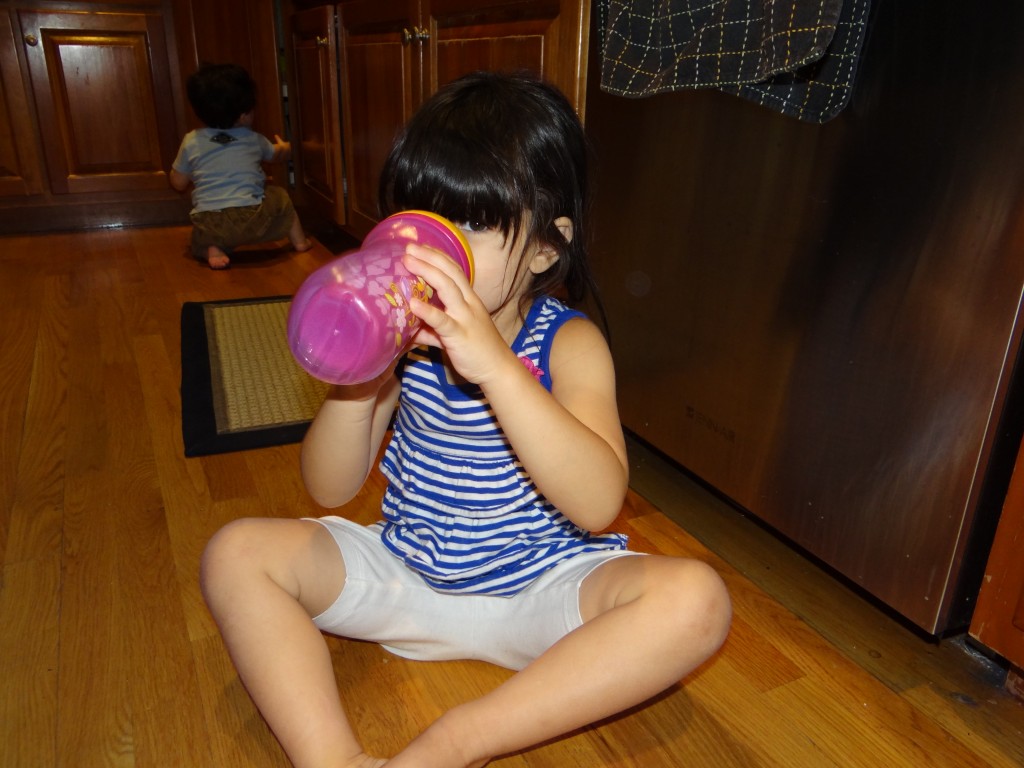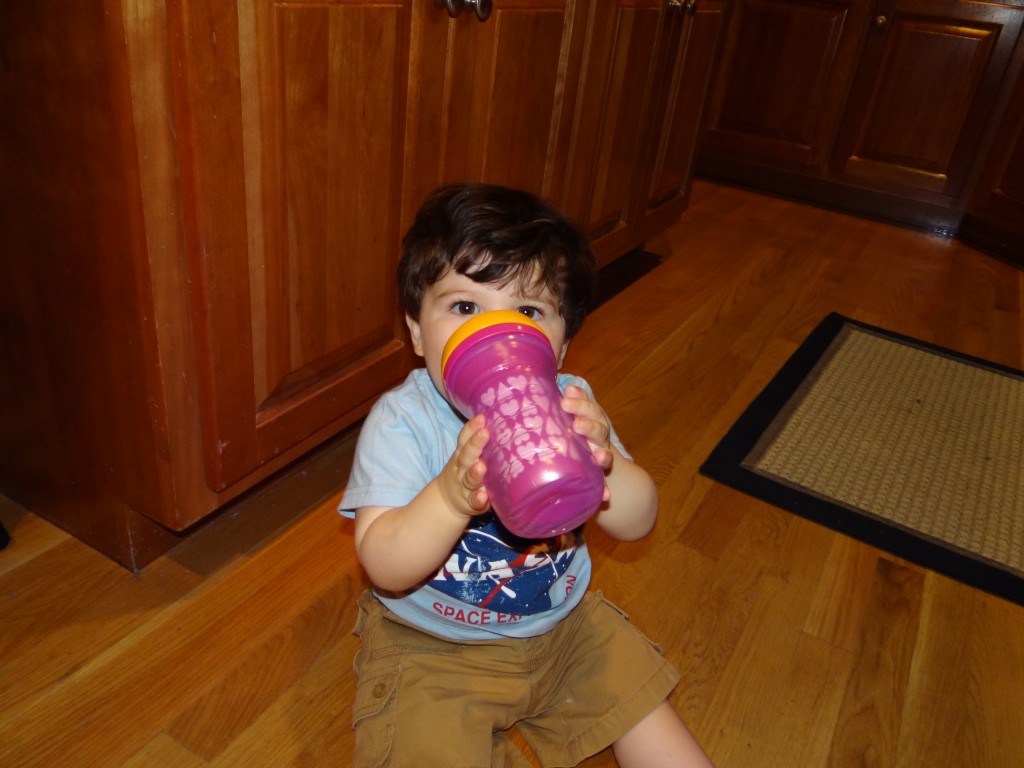 They cups are so easy for them to drink out of and I don't need to hover over them making sure they don't make a mess all over my floor! I used to follow the kids around everytime they drank from a sippy and it was a big pain. With the Tommee Tippee Sippy Cups, I don't need to do that anyone! The kids love having the independence at mealtimes which is important to child development. Zane really transitioned fantastically to the Tommee Tippee. It is so easy for him to drink from and I love the fact that it has a super soft sippy spout, just in case he decided to take a fall while he is drinking.
Tommee  Tippee gets an A + from me! If you are looking for a brand of sippy cups, look no further than Tommee Tippee.
Buy it: Tommee Tippee Explorer Sippy Cups are sold at Target Stores Nationwide and on Target.com.
Win it: One winner will receive the Tommee Tippee Explorer Sippy Cup product. This giveaway is run via rafflecopter, so click continue reading to see the actual giveaway. The only mandatory entry is to tell me which sippy cup you would like from here: Tommee Tippee Sippy Cups in the comment section proceeding the post. While the other entries are optional, I highly suggest you filling them out to increase your chances of winning. Good Luck!
a Rafflecopter giveaway

*I wrote this review while participating in a blog tour by Mom Central Consulting on behalf of Tommee Tippee Sippy Cups. I received a Tommee Tippee Explora Sippy Cup product as well as a promotional item as a thanks for my participation.