AprilMarin is a beautiful online dress shop that specializes in young contemporary designs that is founded by mompreneurs and best friends April Bukofser and Marin Milio. With two masterminds behind AprilMarin, they have put together a collection of beautiful garments that are functional, classic, fun, and trendy. They aim to create timeless pieces that are easy to wear along with being beautiful, as well as fun!
They have a full range of clothing products including accessories, dresses, jackeets, and custom suits for every woman. I decided to check out their collection to see what I could buy my mother for this coming mothers day! I was in love with basically every piece that they created.  Each piece was created with beautiful material to make women stand out in their clothing choice selections.
I had the chance to review the AprilMarin City Ruffle Shawl. When Marin contacted me to tell me how this shawl was one of her favorite accessories to wear, I had to see it myself. Before I reviewed the AprilMarin Shawl, I never wore a shawl except when I was pregnant- to try to cover up that beginning, " I am not fat- I am pregnant stage." I loved wearing my old shawl but it just looked bulky and  I did not see myself wearing it past pregnancy.  However, when a company contacts me with an exciting accessory product, I figured why not- I will give shawls another try.
The result- I LOVE the shawl. I wear my AprilMarin City Ruffle Shawl at least a few times a week. I have worn it over dresses, over pants, over skirts- you name it, I have worn it with every type of clothing product I own. My friends absolutely love this shawl too and have coerced me to let them borrow it a few times. Being the mean friend I am, I told them to get their own- I kid! Anyway, the shawl is incredible. I was worried that wearing a shawl would make me look bulky, but it really is super slimming. Along with being gorgeous to wear, it is made of beautiful, thick cotton material. I brought it along with me to Hawaii because even on the hottest days, as it still gets chilly at night. This shawl served as my jacket.
(pardon my scrubs here but you get how gorgeous the shawl is)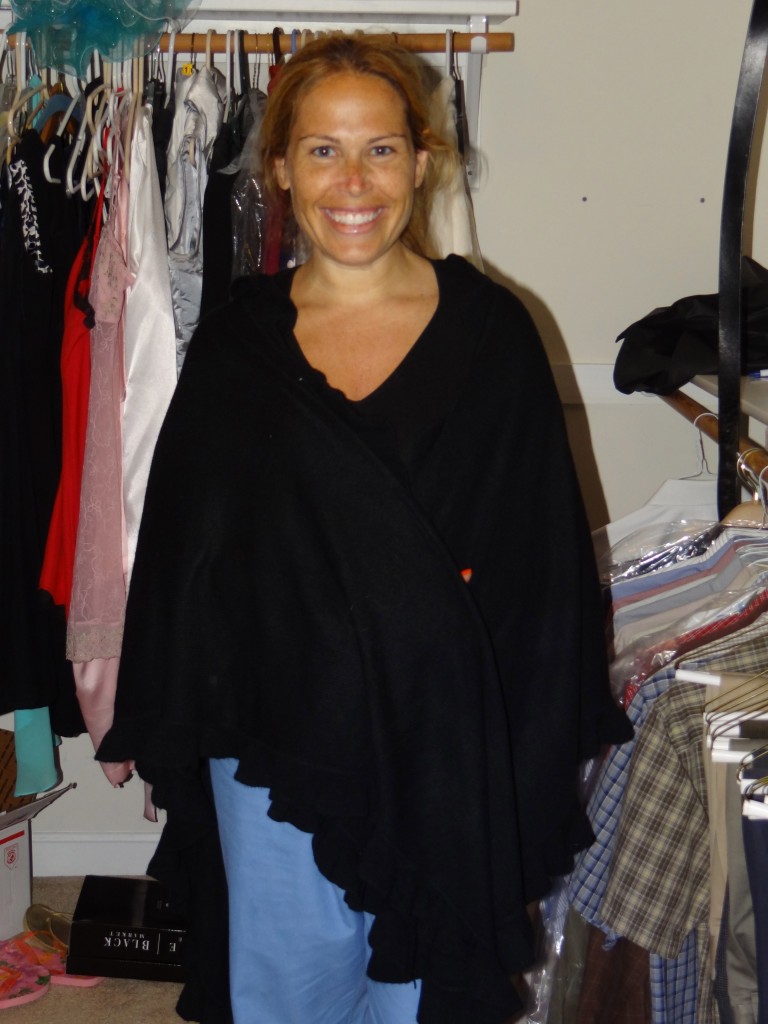 Talk about comfortable- there are really no words to describe just how comfortable the shawl is! It compliments any outfit and can be worn several different ways. One size fits all and it is machine washable. It is also available in several colors including wine, camel, purple, black, and charcoal. This shawl retails for $89.00.
AprilMarin fashion was recently seen on the Today show in the premiere time slot! Kathy Lee loved being able to see the clothes that can be worn on all body types!  They also ran a groupon and it capped out within the first day! If you want to purchase any accessories or clothing from April Marin, check out their site: AprilMarin
Win it: One winner will receive their own AprilMarin City Ruffle Shawl ($89) in their choice of color. This would make a wonderful mothers day gift for yourself or a family member/friend. To enter this giveaway, please click continue reading to see the actual giveaway. The only mandatory entry is to tell me which color shawl you like in the comment section proceeding this post. While the other entries are optional, I highly suggest you filling them out to increase your chances of winning. US only. Good Luck!
*Thanks to AprilMarin for supplying me with my own beautiful shawl. As always, all my opinions are my own and not swayed by outside sources.