I am very lucky to work with some awesome PR firms. I have a lot of great experiences but one I need to tell you about, is when I was away on vacation and arrived home to find that a PR firm ( I work with readily) sent me the AllerMates bracelet for Zane. This came as a complete surprise because I don't believe that I got this direct pitch (if my memory serves me correct) but they sent it to me regardless,  because they read my blog and knew that Zane could benefit from having the AllerMates bracelets.
As most of you know, Zane has severe food allergies that was diagnosed when he was 10 months after a slew of rigorous tests. He is allergic to eggs, dairy, soy, tree nuts, fish, with the most severe being a peanut allergy. So, when I returned home to find, that Allermates sent me a peanut allergy bracelet for Zane, I actually had tears in my eyes. Since we received the Allermates bracelet, Zane has worn it every waking moment except when he sleeps. On the bracelet, is a cute character with the large writing-PEANUT ALLERGY! Now, whenever we go anywhere, people can take note of his bracelet and avoid any peanut foods around him.
Parents of children with allergies can now enjoy the safety and security of knowing their young ones are better protected against unwanted allergens when they wear or use AllerMates products away from home in places like school, daycare, parties, sleep-overs, and summer camp. AllerMates products are based on 14 fun, original characters that represent the most common allergies: peanut, nut, gluten/wheat, egg, shellfish, penicillin, insect sting, latex, pollen, fish, soy, sesame, and cat. The characters and product line was created by Iris Shamus, Founder and CEO of Allermates, in part to help kids feel positive about their allergies.
AllerMates products are hyp-allergenic, nickel and latex free and have passes rigorous safety standards and testing. The wristbands are adjustable and fit most children. The AllerMates Gang characters are: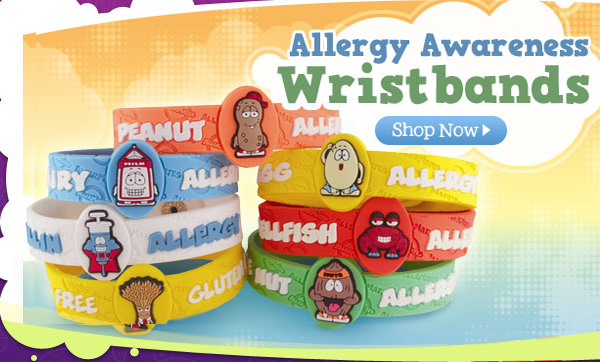 P. Nutty (Peanut Allergy)
Nutso (Nut Allergy)
Professor Wheatly (Gluten/Wheat Allergy)
Pint (Milk Allergy)
Eggie (Egg Allergy)
Crabby (Shellfish Allergy)
Super-Cilin (Penicillin Allergy)
Bizzy (Insect Sting Allergy)
Dr. Strangeglove (Latex Allergy)
Drift (Pollen Allergy)
Detective Fin (Fish Allergy)
Soy Cool (Soy Allergy)
Teeni Tahini (Sesame Allergy)
Nine (Cat Allergy)
These bracelets are fantastic around a classroom. Even with posters advertising allergies, AllerMates is designed to present a more persornalized, visual representation of specific allergies. When a child raises his or her hand at school, there is a distinctive visually appealing character reminder to be on alert.
The AllerMates website offers parents and children easy to read and understand tips, facts, and general information about allergies as well as lots of fun games and activities based on the line of AllerMates characters. The website also has a fully functional social community allowing its members free and easy interaction and sharing of the latest blogs, news, videos, and information within the allergy community. You can meet the AllerMates Gang there and get the back story of each character as well as fun tips!
I am very thankful to receive the AllerMates peanut allergy bracelet for Zane. AllerMates is a truly wonderful site, with wonderful products, that makes parents feel more safe when their children have food allergies. Thank you for allowing me to spread the word to my readers who might have kids who suffer from food allergies!