I used to loathe high chairs. I had 3 of them and hated them all. They were cumbersome and took up to much space in my dining room. I ended up tripping on them so I got rid of them; I donated them. When I had Zane, I was looking for a high chair,  but I knew I didn't want another bulky, plastic high chair. Lucky for me, I had the chance to review the Stokke Tripp Trapp High Chairs. Stokke was generous enough to send one Stokke Tripp Trapp High Chair with an added baby set for Zane and a Stokke Tripp Trapp High Chair for Hayley for review.  At first I was thinking that Hayley has not used a high chair in about a year, but now I can say, I am not sure how we ever lived without the Stokke Tripp Trapp. The high chairs are truly that good!
The Tripp Trapp was invented in 1972 (Happy 40th anniversary) by designer Peter Opsvik. It is the only child's chair that can take you from baby to adult, keeping kids secure and comfortable through the years. Peter developed these chairs for kids of all sizes to sit enjoyably at the table. I have to say, that not only do my kids both eat in their respective Tripp Trapps, but they also do activities at the table in their Stokke Tripp Trapp chairs. It is so simple to put the Tripp Trapps at the table, buckle them in, and they are set to go.
If your child is like Hayley, she does not like her feet dangling. With a regular chair, she ends up falling off the chair as she tries to scoot towards the table. With the Stokke Tripp Trapp, she is comfortable with her feet resting comfortably on the high chair. No more restless legs (from her legs not being able to reach the floor) and being overly uncomfortable in a chair. The Stokke Tripp Trapp provides a stable footrest that supports a child's feet and allows it to sit at the correct height, its elbows inheight with the table, in comfort and safety. No matter how big or small your child is, his or her feet and back can be perfectly supported. This chair will grow with your child! So many high chairs, you have to use for a limited time only. With the Stokke Tripp Trapp ergonomic design, it can adjust to custom fit to your child's  body.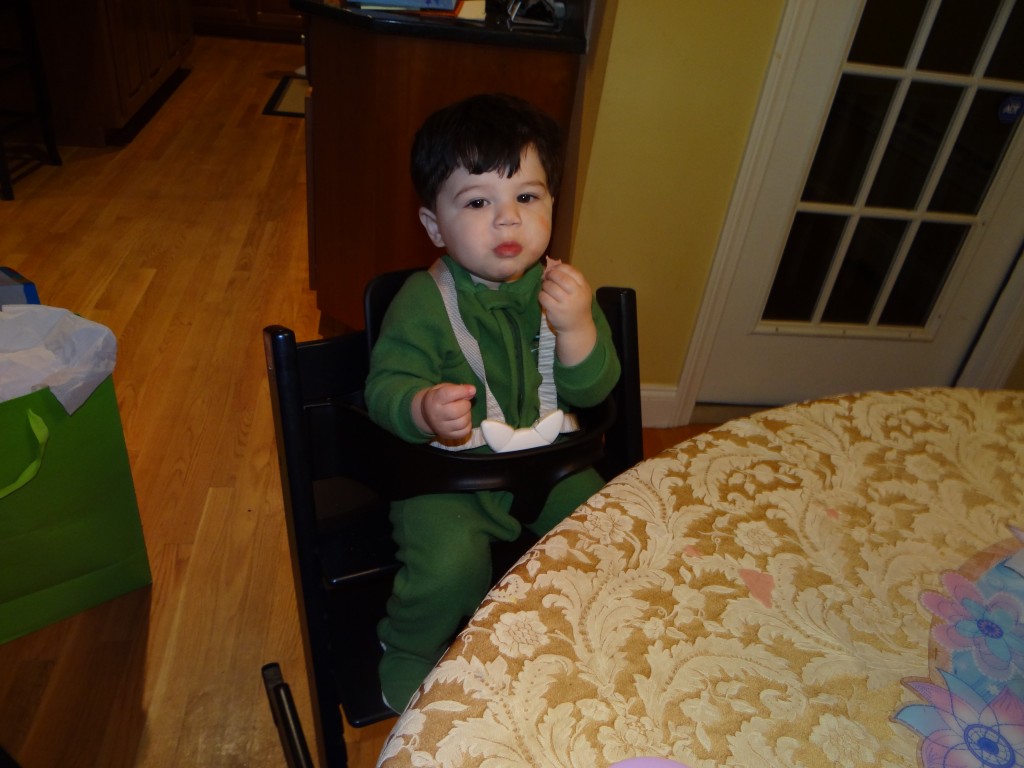 With Hayley, we easily set up the Tripp Trapp. With Zane, the set up was also incredibly easy, we just had to add in the Baby seat. The Tripp Trapp baby seat is set up on the high chair to provide additional support for young babies. It is specifically designed for babies and smaller children to let them sit securely and comfortably at the table. I know for one, when we are eating, Zane has to be sitting right at the table with us. Using the baby seat with the Tripp Trapp, allowed for him to be comfortable and begin the process of self feeding. They can begin to use the baby seat when they are able to sit up unassisted. Then when they get older, simply remove the baby seat and they can use the high chair just like Hayley uses hers now.
Besides being functional and comfortable, the Stokke Tripp Trapp High Chairs are beautiful. We got a matching black wood set for our kitchen table. The high chairs are a piece of furniture. They look so good around the kitchen table and are made of such beautiful, sturdy  wood. There are also so many choices to pick from including european oak, american walnut, natural, cherry, walnut brown, white, grey, black, blue, red, green, purple, and many others.
I am in LOVE with the Stokke high chairs. I wish I could show you in person how beautiful they look in my house and how well my kids love being in them. Zane learned to self feed in his Stokke high chair and Hayley eats and is learning to read in her chair. I give this high chair an A +++++.
Buy it: You can buy the Stokke Tripp Trapp High Chair on Amazon for $204.00 or on the Stokke website.
Win it: One reader will win their very won Stokke Tripp Trapp High Chair. Winners choice of color as well. This giveaway is run via rafflecopter so click read more to see the actual giveaway. The only mandatory entry is to tell me which color you like the best, or who you would use it for,  in the comment section proceeding this post. All other entries are optional but I highly suggest you filling them out to increase your chances of winning. US/Canada. Good luck!

a Rafflecopter giveaway
*Thanks to Stokke for providing me with Tripp Trapps for review. As always, all my opinions are my own and not swayed by outside sources.