Yah, it is the weekend and it also means in one week from today, I will be in Hawaii! I can't believe it- I am beyond excited to just take a break! For those that follow my site (and I thank you from the bottom of my heart), I will be taking a true blogging break for 10 days starting next Friday night, April 30 through Tuesday May 8. I do have guest posts going up everyday so please continue to show some love to the wonderful blogs who offered to write for me. I would really appreciate that!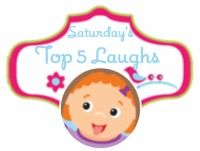 Next Friday night (April 30) and the following Friday night (May 4)- I will be having guest posts for my Saturday laughs. You will have to wait to see who they are but they are two wonderful ladies who I have been friends with since day 1 of my blog starting. I will not be doing a direct link up those two days but you are more than welcome, and encouraged to put your links in the comment section proceeding the posts. I will be returning with my link up on Friday May 11.
Enjoy my laughs this week and remember to link up after my laughs. Please feel free to help me spread this blog hop through social media sites and grab my button, if you like. Have a great weekend!
My top five laughs:
5. This is not really a laugh but I will tell it anyway. I am just so proud of Hayley. She has been deathly afraid of dogs since she was a small baby. Today, I asked my vet friend to show her around. She didn't cry at all and she pet her first dog today. It was a huge step for us in trying to break her horrible fear of dogs.
4. Zane is obsessed with the toilet bowl! Truly and utterly..OBSESSED! I hear myself many times a day saying "Zane, please get your hands out of the toilet bowl".
3. We were at a friend's house for a playdate. This particular family has every outside toy you can ever imagine. All of a sudden, I hear Hayley say, "Mommy, this place is kickin!" Where does she learn this language?
2. I told Hayley to pick her few favorite toys so we can start packing for Hawaii. I go shower and I come back and I see her "few favorite" toys are encompassing her whole room. I don't think she understands the word few!
1. BEST LAUGH EVER- I was yelling at Hayley to clean up her toys that are scattered throughout our whole house. All of a sudden, Hayley says, "Mommy, just relax. I think you are having a nervous breakdown!" I will never forget that!