**Note- Melissa is on vacation from her blog till May 7. She will be having guest posts all week long. Her usual Saturday blog hop will resume on May 11. Feel free to put your link in the comment section proceeding this post if you wrote a laugh post- so other people can see it. There is no direct link up till Melissa returns. Thanks for understanding!
Tracy from OverMom blog:
I am guest posting today for Melissa. Thank you so much for choosing me to do a post! I love her blog.
A little bit about me: I am a work at home Mom of three crazy kids ranging in age of 11 months to 10 years. I have 2 boys (Dominic and Logan) and baby girl (Charlie or Charlotte). They keep me running around like a chicken with my head cut off but I would not change it for anything. I am married to a lovely geek-tastic computer guy. After adopting our Border Collie Libby, our family was complete. We live life one day at a time (although I have some obsessive cleaning, organizing, spreadsheet making, control freak craziness in me) I really try to be as carefree as possible. If you would like to read about our adventures then come join my blog 'And then there were Three'
If you have never linked up for the blog hop, you are missing out! These are the best reads of the week. I love reading about everyone's funny little ones 🙂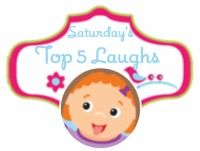 My top five laughs:
And now onto the BEST OF our laughs…
5.Dominic got picked to attend the symphony for school. He was picked for being smart, talented and interest in music. When his letter came with his tickets "Ah yeah! I am a winner!"
4. We had friends over for dinner the other night. Logan loves Brianna and so he gave her a kiss on the cheek. She had a funny look on her face and wiped the kiss off. So Logan kissed her again. Brianna wiped it off a second time. (obviously she was not impressed with his smooch…SO….) Logan began singing "I'm sexy nan I know it." to her. All the while doing his special dance for her. Only my 2 year old!
3. Logan took Charlies binki. She gave him a dirty look. Slapped him in the face and took it back out of his mouth.
2. Logan grabbed my cell phone. "Mama I pway angwee birs" "I text Nana. My sway HI." "My go Nana house and see Bellwah." Apparently he has the attention span of a flea.
1. I took the 2 little ones out for a picnic lunch at the park on Wednesday. Logan quickly made friends with 2 little girls and began running around the park playing with them. Their little toddler giggles and sayings were the greatest! "Ah you a copy cat" "Ah my bubba, my Char-lit, my Mama, my Daddy, my Libby" " I mell like poop, see my diah-pah"