Happy Easter! Happy Passover! I am one of the  lucky few who gets to celebrate both holidays. Usually I love celebrating both, but this year they fall out on the same day, which means no Easter desserts for me:( Anyway, I hope you all have a wonderful holiday weekend!
As always, come link up any cute, funny, kids humor, or top five laugh post! Everyone deserves a good laugh, so feel free to check out the other blogs as well, who link up. If you like to grab my button, feel free to, although this is not necessary. Also, feel free to help me share this hop on social media sites- again not necessary but appreciated.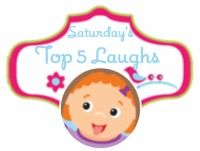 My Top Five Laughs:
5. I sometimes can have a potty mouth in front of Hayley. I really try my hardest not to say bad words in front of her but occasionally things slip. This week I turned to my husband and told him, that something was so stupid. My little parakeet, the next day told me, "Mommy, why are you being so stupid?"
4. Hayley loves to play with Zane.  Zane does not like to play with Hayley! Whenever, she comes near him, he abruptly pushes her away. Is it bad-that I think this is funny:)
3. Out of the blue this week, Hayley says, "Mommy, Daddy is being ridiculous making me eat this disgusting dinner".
2. Zane loves to dance. I need to get it on video but the minute music comes on, he shakes his booty and bounces up and down. It is really quite funny!
1. In three weeks, we are going to my favorite place on earth, HAWAII! My mom is here visiting this week and Hayley keeps asking her to come with us. My mom says that she doesn't have a ticket for the plane, and she can't go because she has to work. Hayley responds, " Don't worry mimi- you can miss work and you can sit on my lap on the plane  for the whole trip".  LOL!
Now your turn: