I am usually the most upbeat person when I write. However, there are just times when I need to vent and since this is my blog, I am allowed. I am not one to get all crazy when my kids get sick but when things exacerbate to the point of spending my Passover holiday in the emergency room, I start freaking out.
My story with Zane's sickness began this past Thursday, April 5. He woke up with a slightly high temperature than his norm- around 101. His usual temperature runs around 100, so I was not really worried. He was his usual self- a happy, go-lucky kid. Then on Friday, when I was at work,  my mom called me that he seemed fine but he was slightly lethargic. I told her just to make sure he sleeps, because he did have a slew of shots and it was probably an after effect of the shots. Again, he was fine. When I came home from work that night, I was getting ready for our Passover seder. We celebrate both Passover and Easter since we are a multi-religious family. Everything was all set for Passover and our friends were coming over. Just when we finished with our seder end of the meal and started on our matzoh ball soup, I notice Zane seemed beat red. He was eating alright but he seemed very red and slightly discombobulated. I immediately took him upstairs and took his temperature. You are not going to believe the temperature I got and no, I am not exaggerating- 106! 
Of course, we called the doctor and they told us to immediately take us the ER. I was beyond exhausted because I worked a full day and knew that  I had to be at work the next day as well. However, it really is not about you when you are a mom- it is always about your children. I am very lucky that when we arrived at Habro Children Hospital, which in my opinion is one of the best hospitals,  as he was taken in without any wait.
They immediately got a team of 5 doctors and 3 nurses in and ran what felt like hours of tests- it was only 2 hours but when your little one is that sick, a minute feels like a day. I am sure you can all relate.  After much time, he was only diagnosed with a bad virus. He had nothing serious but rather the common virus that was going around. I was so relieved- I cried tears of joy.
Over the next three days, I slept with my baby  rocking him in the chair. He slept and I just watched his beautiful face. Although I did not sleep for close to 72 hours (maybe an hour here or there), I really feel like Zane and I bonded. Sad but true- when you have another child, you never really get the one on one time with the younger child. It was a very sad but beautiful moment with him sleeping on my chest. Luckily, today, his temperature was completely back to normal but I will always remember the scare of the Passover/Easter weekend 2012.
Unfortunately, Passover/Easter was a wash out for me. Hayley did get to go to Easter dinner with my husband (I will show some pictures in my wordless wednesday) but Zane never got to enjoy one second of it. Perhaps he is too young but it would have been nice to see my little cutie dressed up in his Easter wear. I did manage to get one picture of him in his pajamas opening up some gifts. This picture was taken when he was about an hour into his tylenol- so his fever was slightly down.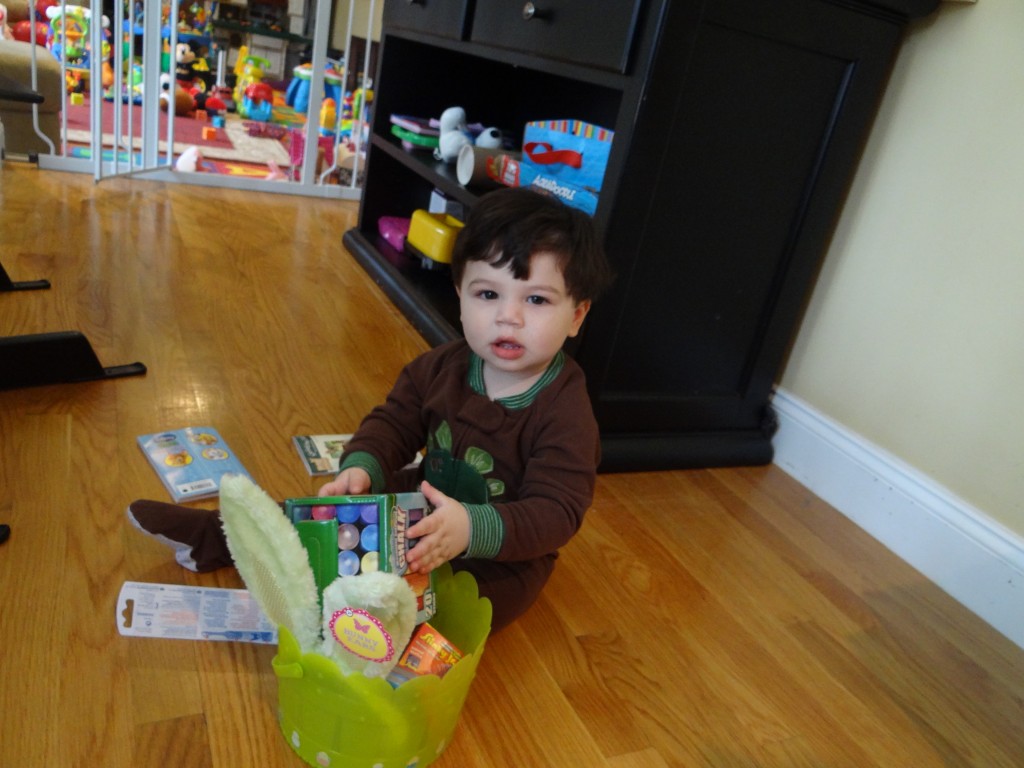 Sorry for my sob story today and I really do hope all my readers had a wonderful Holiday! I look forward to seeing all the Easter pictures.