I know for me with two small kids, it is hard to keep up with all the medical necessities that my kids and I need. While I do keep a record of my kids immunizations, I don't have  a way to accurately keep track of what I need. What ends up happening is I forget to get that flu shot? I forget to get the 10 year tetanus shot? Can you relate?  Then when I do end up remembering, I never have the time to schedule an appointment. My shots always take a back burner in the everyday hustle and bustle of life! I recently found out that one of my favorite stores, Walgreens, has now introduced an online application for scheduling my, as well as my family's, vaccinations. This new app is compatible with the iPhone, iPad, and Droid devices. While I did already have the application downloaded in my phone, I had no idea that I could schedule my vaccinations through it and it would actually work! The app is so easy to navigate too and so easy to use to schedule my appointment.  This is what the app looks like: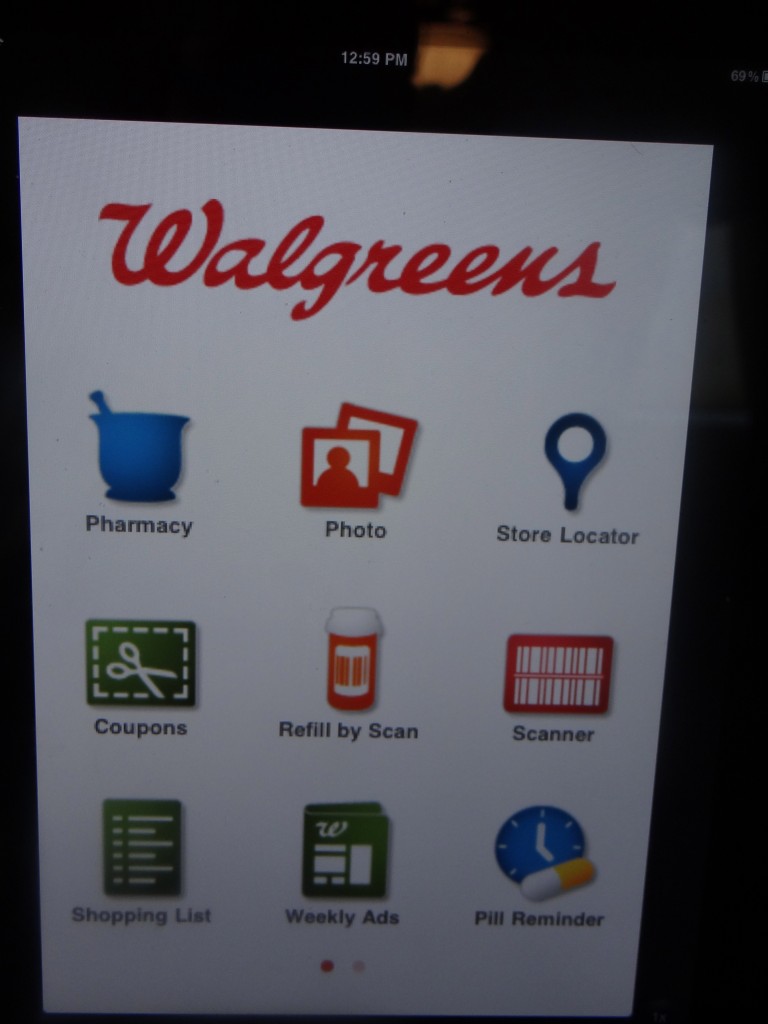 I simply clicked on the pharmacy tab and it brought me to this page: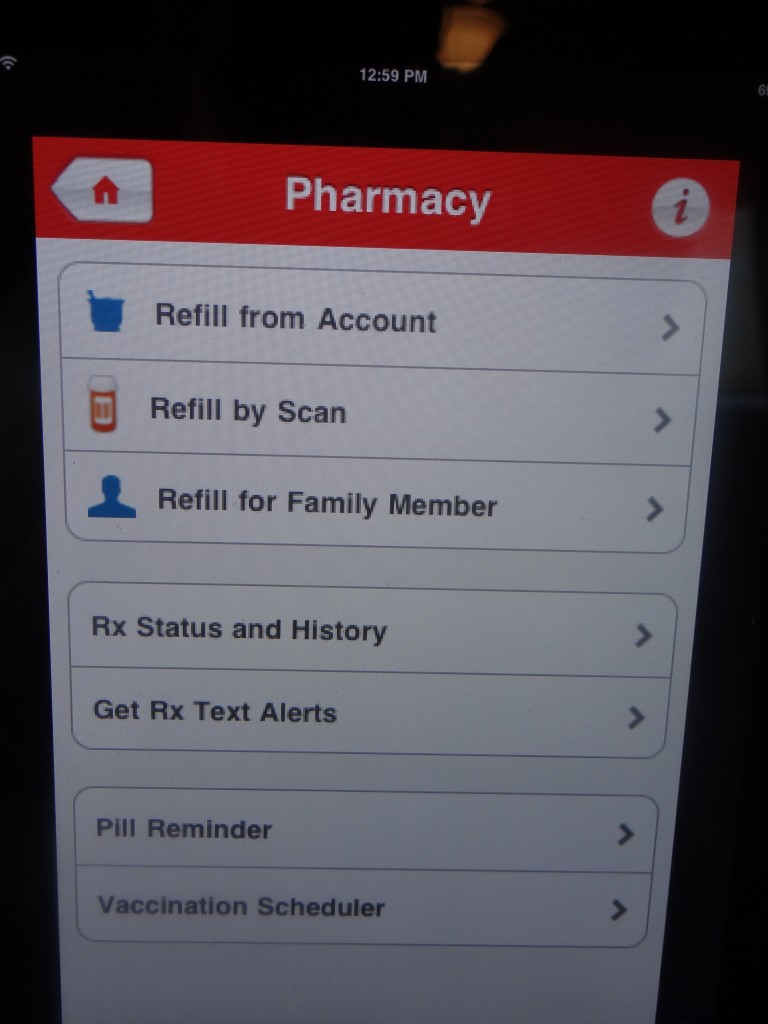 I had already used the refill tab to get my prescriptions set up (which by the way, is simply awesome to get refills), but I had never used the vaccination scheduler. I was intrigued. So, I clicked on the Vaccination Scheduler and it brought me to an area where I can schedule myself or if need be, my whole family.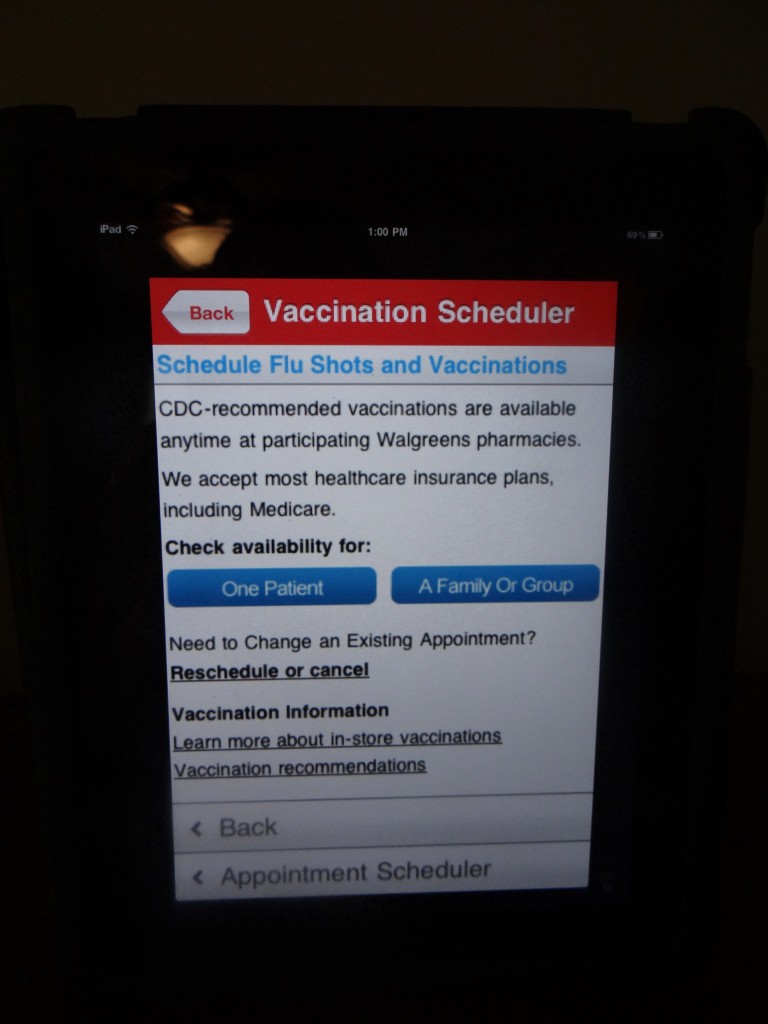 I decided to schedule myself for a much needed flu vaccination. I know, I am late on this, but at least I am being proactive and getting it done now. I entered my age, location, and when I wanted to get the influenza shot, also known as flu shot, scheduled.  As you can see, you can really schedule just about any type of vaccination needed.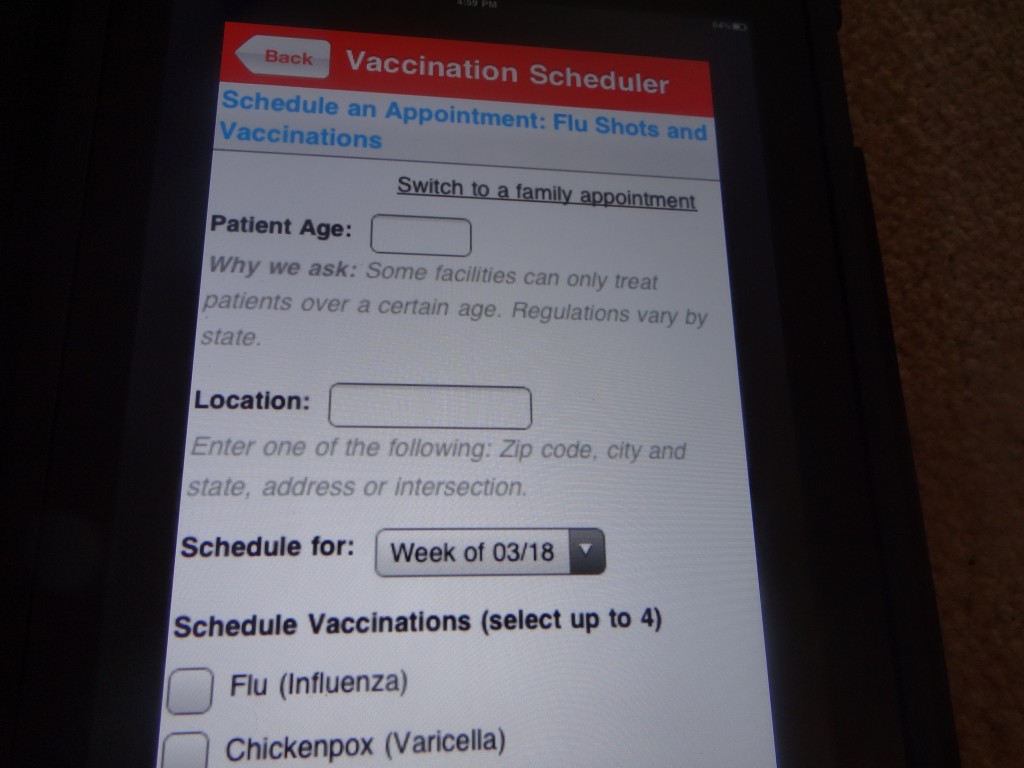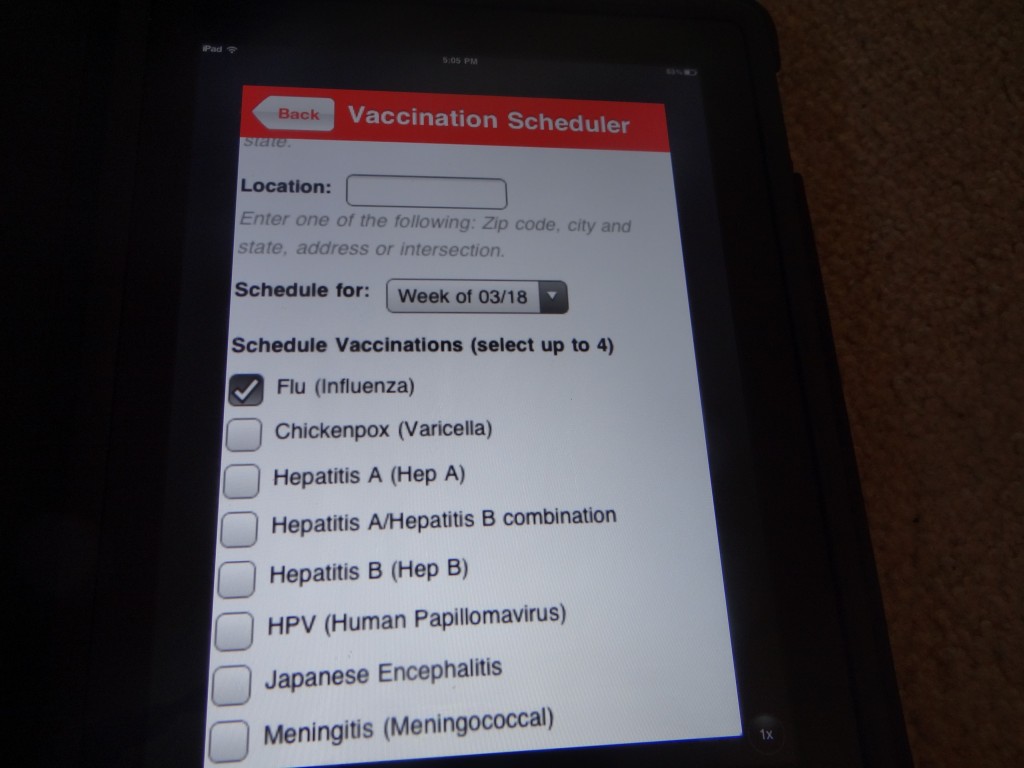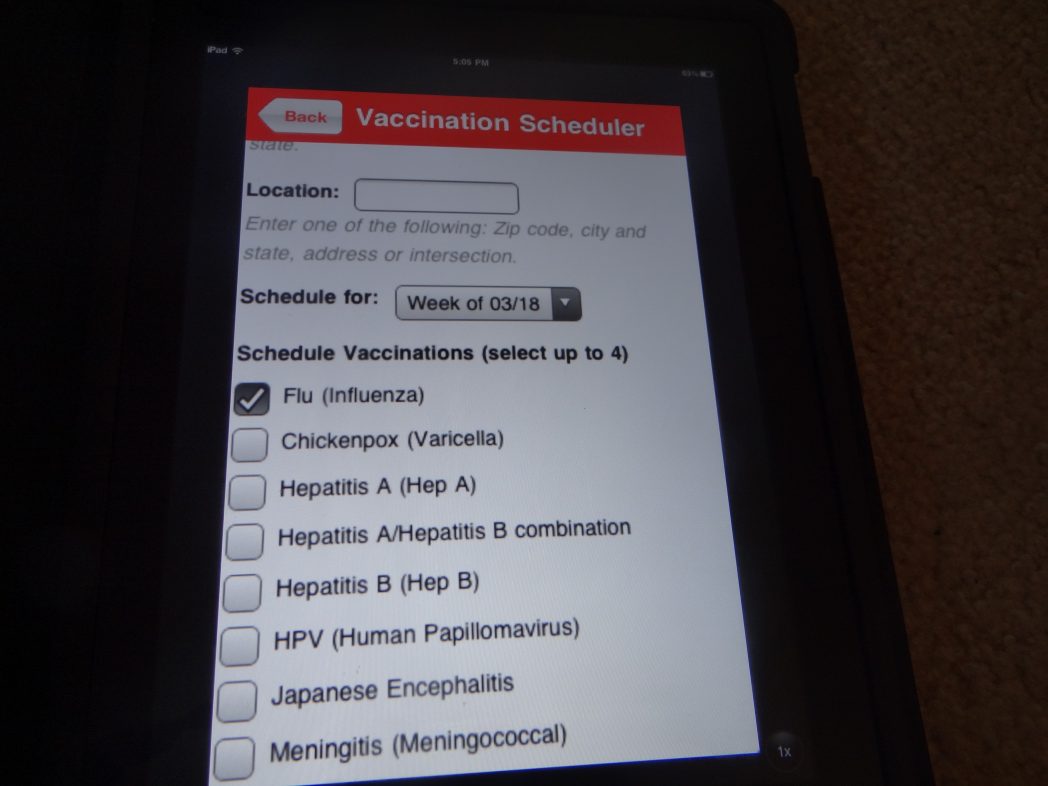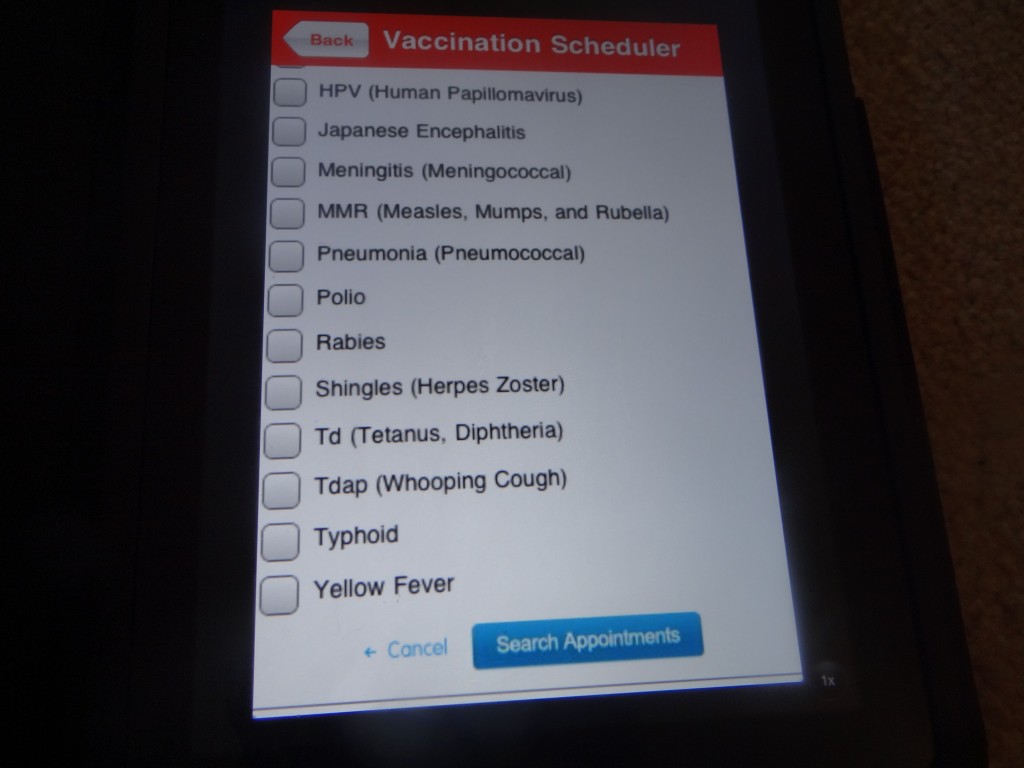 It then brought me to my available stores where I can select which one was closest to me: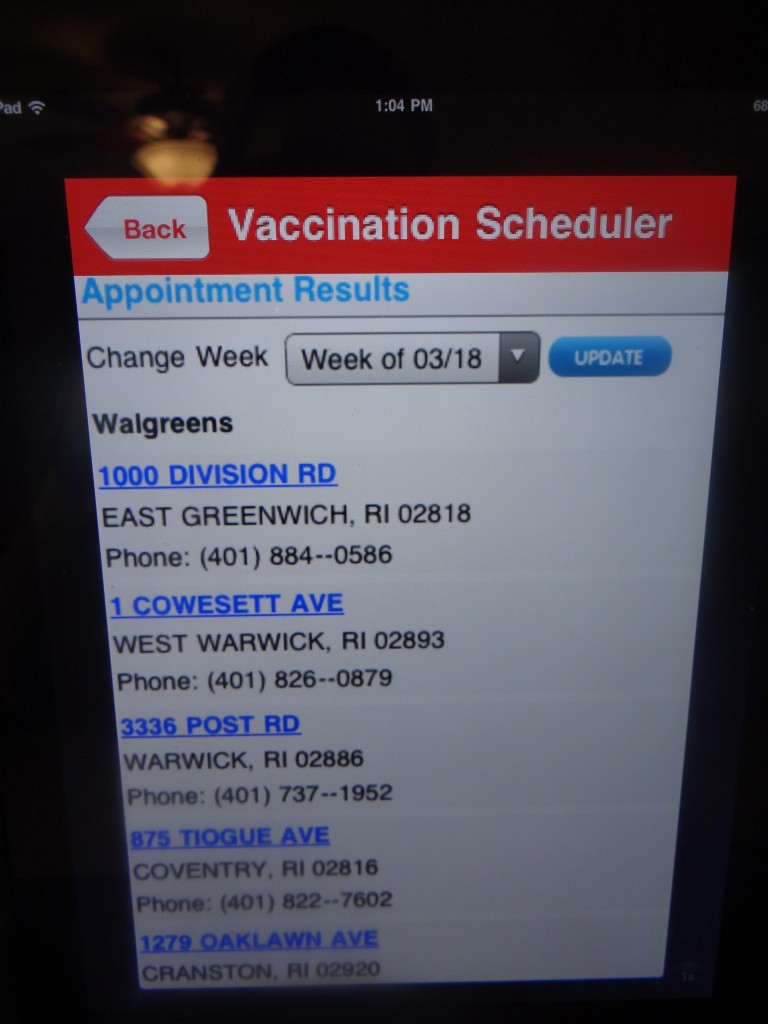 I clicked on the store closest to me and was then all set up and ready to go. I simply gave them my email address and Walgreens then sent me a reminder of the time of my appointment.   While everything seemed so easy to fill out using this Walgreens Vaccination application, I was worried once I got there, I would be stuck and nothing would have went through electronically. Come to find out, my worrying was unnecessary. The pharmacist had everything ready as I walked through the door. I simply had to sit down and get my shot.
I admit I get nervous with vaccinations:
I was already so impressed with the Walgreens application.  I use it all the time for my coupon cutting, shopping, and pill refilling. Now, I can use it to schedule vaccinations. I also would be remiss if I didn't add, that most Walgreens will do your little ones immunizations. In the state of Rhode Island, Walgreens will  not do vaccinations under 18 years of age, but I know many other states will allow vaccinations for  anyone! I wish I could have gotten Zane's vaccinations done here. It would have been so easy to schedule and do everything all at once  for my family at Walgreens. Maybe one day, Walgreens will allow vaccinations of babies in my state. We shall see…
This application is truly a must for those that want a way to schedule their vaccinations quickly and efficiently. From now on, I am only going to use the Walgreens application to set up my vaccinations. It was easy, quick, and actually painless (okay, the shot hurt for 1 second- I am a baby though). Be sure to download the Walgreens application and take advantage of their new vaccination section for scheduling/keeping track of vaccinations. You will be happy you did! Be sure to check out my whole shopping experience using the Walgreens application for vaccinations here: Google Plus
This shop has been compensated as part of a social shopper insights study for Collective Bias. All my opinions are my own and not swayed by outside sources.