I hope you all have a great weekend. We are heading out to bring Zane and Hayley to Sesame Street Live tonight so I am sure I will have a lot of laughs for next week.
In the meantime, I hope you enjoy my laughs this week. Feel free to join our blog hop if you have a top 5 Saturday laugh post, funny, or cute post. Please don't link up if your post doesn't qualify. After a few months of this, you all know what qualifies:) Feel free to take my button, but this is not mandatory. Also, feel free to help me spread the word about this hop. Laughter is something we could all use in our lives.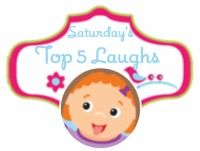 Now my laughs:
5. Zane is addicted to his pacifier and must sleep at night with it. He usually is a great sleeper but the other night, I heard him scream at midnight. I waited a few minutes to see if he would calm down. After I realized that he was not calming down, I go in and see that he accidently knocked all of his pacifiers to the ground. He managed to take the bumper off and when this fell, his pacifiers went with it. Poor baby!
4. My husband is trying to break him of the night pacifier for sleep. Since we are both dentists, we know although he is young, we need to eventually take it away. So, one night my husband took it away and we looked at Zane in the monitor. He was searching high and low for the pacifier and finally hear him scream after realizing it was no where to be found. When my husband went in and showed him it, he opened his mouth wide and had the biggest grin on his face. We will wait to break him of this habit- he is young for now.
3. Zane said his first word this week. It was bye and he kept saying it over and over. It really is so cute!
2. We got some shirts this week to review on my blog. One was a personalized Minnie shirt that was for Hayley. My rule is, that once the products come, it goes in my living room and is not to be touched, till I am ready to write the review. Hayley was pleading with me to wear her new shirt and I was adamatly said "NO." Low and behold, in the am- I found her with the shirt on. I asked her where she got it and she tells me, "Daddy gave it to me." I then proceeded to ask my husband and he denied it. I have no idea who to believe, but the girl got the shirt, and it hasn't left her back for the past day.
1. Hayley had a pee-pee accident the other day. It never happens but she was overly excited with playing, and forgot to tell us. She then says to my husband, "Daddy, don't be mad. It is O'kay- I will wash it and get new underwear. You are not mad, Daddy, right?" Who can be mad at that!