Hoohobbers is an extremely cute online kids shop that has items for just about anything that you can imagine for your kids including personalized rocking chairs,  baby rockers, moses baskets, kids play tables, toy boxes, doll products, kids easels, and so much more! You can't truly fathom the enormity of their products without visiting their site. I love the fact that you can go shopping for each age group including newborns, toddlers, and 5 years and up.  Some examples of products for the newborn age include  moses blankets, crib accessories, bedding, table/floor lamps, drapes, receiving blanket and so much. Included in the toddler age products are toy boxes, rocking chairs, table and chairs, sleeping bags, director chairs, and other fantastic products. In the 5 year and up age group,  some of the products include art easels, jumbo art tablets, throw pillows, soft lunch boxes, and ottomans. They also have a whole nursery decor line as well as gift baskets available on request. Hoohobbers has been around since 1981 and happily servicing families with the latest and greatest products since then.

We had the chance to review the personalized denim rocking chair with Zane's name. This chair is truly terrific! Anyone who ever comes over, wants to know where we got the chair from- the answer is simple: Hoohobbers! The chair accommodates my almost one year old perfectly. I love the fact that is so lightweight that my three year old, who tends to steal the chair, can bring it from room to room. There is never a problem with her taking it wherever she wants to go. Only the problem with the screaming that comes out of Zane's mouth when she steals his prized treasure.
The chair is also durable enough to hold a young child who is an adult weight size. It will not collapse and will hold even when I tried it out. While I had a hard time rocking it ( I am way past my youth stage), the chair held steadily. The chair also has an 8 unit gauge safety system to protect those with the littlest hands. The chair is available in mesh or canvas.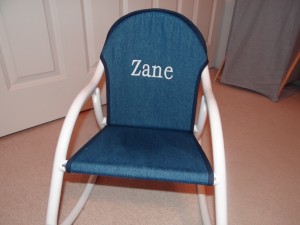 Both kids love to rock with this chair. We will need to purchase Hayley her own because it really is so cute! Both of them can rock steadily in it, and it will never wobble or tip over. I get worried with the three year olds strength, but I can assure you, it will hold up!  I can't rave enough about this chair. While I only sampled the rocking chair, I can't wait to check out all their other products at : Hoohobbers.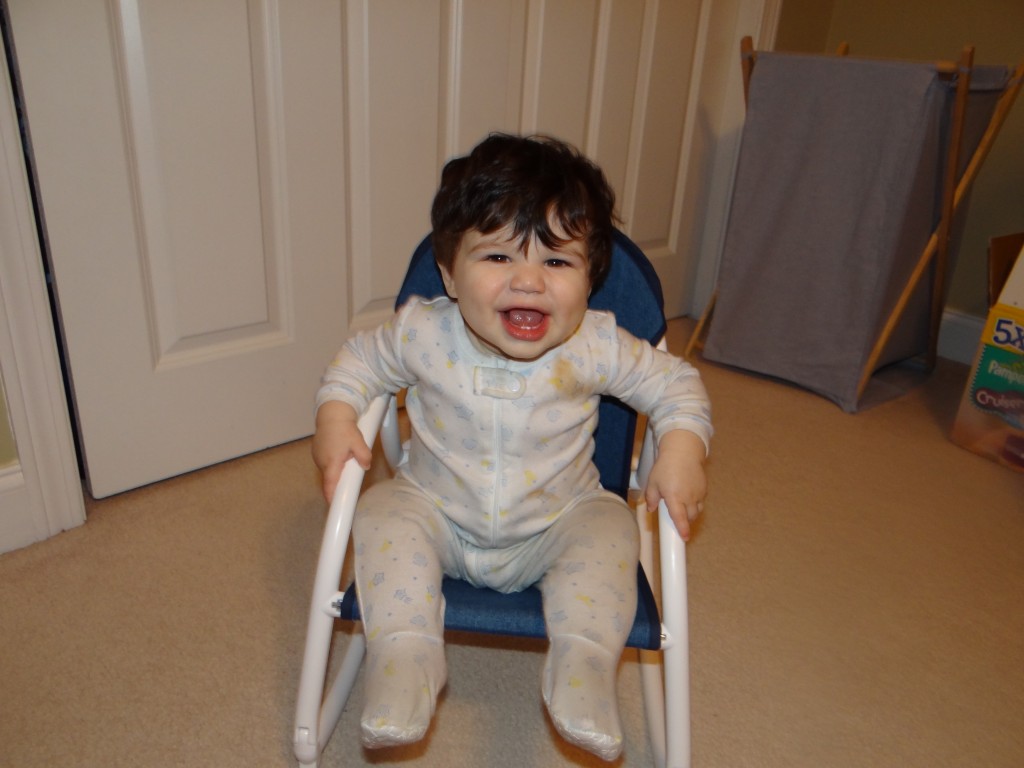 Win it: One winner will receive their own personalized Hoohobber rocking chair- winners choice of color and fabric. The giveaway is run via rafflecopter so click continue reading to see the actual giveaway. The only mandatory entry is to tell me which style you want in the comment section proceeding this post. While the other entries are optional, I highly recommend you filling it out to increase your chances of winning. US only. Good luck!
*Thanks to Hoohobbers for supplying me a chair for reviewing purposes. As always, all my opinions are my own and not swayed by outside sources.