Hi everyone! I hope you are all enjoyed the week and ready to start another fabulous weekend. I really love doing these laughs and going through each and everyone. It brings a smile to my face. Please remember that this blog hop is only for cute, funny, or top five laughs. If your post is not relevant to these, please do not link up, as it is not fair to the others who come here to read these posts. If you would like to help me share on social media sites, I welcome it:) Enjoy your weekend!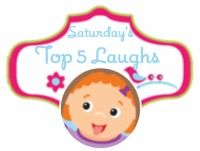 Top Five Laughs:
5. Zane figured out how to wave hello and bye-bye this week. However, he uses both of his hands and waves them backwards. If I ask him to wave and he is carrying something, he must put it down so he could use both hands to wave.
4. Zane and Hayley are really starting to "play together". The other day, Zane took one of Hayley's toys out of her hands and started playing with it. I thought we were headed for meltdown central until I heard Hayley say, "Zane, we can share toys if you want because I love you!" It melted my heart.
3. Hayley is showing a great interest in writing her letters so I am going with it and designating a half an hour a day to do this. She has the hardest time with doing the letter C for some reason. So I told her to put two dots, one on top of each other, and then go from one point and bump it out to the next point. It worked and she is great with doing the C's now. However, every time she does a C, she says "Bump it out. Come on lets bump this C out". I have to laugh!
2. Zane is like a dog I have never had. If I drop the smallest piece of food on the floor, he will find it. Along with this, he will eat everything known to man. The kid despises baby food and if I try to give it to him, he will spit it right back to me.
1. Gasp, I gave Zane some ice cream last weekend. I figured why not- everyone else was having it. He could not stop flaring his arms and signing "more". He was also moaning and giggling at the same time. I had people come up to me and just stare because they have never seen a baby so excited about having food. That is my Zane for you!
Looking forward to reading your laughs…

*Click read more to see the link up for the blog hop*