I am so glad it is the weekend. I want to personally thank my friend Heather at http://www.ourgirlskeepusmoving.blogspot.com/ for generously offering to put up her Saturday laughs last week. I could not get the link up to work from Florida so I apologize. Feel free to link up from last week and this week if you would like. I know some of you wrote posts last week and I didn't have time to read them all, so please feel free to submit these.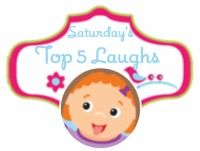 Please link up only Saturday top five laughs or any funny/cute post. If it does not fit the genre, please do not add it, as it is not fair for those that like to read these posts. I need some laughs this weekend so come join:)
Also, please check out my giveaways going on. All can be found on the right side of my page. I am giving away 7 childrens' books as well as your choice of a personalized bath towel or cape. Both giveaways end 1-24.
My Saturday Top Five Laughs:
5. Zane is getting bigger by the day. He is now almost 9.5 months and he is growing like a weed. Today I put his 18 month pants on him and they are tight in the waste. Seriously, I need him to start walking so he begins to level off. Hayley and Zane are now 4 pounds apart in weight and 2.5 years in age.
4. Zane claps at everything. The other day, my husband and I were watching a sad money. I was beginning to tear up and all of a sudden Zane starts his usual round of clapping. He does this 24/7. It is really so cute!
3. The other day Hayley and her friend had a play date at the local restaurant. Both kids had to poop so I took them in stalls. I hear Hayley say to her friend, "How big is your poop? My poop is bigger." Then her friend starts, "No, I think my poop is bigger than yours. I win!" The things they say to each other.
2. I took Zane to Princesses on Ice Show with Hayley. He stared at the ice for the whole 2 hours. I am pretty sure he never even blinked. He was totally mesmerized.
1. Hayls: "Mommy, I want to sleep in a big girl bed." Me: "Why, Hayls?" Hayley: "Because then I can get out of bed during the night and come sleep with you whenever I want." Me to my husband: "Hayley is staying in her crib till college."
Now your turn: