Before I begin this post, I want to wish a very Happy Sixth Wedding Anniversary to the love of my life! Tomorrow, 12-17, is our anniversary and I am very grateful to have found such an amazing husband and father to Zane/Hayley. So if you are reading, I LOVE YOU!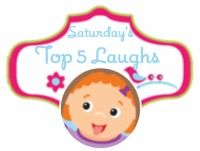 I have been posting the winners to my giveaways on the posts via rafflecopter. If you win, I email you, so no worries! I have MANY giveaways coming up! If you like the giveaways, come enter! The more people that like my giveaways and enter, the more they will keep coming. Thanks:) I have all my giveaways listed on the side of my blog with links to the direct giveaways.
As I say every week, I love doing these posts! Nothing lightens up my week better than reading all your posts and I hope you enjoy mine as well. If you want to link up to our blog hop, make sure you link up a top 5 laugh or a funny post that you have written. It doesn't necessarily have to be a top 5 laugh (although they are fun to write), but it must be a cute/funny post. Please do not link up if you do not meet these requirements. The blog hop can be found directly after my top five laughs.
TOP FIVE MELISSA AND GREG LAUGHS THROUGH THE YEARS:
5. I am deathly afraid of flying. My parents decided to take us all on a Meditterean cruise a few years back. Since it was such a long trip, I decided to take a half of valium. I noticed it was doing nothing to me, so Greg said why don't you take the other half. Well I did and then proceeded to nod off. When I finally woke up (or thought I woke up), we were back in Boston. My husband turns to me and says, "How did you like the Eiffel tower." I turned to him and laughed, "What are you talking about." Apparently, we had a 8-hour layover in Paris and we did some sightseeing and ate crepes. I HAD NO RECOLLECTION!! To this day, I still have no memory of this. I live through the pictures my husband showed me. While this is hysterical, it makes me sad because this was my first and only time in Paris!
4. Greg gave me a Chia Pet for Christmas for Christmas in 2009. It was a gag gift and I basically opened it and left it in our drawer all year. Christmas 2010 rolls in and I end up opening another Chia Pet. I totally forgot he got me one from the year before and thanked him. Then he looked at me and said, "You don't remember this-do you?" He took the Chia Pet from the drawer and rewrapped it. He told me figures you wouldn't remember it because it was collecting dust for a year. It was hysterical.
3. I told my husband I wanted a "push" gift for Hayley. I asked him a few years back before I had Hayley for an elliptical. He always told me that I belonged to a gym and I didn't need one. When he asked me what I wanted for a push gift, I told him I wanted another ring. An eternity band to be exact. Well, my "push" gift showed up a few weeks after Hayley was born. A brand new elliptical machine. I hadn't mentioned it in over 3 years so I am pretty sure this had to do with my figure after delivering Hayley. He really saved that gift for when it would come in useful!
2. Not funny, but my push gift for Zane: a diamond eternity band. No pushing involved as it was a c-section but I was blown away.
1. MUST READ: My engagement story! I had the world's WORST engagement story. My husband is usually romantic but this takes the cake for the least romantic story. It was a Sunday night and his beloved New England Patriots' game was on. They were playing in some important game and we were both watching. I like the Patriots but not like him. Anyway, I went to the bathroom and when I came back he gave me my stocking to open (it was a week before Christmas). I open it to find all these fantastic chocolates. I thanked him and then he says there is one more gift. I feel a box on the bottom of the stocking and I had an idea that this could be the ring. So, he pulls out the box. He is getting ready to open it and I kindly ask him to shut off the Patriots game if he was going to propose. Well, instead of turning it off, he MUTES it and asks me to marry him in the last 5 minutes of this important game. Half of his speech (mind you, he was not on his knees) was simultaneously said while peering at the game. I got the ring and was so excited that I called my family/friends. He continues to watch the game and I ask him if he was going to call people. He tells me the post-game show was on. He would call tomorrow. I win for the most unromantic proposal!!
He has definitely made up for it though!!! I couldn't be happier with the most perfect man!