The weekend before Thanksgiving- Can you believe it? This year seem to have flown. I have to say, how excited I am, that so many of you have been joining me. These are by far my favorite posts to read all week and as I am reading them, my husband is laughing at me, because I am laughing at a computer for hours-lol:) You are all so funny though!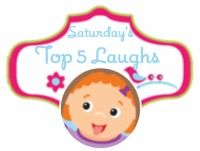 Before I begin my post, I want to announce that the winner of my PlasmaCar giveaway was Dana according to random.org (entry #1199). Congratulations! Check your email. Don't forget I had three other wonderful giveaways going on for the adorable Rowdy Sprouts vintage kids clothes, a Belle Baby Carrier, and a 5 pack of flash drives. Click the side links to enter the giveaways. I have a huge giveaway with over $400 dollars of prizes (split over 4 winners) going up on Black Friday. You do not want to miss this- I promise!
I also have to give a shout out to these 4 awesome bloggers who gave me blogging awards this week. You are all fantastic and I appreciate the awards more than you know. They are Tessa from Tales of two girls, Judy from Judy H-J thoughs- A twin less twin, Censie from Building our Story, and Brandi at Life of a New Mommy. A cumulative THANK YOU!
This is a blog hop so please feel free to write your own Saturday top five laugh post or link up any funny post you have written in the past. The weekends are always a great time to enjoy and what better way than to read funny things that others write. Join the blog hop right after my top five laughs.
Now for my top five laughs:
5. The other day, I was showering and Zane was sleeping. I heard Hayley say, "Mommy, get me out of my crib". I thought to myself what is she talking about as she was downstairs watching television. Well, apparently, she got her step stool and climbed into her crib. Thankfully, I threatened her with my scary face, never to climb out of the crib. We still have a good thing going even at 3.
4. Remember how I told you that Hayley always beats me in games. Well, this week, we got her a new fishing game and it is HARD! Hayley had a hard time getting the fish so she reached in and grabbed them all with her hand. When she was done, she says, "I win". I don't think so Hayley Bear:)
3. As stated last week, Zane is starting to crawl. He starts out his crawling with raising his bum in the air and swaying from side to side. I think he requires a lot of momentum to get his chubby body moving.
2. Zane is 7 months. He officially outgrew the 12-18 months. We are now in 18-24 months. Enough said!
1. This last one isn't funny but just too cute so I had to share. This week in her preschool, firefighter Bill came to talk to them. When I put her in for her nap after school, she tell me, word for word, "Mommy, I love you so much and if you/daddy/Zane ever get real sick and need help, I am going to dial 9-1-1". I am so proud of her!