The weekend is finally here! I hope everyone enjoys themselves this weekend.
I am so excited with the response with the Saturday laugh posts that my friend Jamie from For Love of Cupcakes made me a cute button. If you would like to put it with your posts, I would appreciate that but it is definitely not required. Actually, this blog hop has no rules except to write a top five Saturday laugh post or link up any funny post that you wrote. Come visit exciting blogs and leave them comments. I hope you enjoy writing these as it can be a great end to the week post as well as great memories to last for the future. The link up can be found at the end of this post!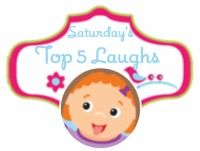 I want to announce that the winner of my Spooner Board giveaway (according to random.org) is comment #707-Brian. I will email you shortly. Don't forget I have two other wonderful giveaways going on for the fabulous PlasmaCar and the very cute burp/bib cloth set. I have giveaways scheduled till the end of December so please continue to check back.
Now for my top five laughs:
5.This is not necessarily funny but so cute. Zane woke up with his two bottom teeth. I saw white for awhile but today they officially broke through. He looks so cute. Yah for teeth!
4. Hayley figured out how to open the refrigerator recently. Today, I woke up, and got ready for work. Hayley managed to get her yogurt from the refrigerator, rip the cover off with her teeth, grab her spoon, and put on her bib. When I go downstairs, the yogurt was eaten and she was a mess. I asked how come she didn't call for me and she responded, "Mommy, I was too hungry."
3.We have a ton of birthday parties for Hayley's friends this month. Hayley managed to rip the wrapping off the gift I got for her friend for tomorrow's party, and proceeds to tell me that we can't give that toy to anyone because she wants it. I told her it was for her friend and she says, "No mommy, Go away, It is mine!"
2. Hayley tells me nightly that I have to go to bed when she does. I tell her that I will go to sleep right after she does. I hear her most nights yelling from her crib at 10/10:30 pm: "I still hear you, so I am not going to sleep." The girl means business!
1. The last one again is not a laugh but it is so cute that I had to share. Hayley told me yesterday that I was her best friend and she will love me forever! I told her thank you and she then proceeds to ask me if Zane can be best friends with us. I LOVE MY KIDS!! I am really blessed.