So we are getting closer to the unveiling of my new blog template. I am excited! Anyway, I hope you all had a fabulous week and will continue to have a superb weekend.
Here are my top five Saturday laughs of this week: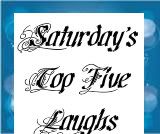 5. Zane has this habit of giggling uncontrollably when I see him for the first time after coming home from work. This can go on for a good five minutes and is just so darn cute. I will have to videotape him doing it one of these days.
4. Zane is beginning to sit up unassisted. He is funny because he will get the hang out of it and then a couple minutes later, he will fall. It is so funny because when he falls, he gives me this sorry pout, that is just so funny that I end up laughing. Then he ends up crying. Funny routine we have going on.
3. Hayley's new favorite show is Peppa Pig. I have no idea where she found this show but it is her new favorite. So today I put on Dora and she says, "Mommy, please turn it off. Zane doesn't like this show at all. He wants to see Peppa." Already starting to blame the brother!
2. Hayley still sometimes has poop accidents. Doesn't happen too often at all but this week, she says, "Mommy, I poop a little bit in my underwear. Can you change me?" So I go up and change her and then she declares, "Don't be mad, I will help you wash them." I would love to see that happens.
1. Hayley can have whole hour long converstions with her "friends", aka her stuffed animals, before she goes to sleep at night. Last night, she told her Dora friend, "Dora, you are taking up too much room in my crib. Please move over." I heard this on the monitor and that about made my night.
The things kids say. Now, tell me your funnys from this week. I know you have some….