New series coming to Disney + for all you Star Wars fans! The "Andor" series explores a new perspective from the Star Wars galaxy, focusing on Cassian Andor's journey to discover the difference he can make. The series brings forward the tale of the burgeoning rebellion against the Empire and how people and planets became involved. It's an era filled with danger, deception and intrigue where Cassian will embark on the path that is destined to turn him into a rebel hero.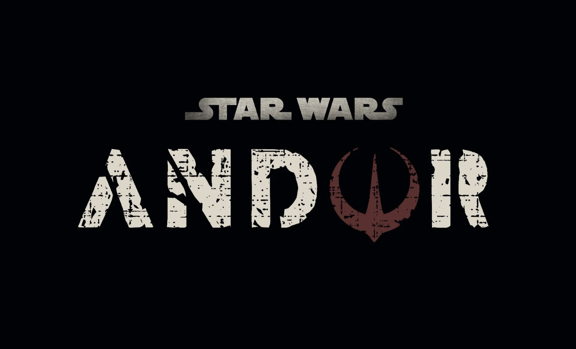 Diego Luna returns as Cassian Andor and is joined by cast members Genevieve O'Reilly, Stellan Skarsgård, Adria Arjona, Denise Gough, Kyle Soller and Fiona Shaw. The executive producers are Kathleen Kennedy, Tony Gilroy, Sanne Wohlenberg, Diego Luna and Michelle Rejwan. Tony Gilroy is also the creator and showrunner.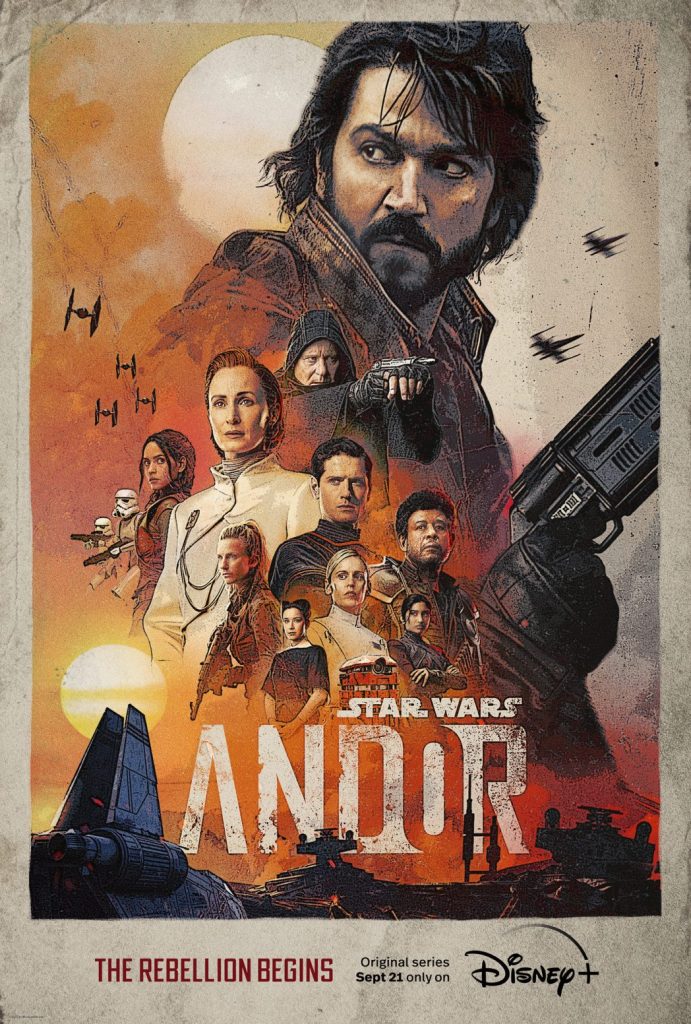 INTERVIEW TIME:
I had the chance to talk to Diego Luna ("Cassian Andor" and Executive Producer, Genevieve O'Reilly ("Mon Mothma"), Kyle Soller ("Syril Karn"), Denise Gough ("Dedra Meero"), and Tony Gilroy(Executive Producer / Writer / Showrunner)
1.This series is a new perspective on the Star Wars galaxy, involving the burgeoning rebellion in its infancy in the years prior to the film Rogue One.  What inspired you to create the series?  And what was your vision for it?
Tony said that the main idea is taking a character that was in Rogue One and show how he ends up. The idea is that we can do a story that can take him literally from his childhood origins and walk him through a five-year history of an odyssey that takes him to that place, during a revolution, during a moment in history in a place where huge events are happening and real people are being crushed by it. We liked being able to follow somebody as an example of a revolution all the way through to the end.
2. Diego, what do you find exciting about stepping back into the role of Cassian Andor? Do you have a sense in many ways of completing the character in this series, filling in details, as well as their understanding of him?
Diego said definitely! He said he loves getting back to work with this family and to do more work with Tony is amazing. In this story, it's quite relevant today to tell the story of what needs to happen for a revolutionary to emerge, to exist, to come to live.  What gives meaning in the life of someone to be willing to sacrifice everything for a cause, you know?  What needs to happen?  That that journey matters to him.  The story is interesting and there is a lot of material to play with.
3. Adria, your character Bix is a strong female character. It must have been great bringing that sense of empowerment through the screen. What do you like most about Bix?
Adria says there is a lot of things to like about Bix. She is fearless, bold, deep inside, and incredibly loyal and compassionate and cares a little too much for the people around her.  That can be sometimes at her own detriment. The boldness at times can be a fascade that she puts on, like a show. But deep down she is deeply caring for those around her. That is the part she loves most about Bix.
4. Denise, how does your character Dedra Meero fit into the story?
Syril said Dedra is an ISP officer.  And when we meet her, she's at the kind of low end of the ladder.  And she's incredibly ambitious and meticulous. What she loves about playing her is that she is in a very male dominated world. She is seeing around her the way that people are missing what she can see is happening.
"And we've been talking a lot about this today, both about Dedra and Syril and how they come into this world.  They're sort of outsiders within the ISB.  And so yes, she's clawing her way up the ladder.  And I love portraying the effect that power just has on a person, like the danger of that pursuit of power and control, regardless of gender."
5. Kyle, that leads us of course, to Syril Karn who is an interesting character as Denise just alluded to just now. And there's so much going on with him as well.  What attracted you to the role?  And what did you enjoy most about playing him?
What attracted him to the role was Tony's writing. He created a character that was really three-dimensional and had a big question mark over him. He could go into the Empire.  He could go into the Rebel Alliance.  And he's got a lot of gray area.
"And he came from a place of such lack and it's such a pain in his home life, that he's trying to fill this void within himself through the fascist, corporate, bureaucratic structure, where he finds order.  And he finds a place to be seen if he can supersede his station and climb those ranks.  And so really, what Tony created and having a character that wasn't really sure about himself was what kind of made it the most fun to play."
6. Tony, this story feels so big and grounded in reality. Who do you think the show is for? And what kind of audience do you think it will appeal to?
Tony said the show exists because there is an enormous, arterial, important, passionate Star Wars community. There is a huge dedicated Star Wars community that always shows up. That is what gave them the money and the momentum and ability to make Andor come to life. The audience is his primary concern and he wants to bring something to the audience that is completely different lane that what they have seen before, doing it in a completely uncynical fashion.
7. Genevieve, having been part of both the prequels and now spin-offs like Rogue One and Andor, what's the biggest difference that you see in this interpretation of Mon Mothma through different eras of Star Wars filmmaking?
She said that the most exciting things about Mon Mothma is the bravery and where Tony has decided to begin.  The audience meets Mon Mothma in a place we've never seen her before.  We meet a woman steeped in Empire, navigating a very male-dominated Empire with a very powerful Emperor Palpatine at the top of it.  We find her in Andor very alone, living in a world of orthodoxy and construct.  We see a woman who has had to navigate her ideals and her beliefs within systems of oppression.  And so, we find her in a place we've never seen her before.  We find her in a bit of a gilded cage.  And so, what she is excited for is for the audience to travel that story with her.
"To journey with her as a woman and finding her voice, reaching for voices that are fighting for similar things.  Finding community, finding collaborators to be able to eventually be the leader that she becomes in Rogue One.  So, there's a journey to travel and I'm excited for people to hop on that train with us."
8. Any highlights or fun moments working on location? Were there little details that stood out for you?
Kyle said he remembers coming to the big sets, the town that was built by the production design and the set units. Within the set units, every single drawer had something in it.  Every cabinet had a whole life inside.  And there was this whole crowd milling about before they started filming, and the crowd kind of somehow was parted and there was this line of Stormtroopers.  And at that point Kyle had sort of forgotten that he was in Star Wars because he was like, "I'm in this sociopolitical drama that's also a family drama and a love story and there's all this amazing stuff going on that's relevant to today."
9. It's a question for Adria and for Diego that Star Wars has always been about diversity and to see you guys in the show is quite inspiring. How important is it for you to be able to represent the Hispanic community in this galaxy for Hispanic actors in general to get these types of roles in Hollywood?
Adria said it was pretty amazing. I mean, it's pretty amazing.  It gives her hope that now a little girl's going to watch it and be like oh my god, that girl kind of looks like me and maybe I want to be like her in Halloween or whatever that may be.  But it's really exciting.  And it sort of comes to show how things are sort of shifting and I'm happy that Tony brought me along for this.  Time to see this in movies and TV!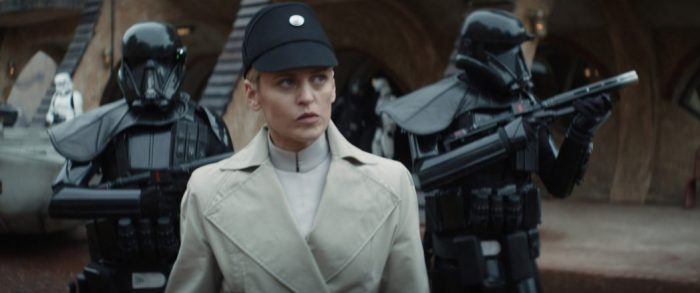 The first three episodes of season one of this new standalone Star Wars series debuts exclusively on Disney plus on September 21st.
*Thanks to Disney for inviting me. All opinions are my own and not swayed by outside sources.*