Yesterday I told you all about the press junket I did for Disney + Safety.  Today I am here to tell you my thoughts about Safety, which debuted today, December 11th, on Disney +. Although the premise of this movie is about football it truly is so much more than that. It tells the real life story of Ray-Ray McElrathbey and his difficult journey he partook in when joining the Clemson football team.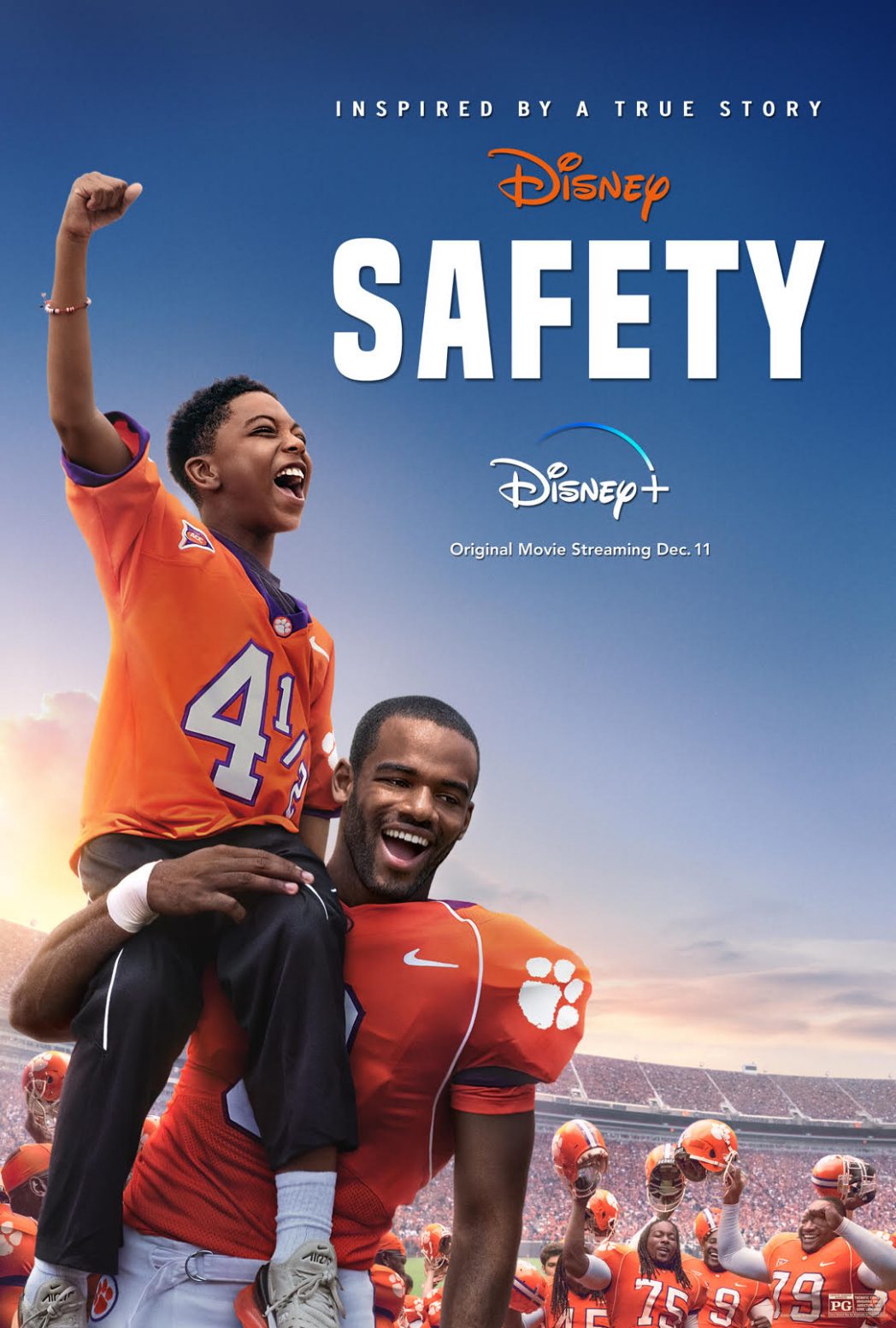 Not only did Ray-Ray McElrathbey have struggles with teammates at Clemson (some "boys being boys" stuff mostly) but the real struggle in his life was taking in his 11 year old brother, because his mom having addiction problems.  He not only had to keep up with his struggles but had to be a "father-figure" to his brother simultaneously. A near impossible feat but one Ray-Ray McElrathbey did beautifully filled with emotional struggles.
As a mom, I loved seeing not only the relationship between him and his brother but also between Ray-Ray and his roommate Daniel. They had such a loving relationship and one where you can see just how much they did for each other. Ray-Ray, being the person he is, received so much support and love and this was well deserved.
While this movie clocks in at 2 hours, I think they needed the character development to ultimately get to the final 30 minutes of the movie.  This movie is filled with so much love and heart. You, as the viewer, truly feel for Ray-Ray and his struggles. You are left with so many emotions and the longing to be a better person.  If you are looking for a great movie with compassion mixed in with a game of football (I mean who doesn't like football), Safety is for you. Be sure to check it out this weekend on Disney +!
I give Safety 3/5 stars.
Y
SYNOPSIS:
Safety is a drama inspired by the empowering story of former Clemson University football safety Ray McElrathbey (Jay Reeves), a young man facing a series of challenging circumstances, whose dedication and persistence help him to triumph over repeated adversities. Aided by his teammates and the Clemson community, he succeeds on the field while simultaneously raising and caring for his 11-year-old brother Fahmarr (Thaddeus J. Mixson).
SAFETY DEBUTS ON DISNEY + EXCLUSIVELY TOMORROW, DECEMBER 11th!
*Thanks Disney for inviting me to the virtual press conference.*