In this time we are in, I am always on an hunt to find an original show that my kids would love! Enter Apple TV+  Doug Unplugs which offers family an unique series that young kids will not only readily enjoy but they will learn from too! Doug Unplugs is a huge winner in our household especially for Tay Tay's age!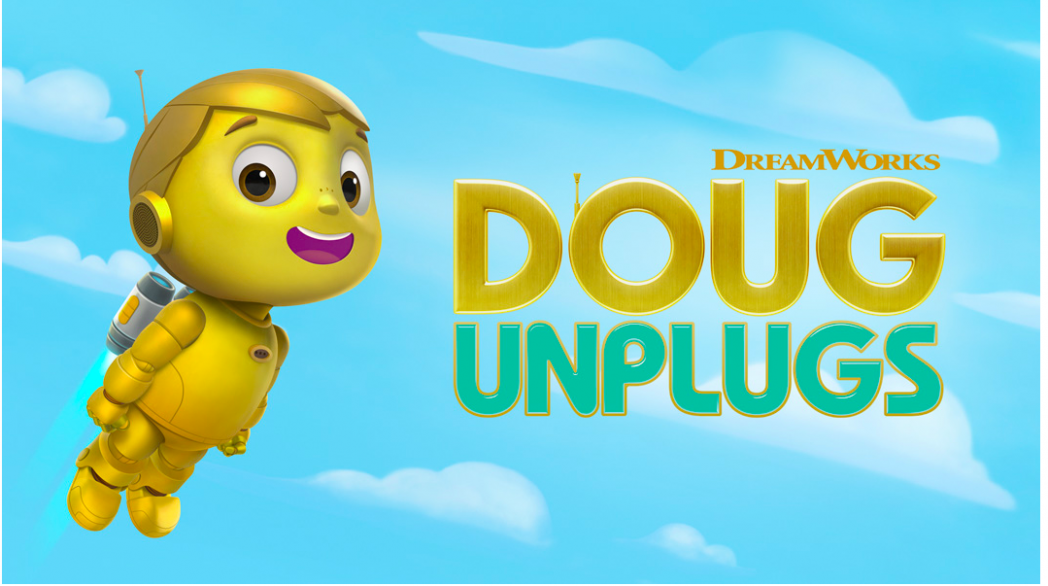 DOUG UNPLUGS SYNOPSIS:
Based on the critically acclaimed children's book by Dan Yaccarino, DreamWorks "Doug Unplugs" follows a curious six-year-old robot, Doug, as he 'plugs in' to learn new facts about the world every day.  Sensing there's more to life than just the facts, Doug journeys into the human world in search of experience.  And to do that, Doug has to…unplug.  With the help of his best friend, a human ball of energy, Emma, the two discover all the simple wonders of the world.  Join Doug as he learns about the intersection of technology and humanity, and how they both keep us truly connected!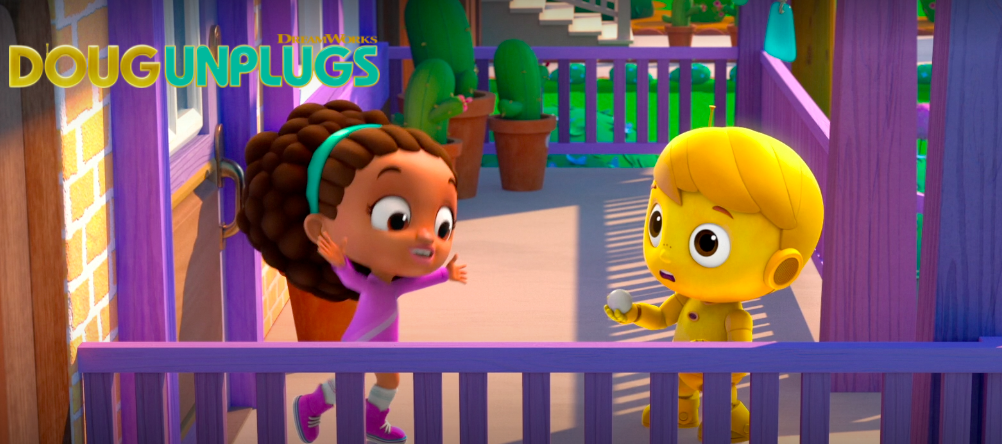 Doug Unplug Virtual Press Conference:
I had the honor to chat with Executive Producers Aliki Theofilopoulos ("Harvey Girls Forever!", "Decendants: Wicked World") and Jim Nolan ("Charlie's Colorforms City," "Nella the Princess Knight" from Doug Unplug. They were so gracious to answer all our questions about this series.
1. What is the inspiration for Emma?
When we are developing the series, Doug is new and a robot, so we wanted to pair him with a big personality like Emma, who his complete opposite.  Emma tends to steer them in the wrong path but they are a winning team when Doug gets involved. Doug has a sincere questioning of what is going on in life so he gets help from Emma. When Emma is on screen, you see the boundless energy and with Doug, there is a wonderful challenge of making sure that he felt like a robot but felt more earnest. Emma was definitely the contrast to him with the extremes.
2.  How do you guys chose a topic?
We want to think what is a rich thing for Doug to go on and then how we would do that. For example for volunteering, he could bring together people to do this. Take the topic and put it in an adventure is what we do. Doug plugs in to find the information but going on the adventure he finds out things he can never have found out on his own without experiencing it.
3. How did you come up with the sounds and the music?
They wanted to differentiate between the real world and the plug in world. Music is a good way to do that. Music was a fun segway. They wanted to put in catchy lyrics and fun music to keep kids entertained. They wanted a pop palette for this.
4. Why did you want to do this show?
Tech is an important part of kids lives but it is important to balance it with experience. This takeaway is what connected with me. Both of them have kids and they were really interested in the idea that tech is still very important for kids. With tech they have immediate access for things but also there is a time to unplug and have an experience. They will feed off of each other.
5. What was your favorite part of working with the talent of Doug Unplugs?
They knew right away when they found the kids and how endearing/true they were.
6. What was your favorite episode that you filmed?
Aliki loved the beach episode as it defined the rest of the show. Doug not knowing what something is and then he plugs in and sees the beach.  Seeing Doug and Emma find out about the beach and the themes were amazing to Aliki.
7.  Is there any instance that something has stayed with you from any of the episodes you have done?
Jim says it was pilot episode when they create this app and what hugging means. To him that encapsulates what the show means.  To Aliki, it is showing how we can really learn from our kids and bring that into our relationships with them.
8. What do you want kids to take away from this?
Jim says that it is to be curious and use technology to satisfy this curiosity, as well as going out in nature and experiencing it. Aliki agreed with this too.
9.  How long does it take to film these episodes?
Jim says it is about three years from concept to the episode debut. You start each with premise, then script, then storyboard, animation, etc. It is a very longer process than anyone can imagine from the outside world.
10. Who is your favorite character?
Aliki said it is Emma and how wonderful, boisterous she is. She is kind and caring, and a really good friend to Doug.  Jim said it was Emma's dad!
Be sure to check out this adorable series! Doug Unplugs is officially available for streaming on Apple TV+. This series is wicked CUTE!
*Thanks to Apple TV for inviting me to this junket. All opinions are my own and not swayed by outside sources.*