Keeping your home clean is tough work! With little ones running around, it can seem like a lost cause to clean up spills, dirty clothes, dog hair, and toys. Just when you get one mess cleaned up, two more messes pop up!
Cleaning has taken on a new level of importance in 2020. Keeping our loved ones safe from COVID-19 means we have to work even harder inside and outside the home to disinfect, distance, and steer clear of germs.
The only problem is, when we clean more, we keep more cleaning supplies and chemicals at home. And these products come with their own risks for pets and young children. Not to mention, they're terrible for the planet.
Luckily, there's a new way to disinfect your home without sprays, bleach, or harmful chemicals. It's called Allume, and it uses UV light to kill bacteria and viruses in seconds.
Can you really use a flashlight to kill COVID-19?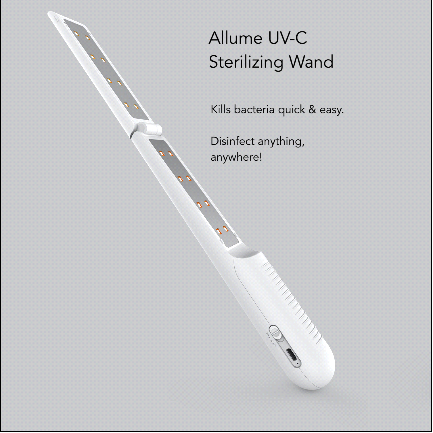 A normal flashlight? No.
The Allume UV-C light wand? Absolutely.
Not only does it kill COVID-19, flu, bacteria, mold, fungus, allergens, and more in seconds, but it disinfects at a rate of 99.99%, virtually sterilizing your home from all harmful microbes.
Allume's 16 powerful UV lightbulbs are proven to destroy germs in seconds. And all you have to do is shine the light on your things like you would a regular flashlight.
Allume uses UV-C light to kill germs. This is the same light that comes from the sun and gives you a tan at the beach. While humans can withstand certain levels of UV radiation, germs can't survive it. This is one reason why COVID-19 dies so rapidly in sunny conditions but can survive for days inside on surfaces indoors.
Allume harnesses the power of UV light so you can kill COVID-19 safely and effectively anywhere, anytime, rain or shine.
Even the CDC has recommended UV light as a way to fight COVID-19, and Doctors from Columbia University have said that UV light safely kills coronaviruses.
A smarter way to disinfect
More and more families are discovering how smart it is to keep their homes safe with UV light. Imagine if you didn't have to scrub and scour surfaces just for peace of mind? What if you didn't have to worry about your kids touching the mail or bringing in germs on their toys and clothes?
All it takes is one pass with Allume to leave your worries outside your front door.
Allume is 100% natural and leaves nothing behind—no chemical splashes, bleach stains, harmful fumes, or sticky surfaces. It can be whipped out and used to disinfect your things in seconds (no gloves needed!), and then put back in a drawer or purse.
It's about the size of a normal flashlight, so you can take it anywhere and clean just about anything. It's perfect for disinfecting:
Countertops
Bathrooms
Doorknobs
Mail and packages
Grocery deliveries
Fresh produce
Toys
Clothes and masks
Public transport seating
Elevator buttons
So much more
Allume delivers real peace of mind in seconds.
Is it safe to disinfect with UV light?
Yes. We know it's safe because UV light disinfection is nothing new. It's been used in hospitals and industrial settings for years, and it's been deemed safe time and time again.
Allume has innovated UV light disinfection by making it affordable for everyone.
However, while UV light is safe to use in your home, it doesn't mean it's safe to point at your face or skin. Continued exposure to UV light can be dangerous, just like too much sun can burn you.
While UV light has its risks, it's much safer than most of the toxic chemicals under the average sink. A little exposure to UV light won't hurt. A little ingested bleach can be deadly to a young body.
Even so, Allume comes with child-proof safely features to keep curious hands from using it:
Folds shut: When not in use, Allume folds shut to hide its bulbs. This also makes it easily portable.
Child-proof switch: Child-proof switch prevents young children from using Allume
Auto-off gravity sensor: If the wand turns in the direction of the user, the lights will turn off automatically.
Allume is a safe and discreet way to disinfect your home.
Get Allume now for 50% off
Don't fill your house with chemicals, wipes, and rags. Switch to disinfecting with UV light and enjoy a natural clean.
Allume is 99.99% effective, so you'll be cleaning just as well as you would be with your normal cleaners, just without all the work!
Allume's manufacturer, Violet Healthcare, is making it a lot easier to clean with UV light during the pandemic. To help families stay COVID-19-free, they vowed to cut the cost of Allume by 50% until the spread of the virus is under control. That's about $125 in savings (and a whole lot of peace of mind).
Get your Allume now at violethealthcare.com. Don't wait until flu season is in full swing. Keep your family safe from COVID-19, colds, and the flu with UV light.
*This is a partnered post. All opinions are my own and not swayed by outside sources.*