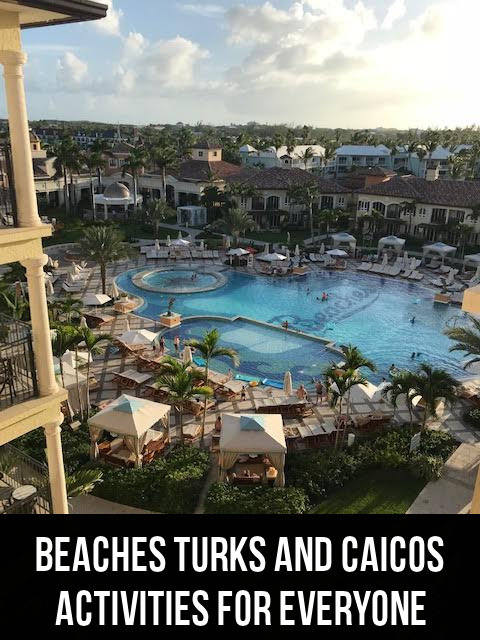 Beaches Turks and Caicos activities are as varied as they are fun. From diving to Kids Camp, this all-inclusive resort has a ton of activities that fit everyone in the family. We got back from the resort this past fall and it was a magical experience. So today, I want to share with you some of the amazing Beaches Turks and Caicos activities available to you and your family when you stay at this wonderful resort.
Beaches Turks and Caicos Activities
I'll begin by saying that my family didn't partake in all of these activities. Rather than make a list of just the things we did, I decided to give a nice cross section of activities available at the resort so all my readers can get a feel of just how much Beaches Turks and Caicos has to offer.
Watersports
Lovers of the water will love getting out and enjoying the ocean and everything it has to offer. These activities make for lots of fun in the sun (and the water) and are perfect for those folks who should have been born with flippers.
Aquatrikes
Snorkeling
Glass Bottom Boats
Hobie Cats
Windsurfing
Paddleboarding
Kayaks
Snuba
Laser Bug Boats
Bodyboarding
Landsports
Visitors to Beaches Turks and Caicos can also find a variety of activities to enjoy on land, as well. From Cards to miniature golf, there's a ton of fun to be had outside of the water.
Basketball
Beach Volleyball
Soccer
Day and Night Tennis
Croquet
Shuffleboard
Table Tennis
Billiards
Lawn Chess
Pool Tables
Board Games
Fitness Center
Golf
Miniature Golf
Bocce Ball
Horseshoes
Cards
Pirates Island Waterpark
One of the best Beaches Turks and Caicos activities for families, Pirates Island Waterpark offers a day of slips, slides, and splashing. The older kids and adults can enjoy the bigger waterslides. Younger kids – and the rest of the family – will love the kid-friendly pools with swim-up soda bars, water cannons, whirlpools, and a lazy river. The waterpark even has a surf simulator. My family absolutely LOVED the waterpark! They spent HOURS UPON HOURS here and then swam up to the kids pool for a drink. It was so perfect!!!
Nightlife
When we think of nightlife, we don't think of children, and while a lot of the nightlife at the resort is definitely adult-centric, there are also some fun activities for the kids, as well, like street parades and bands.
Live Shows
Beach Parties
Themed Nights
Piano Bars
Swim-Up Bars
Cocktail Parties
Nightclubs
Street Parades
Bonfires
Live Bands
Special Events
Guest and Talent Shows
The kids loved the Sesame Street parade at the resort. It was incredible followed by a delicious Sesame themed lunch! AGAIN AMAZING!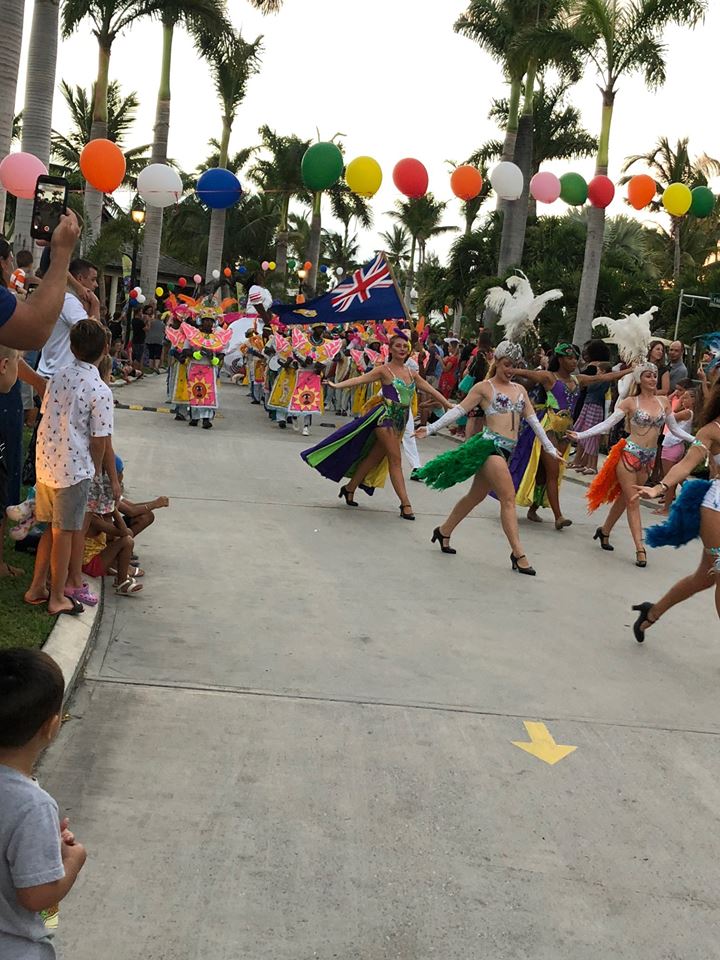 Kids Camp
Beaches Turks and Caicos means it when it says all-inclusive. Their Kids Camp offers infant care, as well as toddler, pre-teen, teen, and special needs programs so all kids are in on the fun. Private childcare is even available upon request for an extra fee. My kids spent many of hours here and truly loved it!
Infant Program
This program is offered for newborns up to 24 months. Certifies nannies give lots of attention and excellent care so parents can have a break from time to time.
Toddler Program
The toddler program features activities that any young child will love like:
Toddler Pools
Shell Collecting
Face Painting
Treasure Hunts
Puppets
Costume Play
Magic Shows
Sand Castle Building
Pre-Teen Program
The pre-teen program is designed to give the older kids fun activities that get them moving, exploring, and generally having a great time.
Sailing
Snorkeling
Swimming
Beach Volleyball
Beach Soccer
Scavenger Hunts
Glass Bottom Boats
Pizza Making
Reggae Jam Sessions
Teen Program
The teen program at Beaches Turks and Caicos offers activities that cater to that age where the kids aren't children but aren't quite adults, either. These activities are designed to be age appropriate but still give teens a sense of autonomy.
Pizza Bars
Soda Bars
"Nightclub" with Karaoke
Watersports
Boat Cruises
Pool Olympics
Tennis Clinics
Discos
Dance Parties
Talent Shows
Caribbean Adventures with Sesame Street
One of the best Beaches Turks and Caicos activities for the younger kids is this Caribbean Adventure. Visitors can meet and greet with the stars of Sesame Street while enjoying a delicious buffet breakfast. Available Sesame Street VIP Packages allow for even more personal experiences. We did this one day and loved it. It was so fun meeting all their favorites.
Xbox Play Lounge
Gamers young and old will enjoy the fun at Xbox Play Lounge. Visitors will have access to the best Xbox One games available like:
Minecraft
Forza Motorsports 7
NBA 2K18
Hexic 2
Dirt Rally
Choo Choo Train
Enjoy a tropical train ride through the Italian Village, French Village, and Caribbean Village.
Voila
Voila is an amazing journey into creativity and storytelling for the entire family. The storytelling spectacle features art, theater, acrobatics, and other fun surprises for everyone in the family.
Red Lane Spa
If you need to just relax, head to the Red Lane Spa. This spa offers the best in massages, skin care, and more. It even has a fitness center so you can get all sweaty before you get all pretty. We got a taste of the spa one day and I can tell you first hand that the spa is incredible! All the moms and dads need to get pampered!
Beaches Turks and Caicos Activities for All
Whether you love fun in the sun or kicking back and gaming, there will be something for you and your family at Beaches. The Beaches Turks and Caicos activities listed here cater to every member of the family – even the littlest of the littles. There really is no end to the fun. Also check out my dining post on all the endless food choices at Beaches Turks and Caicos!
*I was invited to Beaches Moms Social Media On The Sand conference. All opinions are my own and not swayed by outside sources.*