When I was a kid it was rare to find me indoors unless I was doing homework, eating meals with my family or sleeping. My readers know that outside play was a big part of my life and still is to this day, now with my own family in tow. Like with most things, however, there were exceptions to always being outdoors, as I mentioned above. Of course, there were also days when the weather wasn't ideal and I'd have to stay indoors. It would have been torture if not for the game closet my family depended on for power outages, inclement weather, sick days, etc.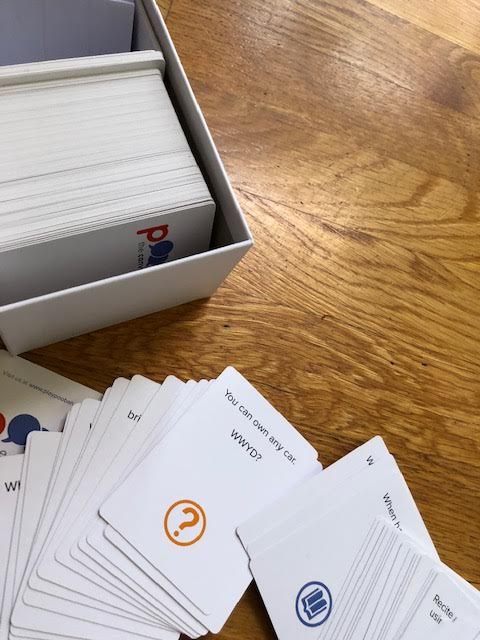 Classic board games (Clue, Monopoly, and Checkers) were my favorites but my family also had a few card games stashed away as well that were popular on occasion. Since my childhood card games have come a long way and developed into even more of a bonding experience for families. I think it's normal for most families, who have family fun nights more than one in a blue moon, to enjoy one anothers company and make small talk but with so many families investing more heavily into tech gadgets, I was surprised to learn that family nights are rare in many households.
Luckily there are still people around who acknowledge the important of communication and spending time with family. This is certainly true for the makers of Poobah, the card game whose sole purpose is to unite people through the power of conversation. Whether it's family or close friends, Poobah's creators believe that in order to build a society of moral leaders with socially-conscious citizens, it must start within the family. This means simply that they strongly believe that conversation within the home, with loved ones are the key ingredients to educating & developing our children while strengthening our family relationships, thus laying the foundation for good and moral leaders in future society.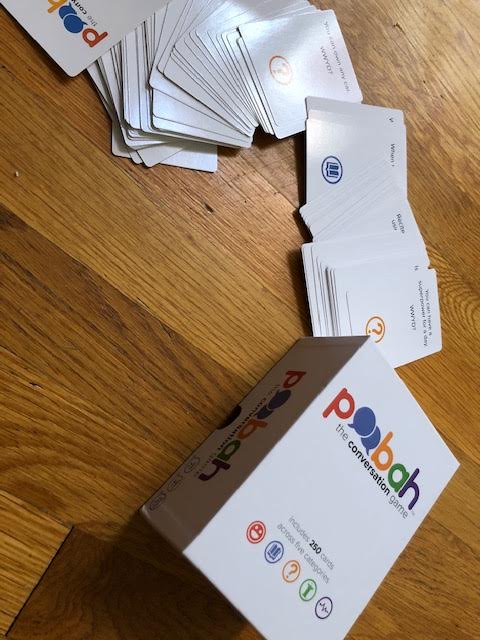 Poobah was born from the concept the founder, Brent, and his wife came up with for their own children called "High-Low-Silly-Smart." The game they played with their children was a simple one, going between each family member and having them share the high, low, silly and smart (what they learned that day) highlights of their day. The game created vital time as a family together, creating opportunity to share about themselves while learning about others. Pretty soon their kids wanted were begging to play and set the stage for the Poobah prototype!
Now that we've gotten the early conception stage out of the way, many of my readers may still be wondering what the heck Poobah actually IS. So, let me explain a little better — consisting of 250 cards per set, this particular card game has 5 different categories of game play that are designed to:
Strengthen emotional intelligence
Share personal stories to deepen relationships
Improve confidence and decision making
Voice opinions & listen to different perspectives
Showcase creativity and role play situations
Best suited for ages 7 and up, 
Poobah
 is able to be played by 3 or more people at a time and most play time averages at about 15 minutes, give or take. While creating bonding opportunities with family/loved ones as well as the benefits mentioned above, 
Poobah
 is also a great way to reap the scientific benefits earned from conversation with family, which include:
Ethical thinking
Higher self-esteem
Better social skills
Improved academic performance
Lower rates of: substance abuse, depression, etc.
My family knows that family time is important in our household. Whether we play games, read together, enjoy a movie or head outdoors, spending time together is something that we all enjoy doing together and that each of us benefits from. If you've been trying to figure out a way to get your family together without having to nag or beg, I encourage you to check out Poobah's kickstarter campaign to get involved. With just 15+ minutes of your families time and 250 cards to choose from, I guarantee it'll go from feeling like begging to something they'll be begging YOU for in no time!
CHECK OUT THEIR
KICKSTARTER
AND HELP OUT TO MAKE THIS GAME A REALITY! They have also partnered with the nonprofit, Give an Hour, to help #ChangeMentalHealth in America. They are offering their backers the opportunity to donate games of 
Poobah
 to "at risk" families through Give an Hour's network. Learn more about this amazing nonprofit here – 
https://giveanhour.org/
*Partnered with Poobah. All opinions are my own and not swayed by outside sources.*