There is a universal law for parents that goes a little something like this: When you have children, things are going to smell. Starting from the time your little ones are new to this world you'll find yourself wondering what in the world that smell is..from clothes to sippy cups to bedding and beyond, there will always be a funk that you're trying to identify. As your kiddos get older you'll start to be able to identify these smells at first whiff; especially when it comes to the age old feet funk. In my years as a parent, I can say without a doubt that I'll never be able to forget the way feet/shoes smell over time.  It is time to get those odor eliminators out!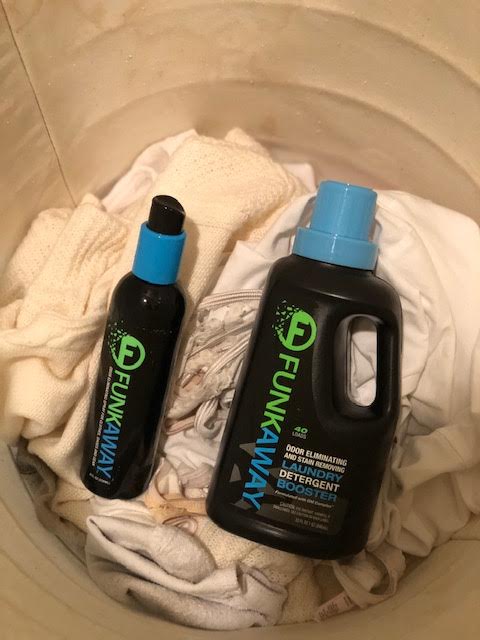 Whether you have one child or several, smells make up a lot of your day to day life. Especially if you have kiddos that are super active outdoors, such as participating in outdoor sports or who like to simply run around in the yard. You'll smell dirt, sweat, grass stains, etc. and sometimes the smells will get so potent that you'll be desperate to try just about anything. Although my kids are older and more capable of helping get in front of the funk that can cling to them, I still find myself trying to identify and eliminate such odors.
This is why I'm excited to let me readers into a secret that I recently discovered: the magic of Funk Away. The creators behind the company know the struggle that comes with unwelcome odors associated with every day things like clothes, shoes, sports gear and much more. Stuffed toys, old yoga mats, dog bedding, etc. are a few of the things that the minds behind Funk Away experienced before finally deciding that something had to be done! They also knew that most retail products used their flowery scents to simply mask the funky smells that linger on popular household items, so they set out to come up with a formula that wouldn't mask but that would eliminate the problems. 
The exclusive OM Complex that Funk Away uses in their products is specially formulated to work on odors in such a way that actually breaks down the actual odor. Not only does it get rid of the root of the issues but it also keeps working to make sure they stay away. This formula works so well that the creators guarantee your money back if you aren't satisfied with the end result – now, that's confidence!
While partnering with Funk Away, I was sent a few of their product samples to review so I could share the results with my readers. With multiple little ones running around, who are moderately active and offer a prime odor environment, Funk Away's products were put to the test. 
Laundry Detergent Booster:
Most parent's go to with getting rid of stinky odors is running clothing/items through the wash. So, we'll start by mentioning the Laundry Detergent Booster. Available in a 32-oz bottle, the Booster can be used in both high efficiency & regular washing machines and is both a stain remover AND odor eliminator. Designed to defunkify and unsoil what ever problems you're up against, the Laundry Detergent Booster has been a great addition to our laundry routine.
The Pump Spray packs 8-oz of odor eliminating power in a convenient canister that we've taken everywhere we've gone lately. Whether we've been at home or in the car, there hasn't been an odor that has stood up to it yet and for parents who tote their kids around in the car a lot, you know that there are many odors that can get trapped in the upholstery of your seats/floorboards. Greasy fast food, dirt stains from play shoes, sweat from the playground, etc. are some of the most recent smells we've had to tackle but with Funk Away's formula, it has been an absolute breeze.
Get Rid of Smells:
If you've got a houseful of malodorous little ones, a spouse who works long hours in the sun or even a gaggle of pets, then I would strongly urge you to head over to the Funk Away website to see the products they have in stock. You might never go back to other odor eliminators! You can also become a follower of their social media sites like Facebook|Pinterest|Instagram|Youtube to make sure you don't miss any updates on what's in store for the company.
*This is a partnered post with Funk Away. All opinions are my own and not swayed by outside sources.*